ICE71 Exclusive Events During SG Intl' Cyber Week

Date: 25 Sep 2019
Get ready for a supercharged week of insights from the best minds in cyber, culminating with the Singapore International Cyber Week (SICW) 2019! ICE71 is exclusively bringing you a series of 3 ICE71 Distinguished Speaker Events, with an amazing line-up of international speakers from CrowdStrike, Palo Alto Networks and Standard Chartered.
Learn, grow and network as you participate in the vibrant cyber community and meet like-minded cyber enthusiasts through these events.
Limited seats available for each event. Register your seat now before it's too late! Find out more and register for each event below: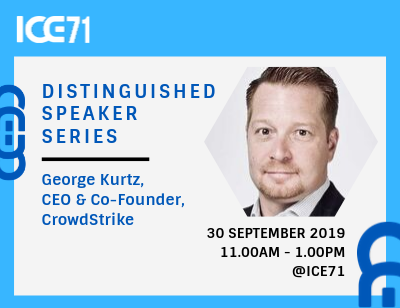 1 | ICE71 Distinguished Speaker Series feat. CrowdStrike CEO & Co-Founder, George Kurtz
Monday, 30 Sep 2019
11.00am-1.00pm
ICE71
Learn how founder George Kurtz built his company to become a billion-dollar Silicon Valley cybersecurity company.
---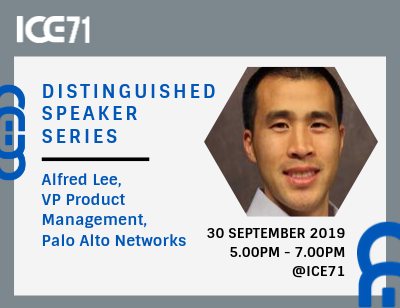 2 | ICE71 Distinguished Speaker Series feat. Palo Alto Networks VP Product Management, Alfred Lee
Monday, 30 Sep 2019
5.00pm-7.00pm
ICE71
Hear from Alfred, one of Palo Alto Networks' pioneers, about how his team grew the company from zero to the multibillion-dollar company it is today.
Register now >>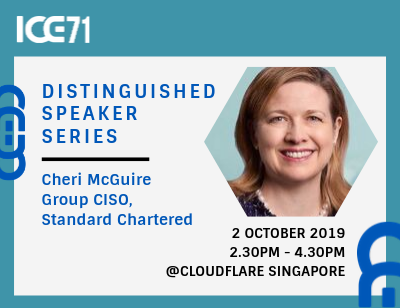 3 | ICE71 Distinguished Speaker Series feat. Standard Chartered Group CISO, Cheri McGuire
Wednesday, 2 Oct 2019
2.30pm-4.30pm
Cloudflare Singapore
Hear from one of the world's top CISOs, Cheri McGuire, as she shares insights into her career journey, cyber trends and more – all at Cloudflare's shiny new Asia HQ.
Register now >>