ICE71 Distinguished Speaker Series: Alfred Lee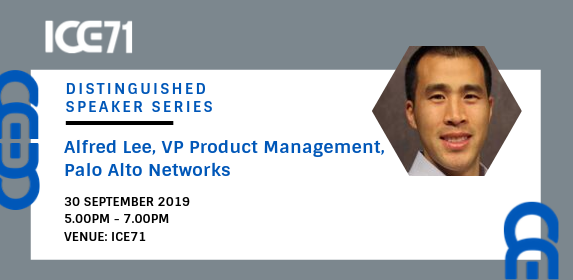 Start Date: 30 Sep 2019 | End Date: 30 Sep 2019

Time : 05:00 PM - 07:00 PM

ICE71 is proud to bring you our "Distinguished Speaker Series", this time featuring VP Product Management of Palo Alto Networks, Alfred Lee. Palo Alto Networks is a global cybersecurity leader – a multibillion-dollar Silicon Valley unicorn. On September 12, the company announced that it has been recognised as the 2019 Asia-Pacific Cloud Workload Protection Solution Vendor of the Year by Frost & Sullivan.
Join us for an insightful evening where you can hear from Alfred himself about:
the early days of Palo Alto Networks
how the pioneers grew the company from zero to $19B+ market cap company it is today
what makes the company stand out from the competition, including its leadership and culture
Event Schedule
5:00pm Registration and networking
5:30pm Fireside Chat with Alfred Lee, VP Product Management, Palo Alto Networks
6:15pm Q&A
6:30pm Networking
7:00pm Event ends
Seats are limited. Don't miss this opportunity to meet Alfred in person and connect with like-minded cyber enthusiasts!
Speaker Profile
Alfred Lee has a strong track record in network security with over 18+ years of experience creating network security firewalls and other innovative network security solutions. As Vice President of Product Management at Palo Alto Networks, he is responsible for the Asia Pacific and Japan theaters and understanding customer requirements for all Palo Alto Networks products. Prior to that role, he spent over 10 years directing the Palo Alto Networks product features and roadmap for threat prevention, threat intelligence, and hardware. He is particularly passionate and experienced in intrusion prevention systems, threat management, and firewall solutions, which helps him maintain a clear perspective on what is needed to help organizations achieve a secure network environment. Prior to Palo Alto Networks, he held various product management positions at Trend Micro and Fortinet.
Go Back