ICE71 Distinguished Speaker Series: Cheri McGuire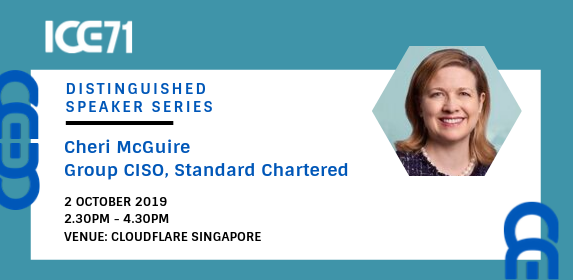 Start Date: 02 Oct 2019 | End Date: 02 Oct 2019

Time : 02:30 PM - 04:30 PM

ICE71 is proud to bring you our "Distinguished Speaker Event Series", this time featuring one of the world's top CISOs: Cheri McGuire, Group CISO of Standard Chartered, hailing all the way from London.
Join us for an afternoon of insights where you can hear from Cheri herself about:
Her career journey across diverse sectors (spanning government, consulting, tech companies, and banking)
Trends in cybersecurity, including the cyber talent outlook
Startups & Corporates: how they can work together

Event schedule
2:30pm Registration & Networking
2:50pm Introduction to ICE71
2:55pm Welcome by Cloudflare – Head of APAC, Aliza Knox
3:00pm Cheri McGuire Fireside Chat
3:45pm Q&A
4:00pm Networking session
4:30pm Event ends
This will also be your chance to visit our venue sponsor, Cloudflare, in their new Asian HQ office.
Seats are limited. Don't miss this opportunity to meet Cheri in person and connect with like-minded cyber enthusiasts!
Speaker Profile
Ms. McGuire is Group Chief Information Security Officer for Standard Chartered PLC, a FTSE 100 multinational banking and financial services company headquartered in London. She is an experienced cybersecurity leader with nearly 30 years in industry and government, including senior roles with Microsoft, Symantec, U.S. Department of Homeland Security and Booz Allen Hamilton.
Ms. McGuire is a recognized expert on cyber risk management and resilience, policy and information sharing, and public-private partnerships, and has testified numerous times before the US Congress. She currently serves on the Monetary Authority of Singapore International Cyber Security Advisory Panel, the Europol Advisory Group on Financial Services, and the UK Cyber Defence Alliance Board. She also sits on the Board of Directors for Entrust Datacard Corporation, and on the Executive Advisory Board of Tenable, a cyber risk management and vulnerability assessment company.
Previously, Ms. McGuire served on the World Economic Forum Global Future Council on Cybersecurity, as Chair of the US IT Sector Coordinating Council, on the National Cyber Security Alliance board, and on the Industry Executive Subcommittee of the President's National Security Telecommunications Advisory Committee. She holds a Masters of Business Administration from The George Washington University and a Bachelor of Arts from the University of California, Riverside.
Go Back