ICE71 Distinguished Speaker Series: George Kurtz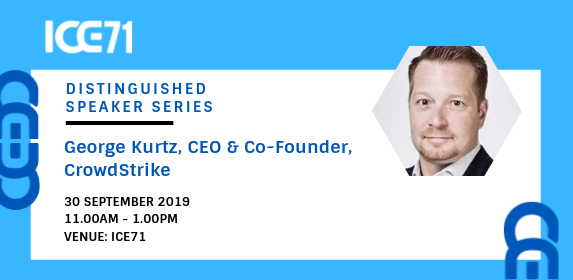 Start Date: 30 Sep 2019 | End Date: 30 Sep 2019

Time : 11:00 AM - 01:00 PM

ICE71 is proud to bring you our "Distinguished Speaker Series", this time featuring CEO and Co-Founder of CrowdStrike, George Kurtz. CrowdStrike is a leading provider of next-generation endpoint protection, threat intelligence, and services.
Join us for an insightful lunchtime session where you can hear from George himself about how he built CrowdStrike into a billion-dollar Silicon Valley cybersecurity company and more.
Event schedule
11:00am Registration & Networking
11:20am Welcome by ICE71
11:25am Chat with George Kurtz, CrowdStrike, CEO & Co-Founder
12:10pm Q&A
12:30pm Networking
1:00pm Event ends
Seats are limited. Don't miss this opportunity to meet George in person and connect with like-minded cyber enthusiasts!
Speaker Profile
George Kurtz is the CEO and co-founder of CrowdStrike, a leading provider of next-generation endpoint protection, threat intelligence, and services. Kurtz is an internationally recognized security expert, author, entrepreneur, and speaker. He has more than 26 years of experience in the security space, including extensive experience driving revenue growth and scaling organizations across the globe. His entrepreneurial background and ability to commercialize nascent technologies have enabled him to drive innovation to market throughout his career. His prior roles at McAfee, a $2.5 billion security company, include Worldwide Chief Technology Officer and GM as well as SVP of Enterprise.
Prior to joining McAfee, Kurtz started Foundstone in October 1999 as the founder and CEO responsible for recruiting the other founding team members. Foundstone, a worldwide security products and services company, had one of the leading incident response practices in the industry, and was acquired by McAfee in October of 2004. Kurtz has been quoted or featured in many major publications, media outlets, and television programs including CNN, Fox News, ABC World News, Bloomberg, CNBC, New York Times, USA Today, Wall Street Journal, The Washington Post, Associated Press, Network World, and may others. He also authored the best-selling security book of all time, Hacking Exposed: Network Security Secrets & Solutions.
Go Back