Our goal is to help founders innovate successfully in the competitive cybersecurity landscape AND take advantage of unique opportunities in Asia through access to resources, mentorship and networking opportunities.
Join us for an AMA session with BLOCK71 on 28 Feb 2023 to understand if the program is for you.
Why join ICE71 Accelerate?
Co-working Space: We're located among start-ups and VCs in the JTC Launchpad, Singapore's densest start-up hub. In ICE71, founders get dedicated office space and work alongside other brilliant cybersecurity founders.
Access to Investors: Founders get direct access to both NUS Enterprise and Singtel Innov8 and its networks, as well as active investors in the ICE71 Community.
Mentorship: Founders are attached to mentors who have grown successful businesses, understand the competitive cybersecurity landscape, and can help make valuable connections to grow the business, secure funding, and find talent.
Global Support: When start-ups are ready to launch beyond Singapore, BLOCK71's Global Network and NUS Enterprise's corporate partners provide them with the right resources to take them there.
Network Building, Validation and Visibility: Our start-ups are often invited to places where founders can meet experienced entrepreneurs, investors, and industry experts who are able to offer critical visibility and credibility they need to reach customers as early as possible.
Business Development Assistance: Start-ups get access to a range of services to support growth, including marketing and product development support.
World-class Talent Pool: Access to the university and talent partners' networks help founders quickly build strong teams with deep domain expertise.
High-fidelity Testing Facilities: Founders who need to validate their proof of concepts can use the National Cybersecurity Lab hosted in NUS for experimentation and testing
Alumni Community: Founders can call on our alumni community to as they navigate the unique challenges of growing a cybersecurity start-up.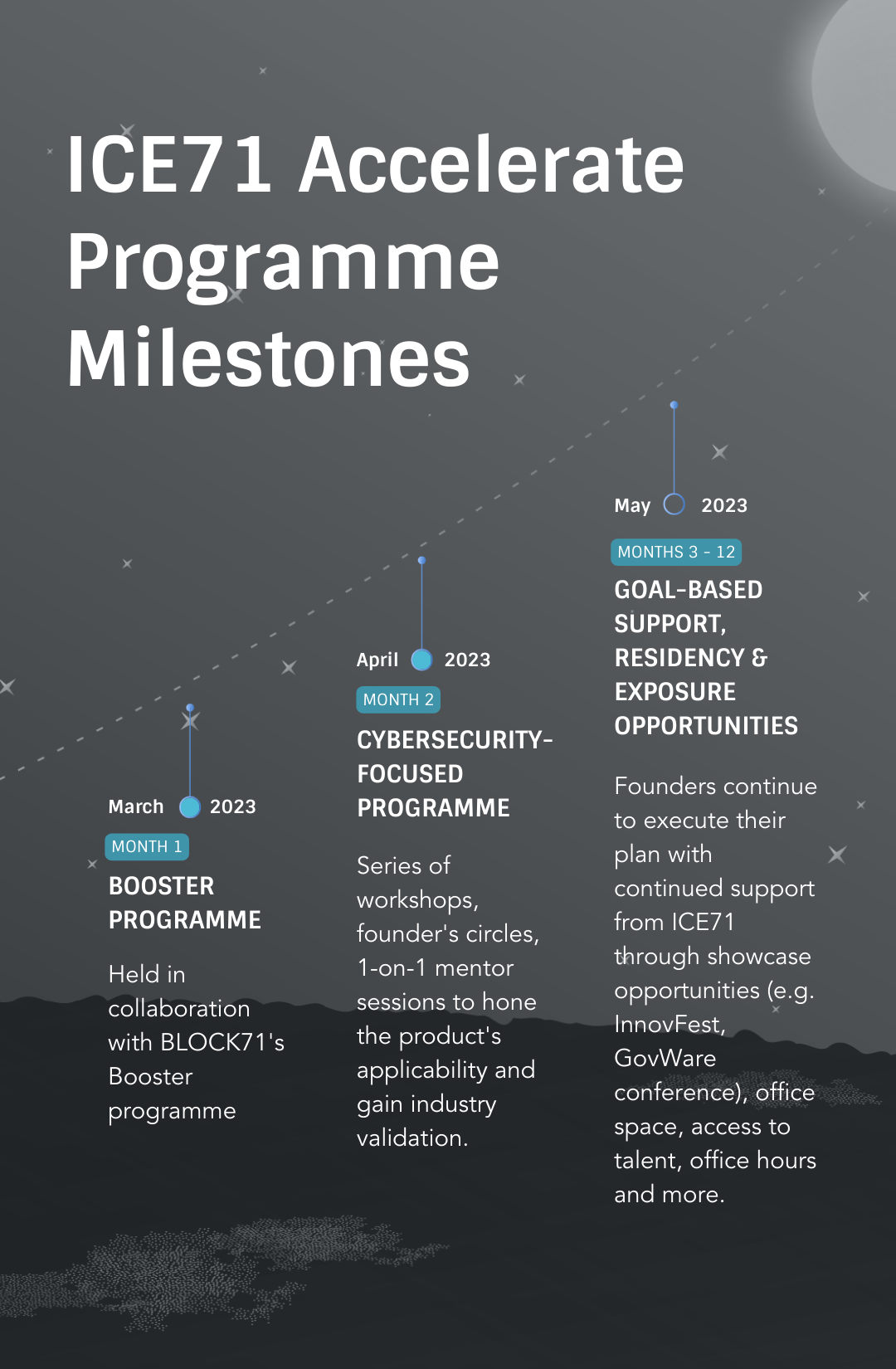 Who should apply?
Our programme is particularly suitable for companies that:
have an early stage product developed
are an incorporated business
plan to scale across Southeast and East Asia in the next one year
have existing customer traction
We accept companies from all over the world, but require all founders to participate in person, in Singapore, for the duration of the programme.
How to apply:
ICE71 is working with BLOCK71, NUS Enterprise's global, technology-focused ecosystem builder to deliver part of ICE71 Accelerate.
In the application form, please select "Cybersecurity" under "Industry/Industries Served" to indicate your application for the ICE71 Accelerate programme.