ICE71 Demo Day: Nine companies, nine dreams, one virtual stage

Date: 26 Jun 2020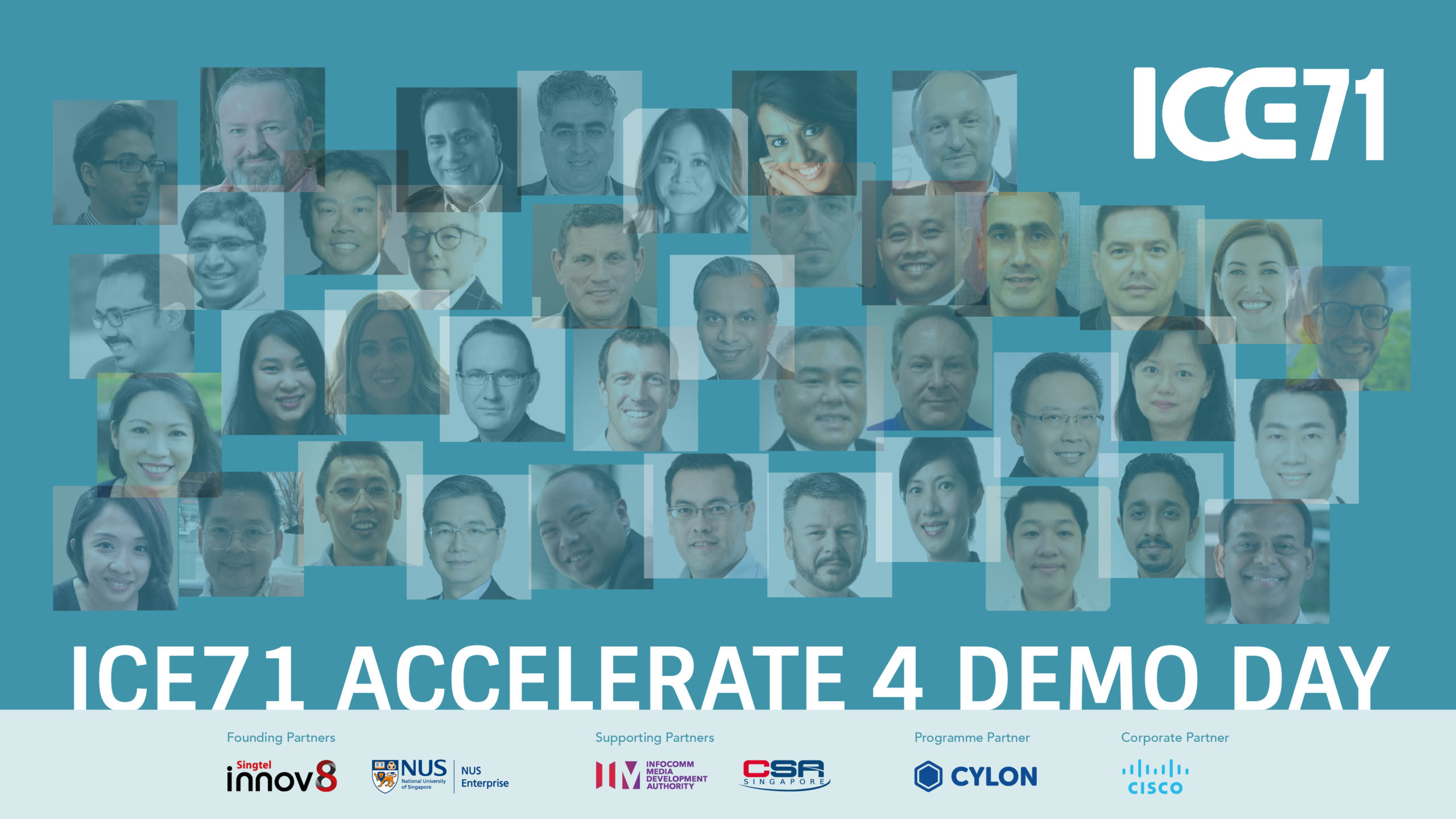 25th June marked the Virtual Demo Day for our fourth and latest ICE71 Accelerate cohort, featuring nine startups from Singapore, Australia, Israel, the UK, the US and Poland.
To date, ICE71 Accelerate, ICE71's accelerator programme has supported 34 cybersecurity startups and helped to strengthen Singapore's growing cybersecurity ecosystem. And 16 of these companies from the programme have collectively raised SGD$18M.
In the Demo Day welcome address, Rebecca Floyd, Managing Director for CyLon Singapore described the exhilarating journey of making a wholly virtual accelerator programme a reality. "Necessity really is the mother of adventure," she said, revealing the need for running a different kind of accelerator, and having an entrepreneur's mindset to make things happen amid the challenges of the current pandemic.
Edwin Low, Director, Innovation & Tech Ecosystem at Infocomm Media and Development Authority (IMDA), said that ICE71 was formed to develop the cybersecurity ecosystem and provide support in terms of funding, go-to-market, facilities as well as community building.
In the two years since ICE71's inception, we have made progress. Among the many milestones we had, we have trained over 80 cybersecurity entrepreneurs, accelerated more than 30 startups, and played a part in connecting our past cohort startups to potential customers and investors. Some notable results of connections made include funding raised from Cocoon Capital by Aiculus and Guardrails.
Our progress is driven by our co-founders Singtel Innov8 and NUS Enterprise, but certainly not without being in synergy with supportive partners giving us the uplift we needed. Edgar Hardless, CEO of Singtel Innov8, expressed, "Thank you to our partners who have supported us in this journey. Without the support of partners like IMDA, Cyber Security Agency of Singapore (CSA), and Cisco, we probably wouldn't have reached where we are today." Edgar was optimistic about existing capabilities to take ICE71 to the next level.
Prof Chee Yeow Meng, AVP for Innovation & Enterprise at the National University of Singapore (NUS) spoke about new cybersecurity challenges emerging from a remote work setting: "With COVID-19 forcing most of us to work remotely or study from home, new challenges have emerged for cybersecurity, driving a greater demand for cybersecurity solutions and creating opportunities for cybersecurity entrepreneurs."
On the success of ICE71 Accelerate, CyLon has been an important programme partner for us. Grace Cassy, co-founder of CyLon shared about the proud partnership with ICE71 and how wonderful the journey was for them to be a part of helping to grow Singapore cybersecurity ecosystem.
The future is bright for cybersecurity entrepreneurs, but one of the key challenges remains to be how startups can rise above the noise and legacy in enterprises, and demonstrate immediate value in their solutions. They need to know how to convey their value proposition with key decision makers, particularly CISOs, to make headways. Keynote speaker Alan Jenkins, CyLon CISO-in-Residence had much to share on how startups can best engage with CISOs in today's challenging environment.
While we look forward to many more milestones by ICE71 Accelerate alums, for now, congratulations to cohort 4 startups for completing this incredible journey and kickstarting another. It is great to see the new connections formed through ICE71 Accelerate between the cohort and our partners from the likes of CSA, Singtel Trustwave, NUS, and others. We can't wait to hear of more exciting developments from our fourth cohort in the coming months!
Watch the pitches of each startup and connect with them directly by clicking on the links below:
Read about Demo Day in the news:
e27
AsiaOne
SBR Daily Briefing
Telecompaper
and more here.
Download the Lookbook here.
See the full Demo Day recording here.
Check out "In conversation" interviews with startup founders here.