Interview with CyberCall Expert Panellist Dr Vivy Suhendra

Date: 12 Jul 2022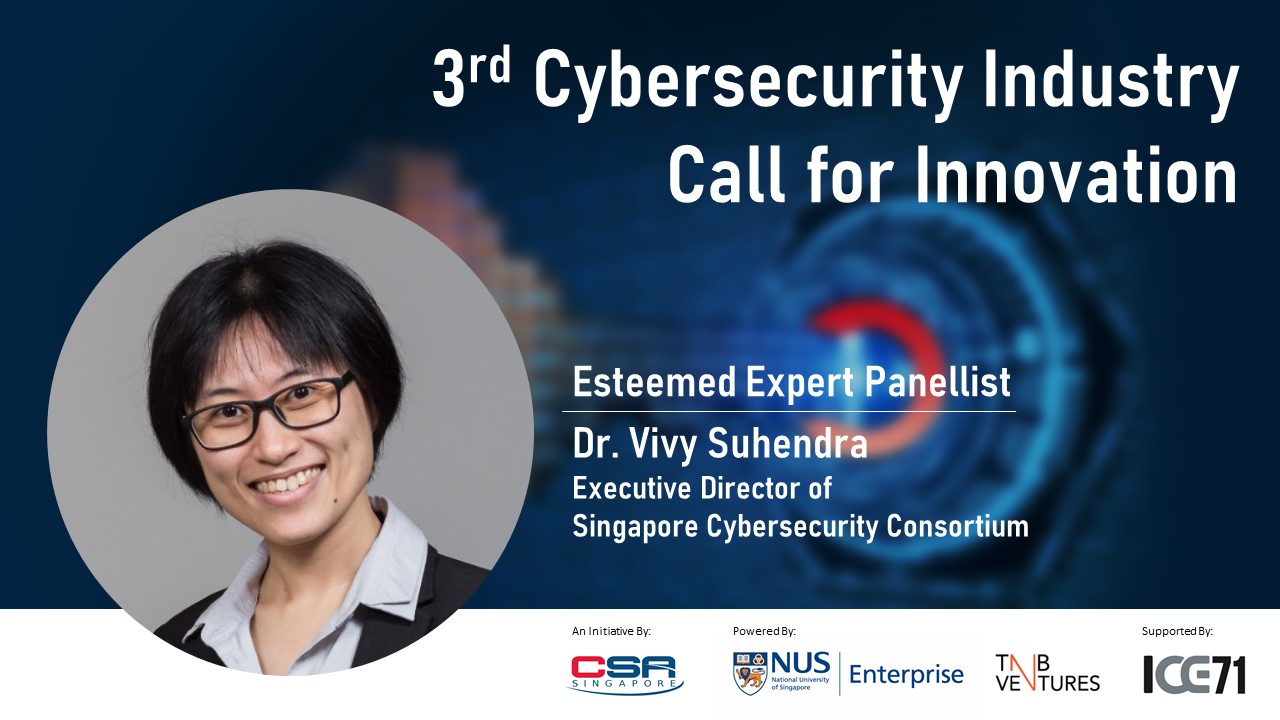 This post features Dr Vivy Suhendra, who was among a stellar panel of experts called on to contribute their technical knowledge to the 2021 Cybersecurity Industry Call for Innovation, an initiative by the Cyber Security Agency of Singapore. She is the Executive Director of the Singapore Cybersecurity Consortium (SGCSC) and an Associate Professor at the School of Computing, National University of Singapore (NUS).
The call attracts cybersecurity innovators with clever solutions to address challenges laid out by participating end-users. To remove cost as a barrier to innovation, CSA awards up to S$1M for the co-development of promising projects.
Imperative to call's success, the expert panel provides advice on the technical novelty and suitability of submitted proposals. For their contributions in pushing the frontiers of cybersecurity innovation, we thank Dr Vivy and fellow expert panellists!
Read on to learn more about Dr Vivy and why she's doing this.
Interview with Dr Vivy Suhendra
What are you most excited about right now in your work at SGCSC?
I get to interact with very capable people from many different domains and help make connections between them! It is fascinating to observe how everyone brings the depth of knowledge and experience from their respective angles into discussions on a subject of common interest.
What is one unexpected thing about you that people don't know?
I keep a handwritten journal. It is a bit more info-focused than experience-focused, since its main utility is to record all the little discoveries I'd like to revisit (like good food places!).
If you had not chosen to lead research translation at SGCSC, what would you think you would be doing?
I would probably have stayed in applied research, or explored other roles related to technical writing or science communication. Those have been aspects of my research life that I enjoyed very much, to find relatable ways to explain our work and get others to be as excited about it as we are.
As part of the Technical Panel for the CyberCall, you played an indispensable role in evaluating proposals for quality and innovation. Are there any areas that you would like to see more innovation in? How can start-ups leverage these opportunities?
I would love to see innovations with systematic, meaningful blending of automated cybersecurity capabilities with human expertise, a Human-in-the-Loop system that is constructed with purpose and thought. The prevailing human + automation mix in practice tends to arise organically as we deal with limitations of automated tools, skilled manpower shortage, or both. Infusing methodical thinking to this interplay, I think, would give us a chance at harnessing the best of both worlds in a harmonious and maintainable manner.
Why should companies join the CyberCall?
Cybersecurity problems often tangle with operational and usability factors in such a complicated knot that we may think no solution could possibly satisfy everything. But even then, I believe we should always push the boundaries of what is feasible nearer to the ideal. The CyberCall offers not only the funding support to defray the exploration costs, but also a platform for end-users and innovators to envision this ideal and shape something together that can be both innovative and practical in solving cybersecurity challenges.
> Learn how you can leverage opportunities in the CyberCall here.
---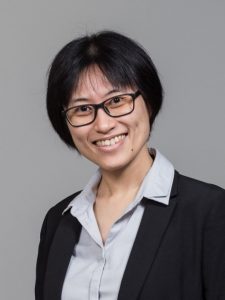 About Dr Vivy Suhendra
Dr Vivy Suhendra is the Executive Director of the Singapore Cybersecurity Consortium (SGCSC) and an Associate Professor at the School of Computing, National University of Singapore (NUS). She has been responsible for programme planning and strategic management of SGCSC since its launch in 2016, working to facilitate collaborative research and development between academia, industry, and government in the field of cybersecurity. Prior to joining SGCSC, Vivy was a research scientist at Institute for Infocomm Research, A*STAR, focusing on system security and content protection. She received her Ph.D. in Computer Science from NUS in 2009.