Interview with CyberCall Expert Panellist Ashish Thapar

Date: 08 Jul 2022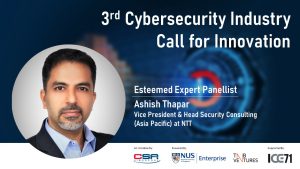 This post features Ashish Thapar, who was among a stellar panel of experts called on to contribute their technical knowledge to the 2021 Cybersecurity Industry Call for Innovation, an initiative by the Cyber Security Agency of Singapore.
Ashish is the Vice President & Head for Security Consulting Services – Asia Pacific at NTT Ltd.. He brings more than two decades of Information Security experience and leads security consulting teams across APJ region. He is also an active speaker at numerous security industry seminars, as well as an ICE71 mentor (full bio below).
The call attracts cybersecurity innovators with clever solutions to address challenges laid out by participating end-users. To remove cost as a barrier to innovation, CSA awards up to S$1M for the co-development of promising projects.
Imperative to call's success, the expert panel provides advice on the technical novelty and suitability of submitted proposals. For their contributions in pushing the frontiers of cybersecurity innovation, we thank Ashish and fellow expert panellists!
Read on to learn more about Ashish and learn why he's doing this.
Interview with Ashish Thapar
People know you for many things – an accomplished cyber professional, leader, mentor, author and speaker. What do you consider your greatest achievement?
My biggest achievement is to be an avid learner & a collaborator; and these traits have helped me the most to work with people, get to know new things, take on new challenges, come up with new ideas, expand my network and contribute to my career growth and helping the society at the same time.
What is one unexpected thing about you that people don't know?
I have been a trained Yoga practitioner in the past and can do some asanas even now 😊. It is really helpful for the body and soul if practiced regularly.
As part of the Technical Panel for the CyberCall, you played an indispensable role in evaluating proposals for quality and innovation. Are there any areas that you would like to see more innovation in? How can start-ups leverage these opportunities?
This was an exhilarating experience balancing an idealistic, risk-based and pragmatic view of things at the same time. However, the intent was very clear; i.e. to make Singapore end-user organizations more cyber resilient and secure. The other areas where I hope we can get innovative solutions for are: Autonomous Threat Hunting, SBOM Threat Management, Multi-Cloud Security Configuration and Reporting, XDR for ICS/OT Environments; AI-driven Third Party Secure-Connect solutions to name a few. Startups can immensely benefit from these opportunities by way of putting their solutions through a robust and ongoing evaluation mechanism coupled with a dedicated end-user organization. The startups also get funding support from CSA if they get selected by the expert panel.
Why should companies join the CyberCall?
Cyber attacks are becoming more widespread, advanced and damaging by the day and Cyber defenders need to notch up their game to fight the good fight. This calls for a team sport and CyberCall is a great initiative that provides a unique platform for innovators, cyber experts and end-users to come together to protect our cyber frontiers. It is the #MadeinSingapore #Kampong spirit at play here!
> Learn how you can leverage opportunities in the CyberCall here.
---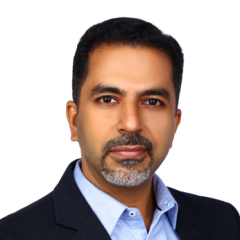 About Ashish Thapar
Ashish Thapar is the Vice President & Head for Security Consulting Services – Asia Pacific at NTT Ltd.. He brings more than two decades of Information Security experience and has been leading and managing security consulting teams across APJ region; spanning across multiple security practices including: Security Strategy; Threat & Vulnerability management; Governance, Risk and Compliance; Payment Security; Incident Response; Digital Forensics; and Cyber Threat Intelligence.
Along with his vast leadership experience, he also accomplished a number of global domain certifications including CISSP, CISM, CISA, SANS GCFA, CCSK, ISO 27001 LI and CDCP. In addition, he has also been an accredited PCI QSA, PFI and PA QSA for several years.
He is an active speaker at numerous security industry events/seminars throughout Asia, including coverage on live TV programmes and radio/podcast interviews. He also serves as a Lead Mentor and SME Panelist for Cybersecurity domain helping Singapore CSA, ICE71 and other organizations to help strengthen the overall cybersecurity ecosystem in the region.