An Interview with Venu Rao, CEO of WeSecureApp

Date: 27 Nov 2019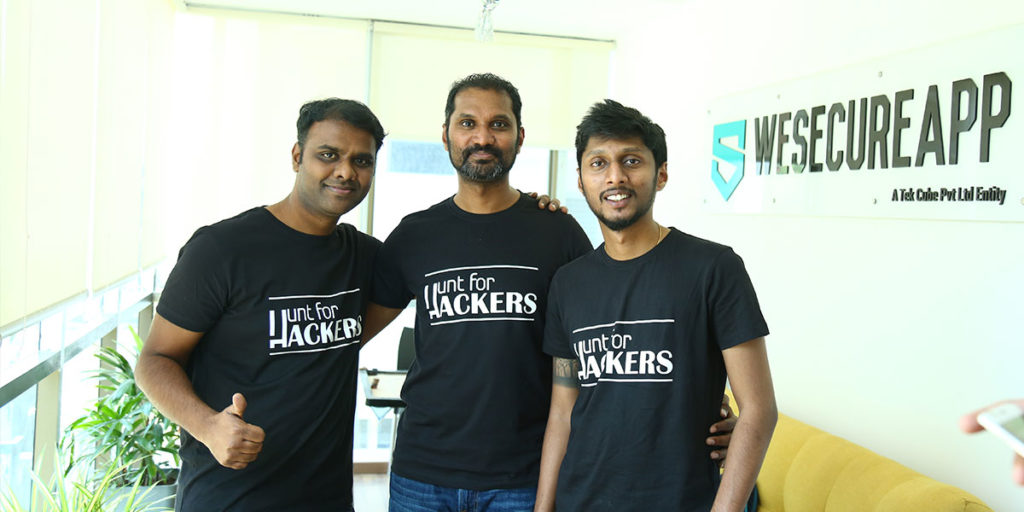 This month, we feature an interview with Venu Rao, CEO and Co-Founder of WeSecureApp, an ICE71 Scale startup. Read on to glean interesting insights including how WeSecureApp was born, what Strobes is, and Venu's views about having a business presence in Singapore.
Q: How did WeSecureApp come about and what is your role in it?
The founders of WeSecureApp—me, Akhil and Srini—have known each other for over 25 years. We are first cousins who complement each other with our unique talents and backgrounds. I'm a product specialist, Akhil's a fantastic hacker and Srini's a technologist with international experience. We work together to solve critical problems in the cybersecurity space.
Our journey began with the provision of cybersecurity services, and as we went on, we saw a huge opportunity in the vulnerability management space—that was how WeSecureApp started. Today, we offer a world-class enterprise security product to orchestrate security.
I'm CEO and one of the co-founders of WeSecure App. My primary focus is to generate revenues, build client relationships, and explore partnership opportunities. My prior product experience helps with product marketing strategy for the company. As to our company's co-founders—Akhil heads Technology, while Srini leads Operations for our company.
Q: In a nutshell, what does WeSecureApp provide?
We tailor solutions that help secure our clients' digital assets, such as their applications, network and infrastructure, cloud assets and blockchain assets. We do this by tapping on a mix of resources including certified security professionals (such as CREST, OSCP, and CEH) and bug bounty participants.
Based on our experiences, we built an enterprise security product called Strobes.
Q: Tell us more about Strobes. What exciting future developments do you have in store for us?
Strobes is a Security Orchestration and Vulnerability Correlation Platform. It currently connects with over 40 vulnerability scanners, including popular built-in open source scanners and commercial scanners. It also connects with tracking and communication tools like Jira, Slack, and ServiceNow. With the help of connectors, one can orchestrate security in just 3 simple steps. The platform also integrates into the CI/CD pipeline with no hassles.
We are currently working on adding many cool features to Strobes, such as Knowledge Bank, Developers Training Report, and Individual Dashboards.
Q: Can you share any interesting client use cases?
One of the top Indian financial companies was facing issues with its diverse and large number of digital assets spread across various subsidiaries. There were multiple tools and vendors for conducting security assessments, many with overlapping functions and results. There was neither accurate reporting on security metrics nor the right medium to capture relevant data. Prioritising thousands of vulnerabilities from various sources was time-consuming and challenging.
With the help of Strobes, integration of multiple scanners instrumented the consolidation of all vulnerabilities. Prioritisation and removal of duplicate vulnerabilities helped to simplify fixing of critical and high-level vulnerabilities. Strobes also helped in tracking zero-day security and known vulnerabilities for the tech stack used by this financial company.
Q: WeSecureApp is based in Hyderabad which has been described as the "next innovation address of India". What are your views about Singapore when it comes to cybersecurity innovation and potential for business? What brings you here?
Indeed, Hyderabad is the next innovation address of India. There's an exponential growth in technology startups there. In fact, Hyderabad is home for the Cybersecurity Center of Excellence (CCoE) in India.
Singapore is where most global companies have their APAC headquarters, and here we see great potential for a cybersecurity business. In terms of new cybersecurity technologies, there are early adopters, i.e. companies who are keen to explore new cybersecurity products— in this market. These include Fintech companies, banks and financial services firms.
Having our footprints kept to Hyderabad and Mumbai limits our market reach to India only. Having a presence in Singapore will pave out a gateway to the APAC and Japan markets.
"In the era of digital transformation, anything and everything online can be hacked. No company can shy away from hackers, it is better to prevent and prepare rather than repent and repair."

– Venu Rao
For more updates like this, follow ICE71 on our web and social channels.