Notes from InnovFest 2021: How to Keep Cybersecurity out of Jeopardy

Date: 05 Aug 2021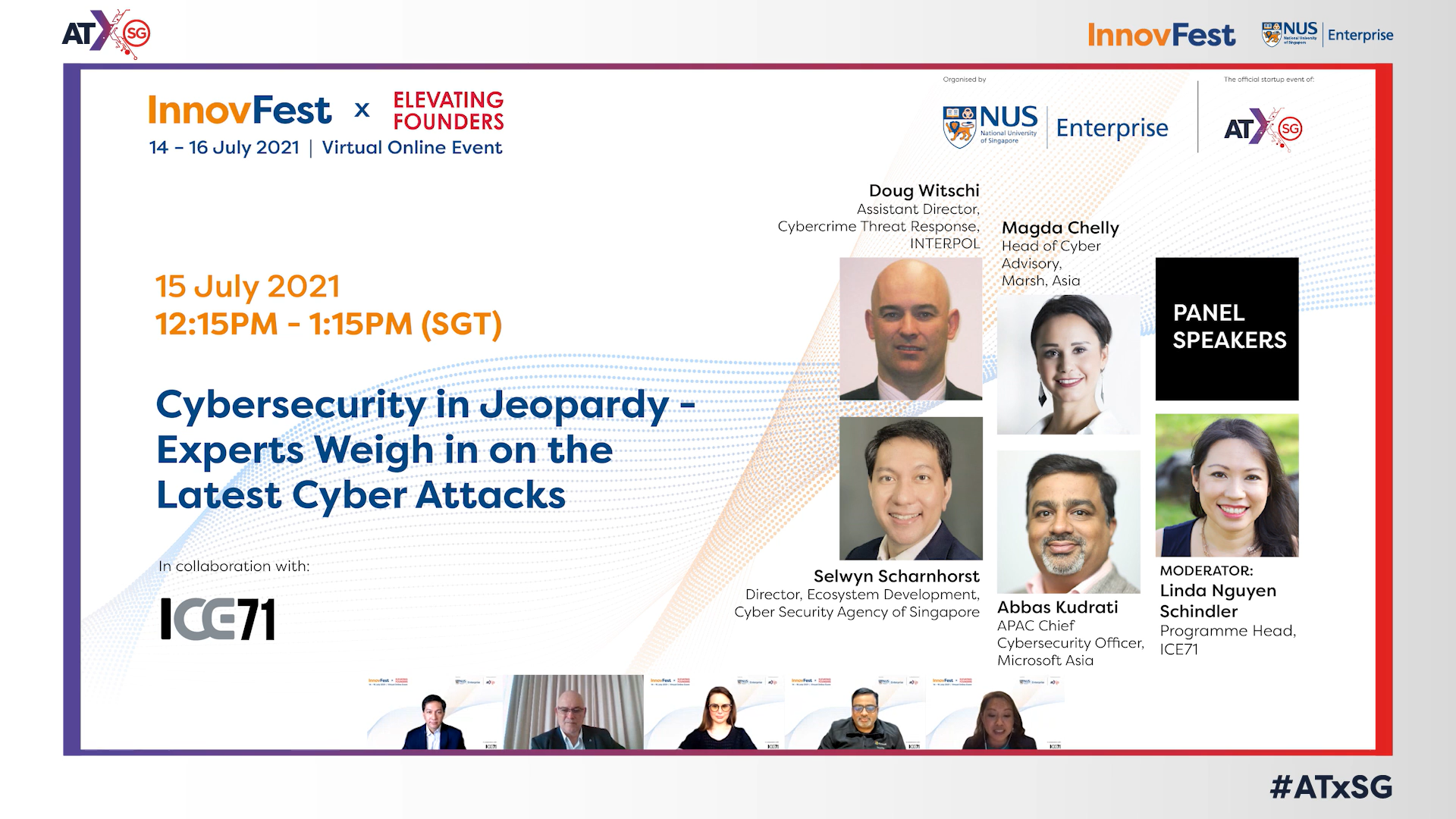 On 14-16 July, ICE71 took part in InnovFest x Elevating Founders, the official start-up event of Asia Tech x Singapore (ATxSG). Industry experts were invited to participate in a panel discussion hosted by ICE71 on the rise of cyberattacks making headlines.
Moderated by Linda Nguyen Schindler, ICE71 Programme Head, the panel session provided critical insights into recent incidents that put cybersecurity in jeopardy.
The participating panelists were:
To begin the discussion in a fun and interactive manner, the panelists were tested on their knowledge of recent cyberattacks in a refreshing format, inspired by the classic American game show, Jeopardy!. Incidents named included the Colonial Pipeline Ransomware attack, JBS Meat Plant Ransomware attack, SolarWinds breach and a classified malicious attack on a national healthcare system.

ICE71's first-ever game show. Up for challenge? Give this a try.
Here are some key points made during the panel discussion:
Firms are still lacking the basic hygiene and fundamentals of cybersecurity: Cyberattacks that crippled organisations did not involve sophisticated methods of attack, said Mr Kudrati. It was a laissez-faire attitude to cybersecurity that had left organisations vulnerable to simple and common methods of attacks (such as SQL injections and brute force attacks).
The stark reality is that companies are still putting cybersecurity on the back burner. "History doesn't exactly repeat itself, but it rhymes a lot," Mr Scharnhorst said. The main cause of such incidents can often be attributed to the lack of proper cybersecurity hygiene and awareness. Companies with these basics in place would have eliminated their risks at the most fundamental level. On raising awareness, he added that conversations on cybersecurity should not stop at the top, but continue at all levels to empower every employee in the organization.
Dr Chelly further pointed out that the quantifiable impacts of ransomware attacks are not limited to just the ransom amount, but also the damage caused by business downtime (loss of profit, and accumulating operational costs), legal liabilities and more. To put things into perspective, it would be more expensive to remediate losses than to implement cybersecurity protection. Prevention is definitely better than cure.
Common misconceptions about unaffordable cybersecurity costs: Cybersecurity could be expensive – but not always. It was raised in discussion that many economical cybersecurity solutions are readily available on the market. Furthermore, the Singapore government has made it more accessible for SMEs by providing grants for a list of pre-approved solutions. Organisations should look for solutions that fit their cybersecurity budget by weighing their risk appetite and quantifying the potential financial loss of an attack.
To pay or not to pay: This is the conundrum faced by many ransomware victims. There is no silver bullet for reversing a ransomware attack. "Paying a ransom would be equivalent to financing the criminals," said Mr Kudrati. Ethics aside, paying the ransom would not guarantee hackers to hold up their side of the bargain. In addition, hackers would typically try to maximize profit through a multi-pronged approach. Hackers would first demand ransom from affected organisations. Then, they may seek ransom from individuals involved to exclude their personal data or IP from further exposure. Finally, hackers might even sell the stolen data to the organisation's competitors!
How should organisations respond to a ransomware attack? Mr Witschi advised organisations to come forward and share the incident with a trusted cybersecurity community, as there could be solutions available to remediate the attack. Threat intelligence sharing would also help experts identify how the organisation has been impacted and take aggressive steps to contain the attack.
ICE71 is proud to be a part of InnovFest 2021. Miss the panel discussion? Watch the recording below ??