ICE71 Startup Responsible Cyber Secures License for Penetration Testing in Singapore

Date: 08 Sep 2023
ICE71 Accelerate alum, Responsible Cyber, has earned the license to provide Penetration Testing Services in Singapore (License No: CS/PTS/C-2023-0413). Congratulations! Read the press release below:
---
Expertise recognised by Singapore's regulators
The cyber landscape is morphing every day, with threats becoming more sophisticated and persistent. In such times, the official nod to Responsible Cyber couldn't come at a more opportune moment. Responsible Cyber is now perfectly positioned to be the guardians for businesses in Singapore, helping them stay agile and secure against the ever-shifting cyber tide.
For companies looking to fortify their digital walls, there's a message here: engaging with licensed players like Responsible Cyber is the way to go. This license isn't just a stamp; it's a promise that you're in partnership with a team recognized for its expertise and dedication by our very own regulators.
Helping digital businesses in Singapore thrive safely
Dr. Magda Chelly, the driving force behind Responsible Cyber, shared her excitement, "This license is more than just an achievement for us. It's a testament to our unwavering commitment to ensure the digital sanctity of businesses in Singapore. We're here, more equipped than ever, to make sure companies can thrive safely in this digital age."
When you partner with Responsible Cyber, you're not just getting a service; you're aligning with a vision – a vision of a safer, more secure digital future, backed by the very latest in cybersecurity research and action.
Responsible Cyber goes to Cyber Security World Asia 2023
This year, Responsible Cyber is gearing up to mesmerize attendees at Cyber Security World Asia 2023. The booth, is shaping up to be an intellectual carnival, an amalgamation of advanced tech, passionate discussions, and a spirit of collective growth. It's not just a booth; it's a nexus of the future of cybersecurity, sprinkled with some delightful Singaporean charm.
So, what's setting the rumor mills abuzz? Enter, IMMUNE X-TPRM. This isn't just another platform; it's Responsible Cyber's heart and soul translated into tech. It's their mission to foster trust and safety in our shared digital universe. Echoing Dr. Chelly's sentiments, "Cybersecurity is a canvas where technology meets humanity. It's not just about safeguarding data; it's about ensuring that every byte, every bit, resonates with security, trust, and integrity."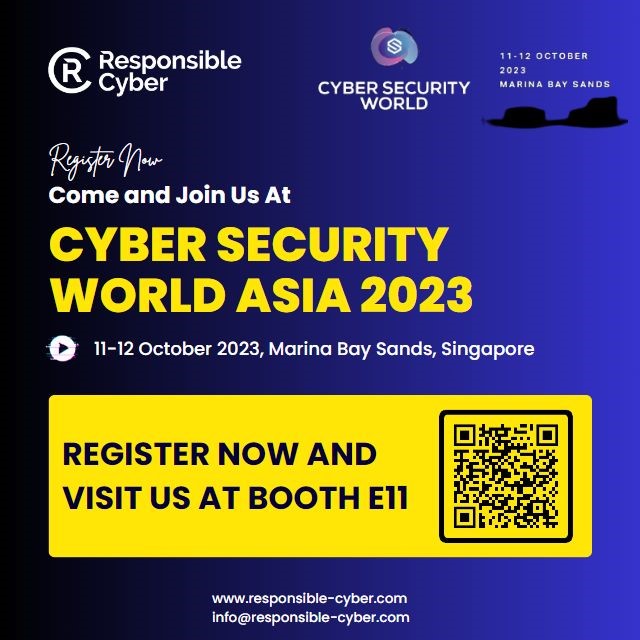 About Responsible Cyber Pte. Ltd.
Born in Singapore's dynamic landscape in 2016, Responsible Cyber was the brainchild of industry aces Magda Chelly and Mikko Laaksonen. Today, their influence spans from the UK and France to Poland. With strong backing from giants like Singtel Innov8 and NUS Enterprise, they've been trailblazing with their AI-driven tools, IMMUNE X-TPRM and IMMUNE GRC, each designed to address today's digital challenges.
For a deep dive into their universe, pop over to www.responsible-cyber.com.