A Dialogue with Alberto Pelliccione, Co-Founder and CEO of ReaQta

Date: 05 Oct 2018
Recently, we met up with Alberto Pelliccione, Co-Founder and CEO of ReaQta, a fast-growing, global cybersecurity company that leverages the next generation of Artificial Intelligence and Big Data analytics to automate the process of threat discovery and remediation action to protect the endpoints from 0-day threats. During the dialogue, Alberto shared with us his journey with ReaQta and his insights on cybersecurity startup ecosystems in Singapore and beyond.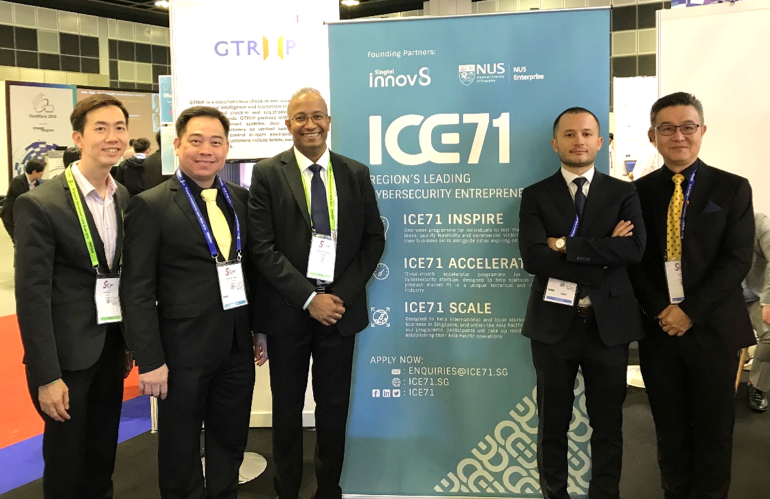 Alberto and team at Singapore International Cybersecurity Week (SICW) 2018
1. What was the inspiration behind ReaQta?
There's a well-known asymmetry in cyber-security: defenders must succeed 100%, at all times, while attackers need only succeed once. Coming from the world of offensive security and government-led cyber-intelligence operations, we knew all too well how this asymmetry played out in reality – always in favour of the attackers. Our founding team comes from the both worlds of Threat Intelligence and Security Defence and so it was a marriage made in heaven: to have attackers and defenders sitting side by side at the table, with no "enemy lines" in between. Together, we drew up plans of what we wanted to become – the next-generation of cyber security solution. We want to enable defenders with the control and power they needed to be effective as well as to make the whole process simple and accessible to everyone, be it big corporations or small-medium enterprises. Having two opposite points of view over such a broad issue on cyber security helped us better focus and define our priorities. During the process, we also realized almost immediately, that we could further contribute to the innovation of our solution if we could find a way to drastically shorten the time spent on analysis by the defenders. The moment was then right to take advantage of the latest breakthrough in Artificial Intelligence to provide that discovery power that was simply non-existent before such algorithms became available.
2. Can you give us a brief overview of ReaQta? / Can you describe your business ideas in layman terms?
ReaQta is a fast-growing global company with focus on cybersecurity. We help businesses focus on what they do best, without disruption to their operations. To achieve this, we provide a platform that enables any organization, large or small, to detect, track (threat-hunt) and remove new cyber threats in real-time. Our platform offers complete visibility over the organization's IT infrastructure, allowing the analysts to always identify the point of entry of attackers, their movements and to collect all the evidence required by the Incident Response process.
3. How do you find the start-up ecosystem in Singapore? How does that compare to Europe?
Singapore has built up an outstanding IT infrastructure and the country is clearly focused on innovation and expansion beyond their shores to the global market. There's a lot of support for new companies and a large cluster of mentors ready to prepare the next generation of entrepreneurs. The efficient setup and the low amount of red tape creates a business-friendly environment. Compared to Europe, it's easier to start a business here and have fast access to funds that are so essential during the initial stages of a company's life. On the other hand, while the same factor that makes networking easy and efficient, the size of the country, has also become a limitation when looking for talents. It's usually harder to find the right talents in Singapore than in Europe: the majority of the passionate ones are recruited early by large companies and the government, making it difficult to find people ready to embrace the high-risk/high-reward path of a startup.
4. What was the biggest challenge faced by ReaQta? How did you tackle it?
There were really too many to recount! They just increase in complexity and decrease in frequency as you grow. Certainly, one of the toughest challenges was not technical or financial but it was related to our initial scale-up: we started in Malta, a lovely island in the southern Mediterranean sea and we came at to point where we needed more talent, a lot more, and fast. We tried different approaches, including relocating cyber security experts, but it didn't work well, so one day I stepped into the office and asked my team: "How about we move?". Well, as they say, the rest is history. A few weeks later we had a new office in the center of Amsterdam and a lot interviews scheduled right away.
5. What's your vision? / What's the vision of your company?
Internet was, without any doubt, one of the most important developments of our century. Unlike many other things, it will evolve and continue to grow for as long as mankind is around. This evolution, however, also created a new set of unexpected problems that will also be here for a very long time. Our vision is to turn these challenges, that are of tremendous concern today, to become a part of a very streamlined and efficient process that could be easily understood and managed. If we can contribute to make cybersecurity as easy as it's ordering a coffee today, then we would have reached our goal!
6. What are the next steps for ReaQta?
With a well-established mature platform, capable of addressing the needs of a multitude of verticals, it's becoming more and more important to move our solution towards consolidation. We carry a lot of gadgets that are interconnected. We buy all sorts of devices that communicate over the Internet, yet we rarely pay due attention to the security of such tools, whether in the enterprise environment or otherwise. Our goal is to expand our capabilities by offering a unified approach to security, which can happen by both   consolidating of our expertise and integrating with technological partners to offer a single point of entry for cyber security.
7. Any words of advice to an entrepreneur looking to start a cybersecurity business?
Cybersecurity is an incredibly competitive field and to emerge from the crowd is tough. But on the other hand, it's also large enough that there is still a lot of room available to experiment and disrupt the market. It is a field that will see several more revolutions before becoming "mature".
So my bit of advice is this:
1) Try to secure as much post-seed funds as possible, since cyber security is expensive;
2) Identify a niche of risk "prone" customers who are willing to make the first experiments with you and listen to their feedback;
3) Engage the cyber security community early, as people with experience is immensely valuable when making choices (prefer visionaries over conservatives, you're building the future after all);
4)  Persevere in your endeavour until you build the trust that is expected from you. In whatever you do, never forget that your customers are trusting you to keep them safe, this is an enormous responsibility to carry!
8. As the cybersecurity startup founder, what keeps you awake at night?
Fortunately, I'm not kept awake by problems but I'm woken up by ideas! Although it's still annoying to be kept awake but it is definitely a better issue to have. Frequently I – or rather, my unconscious brain – come up with new ideas or solutions to existing challenges in the middle of a deep slumber. I wake up to take notes and to message my teams about it. That's the advantage of working in 2 different time zones (Asia & Europe), someone is always awake. Thereafter, I try to go back and get some sleep.
About the Founder
Alberto has been an Artificial Intelligence researcher for the National Council of Research and he spent 7 years in the governmental cyber intelligence offensive sector, gaining considerable experience in how sophisticated threat actors operate, devising new ways for spotting attacks in a constantly evolving environment. Since 2014, he's been at the helm of ReaQta where he leads the strategic view towards the creation of intelligent and autonomous cybersecurity solutions. Alberto has been a sought-after speaker in the fields of cyber security and artificial intelligence, as well as a trainer for governments, military, corporations and institutions.