The First CTF For Girls in Singapore

Date: 18 Jul 2019
Cybersecurity capabilities and talents are crucial to build a resilient and cyber ready ecosystem in Singapore. As part of Women of Security (WoSEC) Singapore Initiatives and in a continuous effort to support the local cyber security community, WoSEC, HackTheBox with CyLon/ICE71, Micro Focus, RSA, Yogosha, BSides Singapore, WWCode (Women Who Code) Singapore have partnered up to run The First CTF For Girls in Singapore. Capture-The-Flag (CTF) For Girls is a one-day cybersecurity hacking competition, held at ICE71, in Singapore on the 13th of July, 2019.

This is the first Capture-the-flag (CTF) for girls in Singapore (Capture the Flag is a competitive technical challenge involving classic attack/defend or red team/blue team scenarios. This makes it not only accessible, fun and engaging but also it does actually represent real world challenges that we face in cyber security). This event is for all girls and women – cyber security professionals. It is an opportunity for them to learn, train and test their cyber security skills., to have a real enjoyable day catching the flag and to enjoy a pleasant supportive atmosphere, where everyone encourages and celebrates each other successes.

The CTF winners have been spoiled with amazing gifts from sponsors:
1st Winner – Ms Chor Jia Yee: 12 000 USD MS Azure Credits, 3 Month Pro Lab Ticket (Offshore or RastaLabs, winner's choice) (250GBP Value), 1 BSides Singapore Entry Ticket, Jacq Leigh Laptop Bag, One-Hour Coaching Session and a recognized industry certification exam voucher with Responsible Cyber

2nd Winner – Ms Chia Le Jing : 12 000 USD MS Azure Credits, 2 Month Pro Lab Ticket (Offshore or RastaLabs, winner's choice) (170GBP Value), 1 BSides Singapore Entry Ticket, One-Hour Coaching Session with Responsible Cyber

3rd Winner – Ms Zheng Jia Wen : 12 000 USD MS Azure Credits, 1 Year VIP (100GBP Value), 1 BSides Singapore Entry Ticket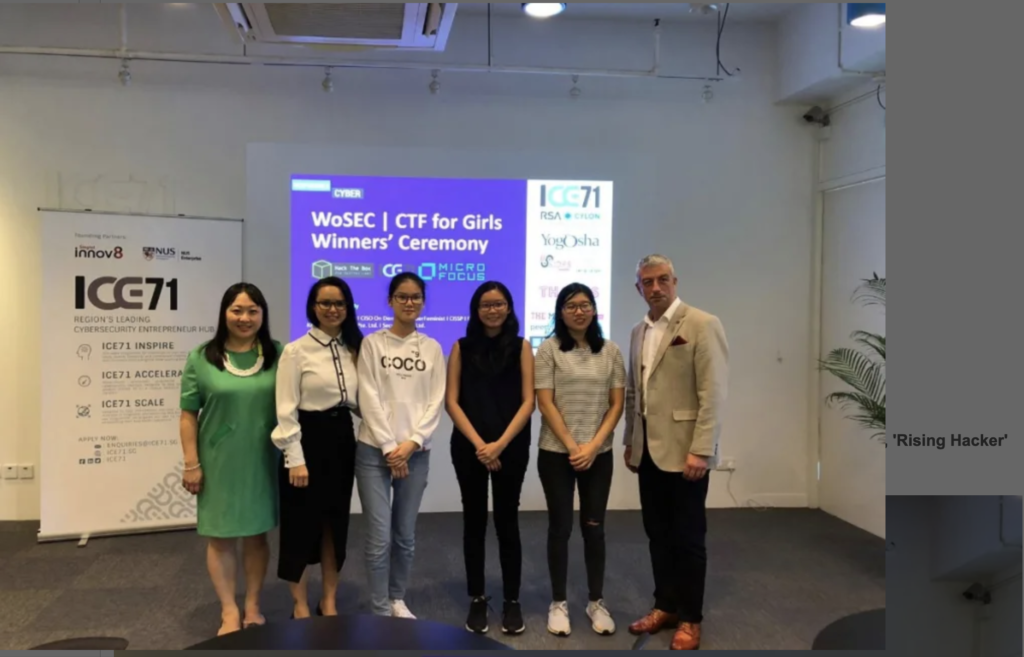 Magda Chelly, Managing Director of Responsible Cyber and WoSEC Singapore founder adds: "This event will be for all girls and women; cyber security professionals and enthusiasts, who want to have a fun, enjoyable, intellectually stimulating day through a Capture-The-Flag event. It will inspire and motivate younger talent to discover the cybersecurity space and relate to industry role models. The event will showcase available talents, allowing organizations in the future to bring diversity into their teams."
In this competition, female professionals, and students were approached to tackle different security challenges on HackTheBox machines, including general vulnerabilities and specific technical weaknesses present within the machine's operating systems and various applications. The essential skills require knowledge and understanding of cryptography, Linux security, database security, web vulnerabilities and orders security controls on overall servers.
Ms Sim Ann, Senior Minister of State, Ministry of Communications and Information (MCI) & Ministry of Culture, Community and Youth – MCCY dropped by the event to show her support. She highlighted that women are under-represented in the ICT industry and lauded these efforts to encourage more women to join the industry.