ICE71 presents ten startups at its second ICE71 Accelerate demo day

Date:
ICE71 is a partnership between Singtel Innov8 and NUS Enterprise
ICE71 Accelerate is now officially open to applications for their third cohort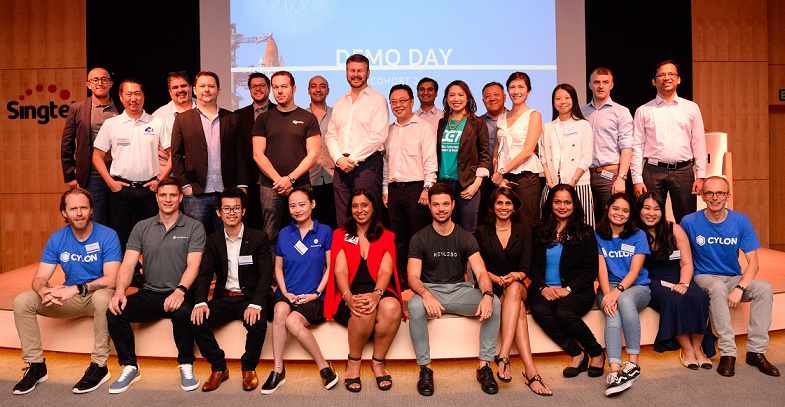 INNOVATION Cybersecurity Ecosystem at BLOCK71 (ICE71) has officially unveiled the region's next generation of cyber-security startups at its second ICE71 Accelerate Demo Day in Singapore.
Coming from Singapore, India, Turkey, Vietnam, the UK, and US, the latest cohort of startups was chosen to participate in the three-month ICE71 Accelerate programme, supporting the development and acceleration of their growth.
The programme culminated in Demo Day, where they pitched to an audience of over 150 investors and cyber-security leaders, seeking investment and business development opportunities.
ICE71 is a partnership between Singtel Innov8, the corporate venture capital arm of the Singtel Group, and NUS Enterprise, the entrepreneurial arm of the National University of Singapore (NUS).
Singtel Innov8 chief executive officer Edgar Hardless, said, "Increasingly, enterprises and governments need to work more closely with startups to address the frequency, scale, and sophistication of cyber-threats globally. By bringing together these promising startups and connecting them with leading investors, enterprises and government agencies, we aim to accelerate their growth to the next stage.
"This strengthens Singapore's cyber-security ecosystem and positions the country as the leading regional cyber-security hub. This also creates a conducive environment for the roll-out of new and innovative technologies which can power Singapore's Smart Nation goals."
The latest batch of cyber-security startups builds on the success already achieved by the startups from ICE71 Accelerate's first cohort unveiled in October 2018, of which two have already raised additional funding and expanded their operations internationally, while three are in discussions to secure further funding.
Professor Freddy Boey, deputy president (Innovation and Enterprise) of NUS said, "Cyber-security is among the key pillars supporting Singapore's Smart Nation ambitions. It is therefore crucial for our people, businesses and enterprises to be well protected in today's digital environment.
"The key to supporting the nation's ambitions lies in driving cyber-security innovation and encouraging more enterprising cyber-security entrepreneurs and startups to make Singapore their home."
"NUS welcomes the second cohort of startups under ICE71 Accelerate. We are heartened by the progress and achievements of the programme in the past year and look forward to attracting more cyber-security entrepreneurs and startups from across the region," added Prof Boey.
ICE71 aspires to attract the best global cyber-security talent and foster cyber-security innovation in Asia.
Supported by the Cyber Security Agency of Singapore (CSA), the Info-communications Media Development Authority (IMDA) and corporate partners such as Cisco, ICE71 aims to strengthen Singapore's growing cyber-security ecosystem by attracting and developing competencies and new technologies in the region.
ICE71 partners with CyLon, which delivers the ICE71 Accelerate programme and brings to the table a wealth of global experience as the leading global cyber-security accelerator and early stage investor in cyber-security startups.
After Demo Day, ICE71 will continue to guide and support these startups through further fundraising, product development and commercial expansion. It will also provide access to community events with ecosystem partners, thought leadership programmes, engagements with enterprises and government entities, and opportunities to present at regional cyber-security conferences.
ICE71 has three ongoing programmes: ICE71 Inspire, a week-long boot camp for entrepreneurs seeking to conceptualise their ideas and learn about starting their own cyber-security companies, ICE71 Accelerate, a three-month programme to develop and accelerate the growth of early-stage cyber-security startups, and ICE71 Scale, a launch pad to help mature cyber-security startups establish themselves and scale in the region.
ICE71 develops the cyber-security ecosystem of startups, corporates, government bodies, and institutes of higher learning with community events to create learning, business development and networking opportunities.
ICE71 Accelerate is now officially open to applications for their third cohort. Interested applicants may apply directly via www.ranosys.net/client/ice_71.
Startups from ICE71 Accelerate's second cohort include:
689Cloud: Uses rights management technology to protect, track, and control access rights on externally shared digital documents, preventing data leaks and unauthorised redistribution of confidential data. Its chairman is a serial entrepreneur with over 30 years of experience including successful exits in the technology industry in the US, Japan, and Vietnam.
Aversafe: Provides a first-line-of-defense against credential fraud. Aversafe's credential issuance and verification network connects employers, individuals and credential issuers together to prevent forgery and counterfeiting of credentials and licenses. It is already in talks with NUS for a proof-of-concept.
Blue Phish: Provides an online platform to drive cyber-security awareness and play a part in reducing the number of cyber-attacks that, 95% of the time, are created due to human error. E-learning modules are customisable and allow clients to align the learning objectives with their organisation's risk policies. Blue Phish is founded by two female entrepreneurs from India.
GuardRails: Makes open-source security tools easily available in GitHub Pull Requests. The solution has been tuned to keep noise low and only report high-impact and relevant security issues. Its founder, a professional hacker for the last 15 years, was able to access over two million credit card details with only 10 minutes of engagement with one of the largest train operators in the world.
INFRA: Builds automated solutions for assessment and intelligence without the need for security analysts, eliminating human error and maximising reliability. Its founder identified the perpetrators of one of the largest cyber-attacks on the Middle East's oil industry.
KEYLESS: Provides a privacy-first platform for authentication and identity management driven by user-friendly, secure biometrics that makes data privacy and security the rule, not the exception. Its co-founders all met while getting their INSEAD MBA.
LOKI: Provides cloud-based, single point management cyber-security and network management services for SMEs using SD-WAN technology in SaaS model. Its Turkish founder learned to code at the age of 10 and, by 21, developed cloud platforms for large MNCs and government institutions.
oneKIY: Addresses data privacy and security and runs on a decentralised, user-controlled security system. Coupled with an applications marketplace, users can download relevant apps to take full advantage of their KIY token. It was started by a Singaporean entrepreneur who has over 20 years of experience in hardware cryptographic solutions.
PhishBase: A mail transfer agent, sitting between the organisation and the internet, analysing emails flowing in and out of the system; preventing data loss, quarantining messages and using fuzzy logic to detect bad emails. Its founding team has diverse holdings in telecom services, ocean technologies, gaming/lottery, sport, print media, augmented reality, medical technologies as well as cyber-security.
SECONIZE: Enterprise IT risk assessment product that identifies cyber-risks and translates to continuous business impact. Its CEO has 20 years of experience at Honeywell, Philips and Cisco and is the holder of three patents.
Content retrieved from: https://www.digitalnewsasia.com/startups/ice71-presents-ten-startups-its-second-ice71-accelerate-demo-day.