ICE71 Accelerate 3 Demo Day: Spurring cybersecurity innovation

Date: 06 Nov 2019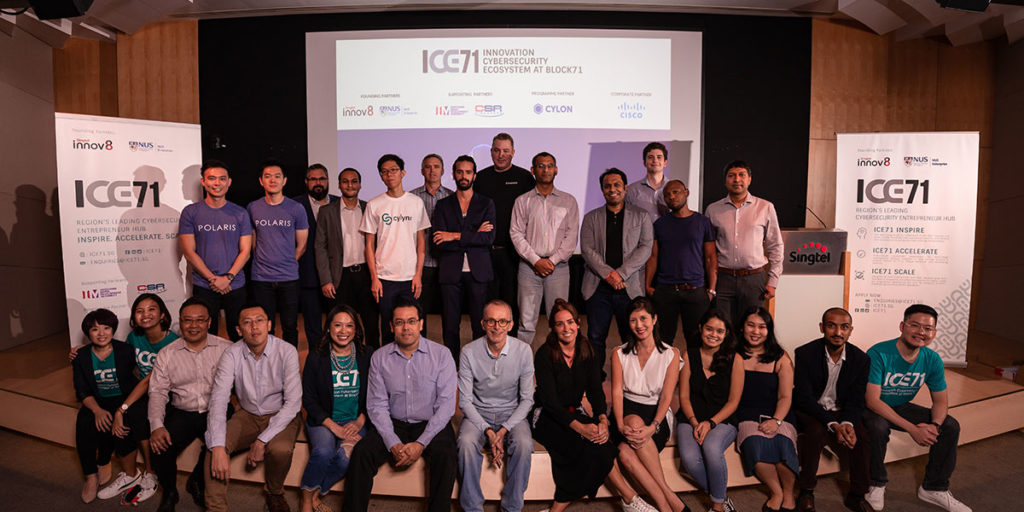 Over 100 angel investors, VCs and corporate partners from across the globe attended the third ICE71 Accelerate Demo Day on 5th November to listen to 10 startups give elevator pitches about their innovative cybersecurity products.
We were very honoured to have Sunila Shivpuri, APAC Chief Information Security Officer of Deutsche Bank as keynote speaker, and Jonathan Luff, co-founder of CyLon, our programme partner, as guest speaker at the event.
Legacy and complexity: Usually show-stoppers for innovation
"The cybersecurity solution by itself is great, but we forget about how we can integrate the solution into the bank's current environment."

– Sunila Shivpuri
Speaking about the biggest challenge when it comes to adoption of startup solutions, Sunila pointed out legacy issues and complex environments in the banking and financial services industry. For innovation to happen here, startups need to think about how their product can integrate seamlessly into a bank's environment—how to overcome high costs and simplify efforts for change.
Sunila mentioned insider threats, frictionless security, and cloud enablement as current trends. "Security has always been an afterthought," she said, stressing that practising security should become second nature for employees, built into thought processes right from the start—a shift in thinking is needed for bank employees. Frictionless security, i.e. security that doesn't slow users down, is also important. On cloud enablement, she said, "We're migrating to the cloud, and there are detailed work to be done."
Incredible growth potential for cybersecurity
Jonathan Luff gave some insights about cybersecurity across the world, from London to Singapore. He shared that it's actually very hard to discern clear trends in cybersecurity due to its rapidly evolving nature. However, it's an exciting area with incredible growth potential.
"More than $20 billion were spent this year alone on cybersecurity solutions, and there were over $5 billion early-stage investments by VCs."

– Jonathan Luff
Jonathan also mentioned interesting areas of growth and opportunities for cybersecurity—technology to alleviate human factors in security, supply chain risk management in the 21st-century digitised economy, and innovation in insurance products for both individuals and enterprises.
10 startups, 10 exciting solutions
Each of the 10 cybersecurity startups of ICE71 Accelerate's third cohort—Aiculus, BlackScore, Buglab, Cyble, Cylynx, First Watch, FlexibleIR, Mimirium, Polaris, and Seknox—gave an elevator pitch on their cybersecurity products.
Most of these cybersecurity products are based on artificial intelligence (AI) or machine-learning, and blockchain technologies. Here they are in a nutshell:
ICE71 Accelerate 3 Demo Day presented a great opportunity for Cohort 3 startups to network with potential investors and corporate customers in the ever-growing cybersecurity ecosystem. This creates opportunities for more POCs (proof of concept) and future collaborations with ecosystem members.
As part of the ICE71 Accelerate programme, each startup receives a funding of S$30,000 (close to US$22,000), access to facilities including the Singtel Cyber Range, and the opportunity to tap on ICE71's vast cybersecurity ecosystem comprising investors, corporates, government bodies, and a vibrant community of startup mentors, founders, and peers.
Applications are now open for ICE71 Accelerate Cohort 4 (taking place from 24 February to 22 May 2020). Interested start-ups and cybersecurity entrepreneurs can find more information and apply to participate at ranosys.net/client/ice_71/accelerate.
For more updates like this, follow ICE71 on our web and social channels!