ICE71 at InnovFest: Cybersecurity in Jeopardy – Experts Weigh in on the Latest Cyber Attacks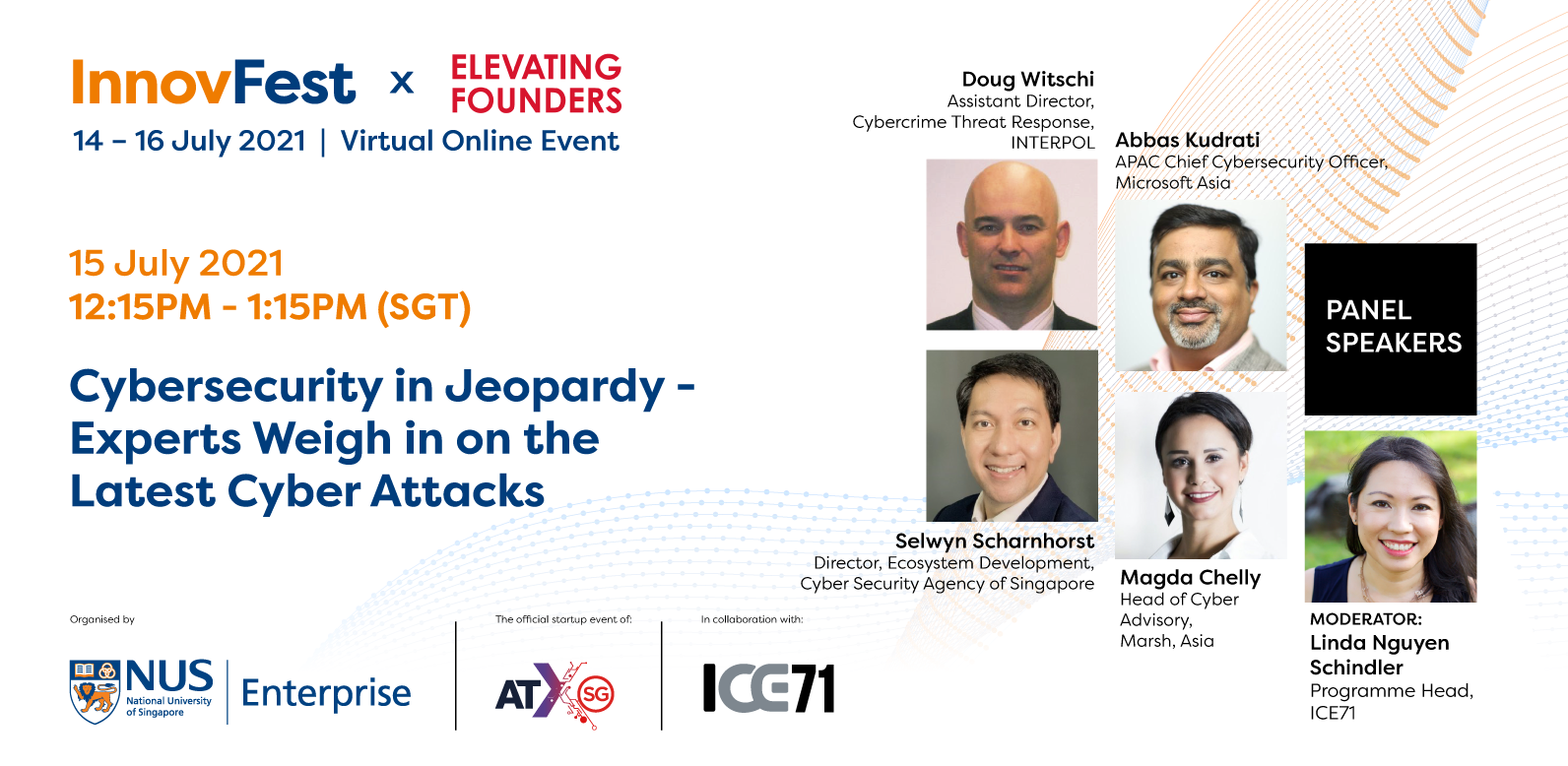 Start Date: 15 Jul 2021 | End Date: 15 Jul 2021

Time : 12:15 PM - 01:15 PM

Cyber attacks are topping headlines and getting more destructive than ever. Hackers are working together in larger numbers and using more sophisticated methods. From critical infrastructure to supply chain industries, targets are spared no chance and shown no mercy.
How could these attacks have been prevented? What are the ramifications? What are the opportunities for innovation?
Join Experts from INTERPOL, Microsoft, Marsh Asia and the Cyber Security Agency of Singapore as they discuss history's biggest cyber attacks in a round of the classic American gameshow, Jeopardy!
Date: 15 July 2021
Time: 12.15PM-1.15PM SGT
Format: Virtual Panel at InnovFest 2021
Panelists:
Doug Witschi – Assistant Director, Cybercrime Threat Response at INTERPOL
With over three decades of criminal investigations experience at state, national, and international levels, Doug Witschi's has expertise which spans cybercrime; counterterrorism; specialist investigations, including homicide and task force policing; and senior leadership roles taking responsibility for large organisational change programs, transnational criminal and intelligence investigations, and covert policing operations.
Abbas Kudrati – APAC Chief Cybersecurity Officer, Microsoft Asia
Abbas Kudrati leads Microsoft's initiatives to provide thought leadership, strategic direction on the development of Microsoft security products and services, and deep customer and partner engagement across the Asia region. He is also a part-time Professor of Practice in Cybersecurity with LaTrobe University and an Executive Advisory Board Member for Cybersecurity with Deakin University in Australia.
Magda Chelly – Head of Cyber Advisory, Marsh Asia
Magda Lilia Chelly is a senior cyber security expert, leading cyber advisory for Marsh Asia. Magda is a keynote speaker and an entrepreneur. She is a strong activist for women in security. She founded Women on Cyber with its chapter in Singapore, supporting female professionals in the industry. She was a member of the Advisory Board for the Executive Summit at Black Hat Asia. Magda's research topics have focused on Cyber Security, the future of localization and positioning, education, and more. Her research works and writings around cybersecurity have been featured by IEEE, RSA Conference, CYBERSEC, World Congress on Internet Security (WorldCIS-2016), CYBER RISK LEADERS Magazine, among others.
Selwyn Scharnhorst – Director, Ecosystem Development, Cyber Security Agency (CSA)
Selwyn Scharnhorst is the Director for Ecosystem Development in Singapore's Cyber Security Agency (CSA). He drives strategies and programmes for developing a vibrant cybersecurity industry, advanced R&D capabilities and skilled cybersecurity talent. Selwyn was awarded the Defence Technology Prize for R&D Teams in 2004. He read Physics at the California Institute of Technology (Caltech) and was a Sloan Fellow at the Stanford Graduate School of Business.
Moderator: Linda Nguyen Schindler – Programme Head, ICE71
---
About InnovFest
InnovFest is the official start-up event of Asia Tech x Singapore (ATxSG). Organised by NUS Enterprise since 2006, the first virtual InnovFest is held in partnership with Elevating Founders, Informa Tech's dedicated programme for start-ups and scale-ups.
Get more details on InnovFest here.
Go Back