InnovFest 2021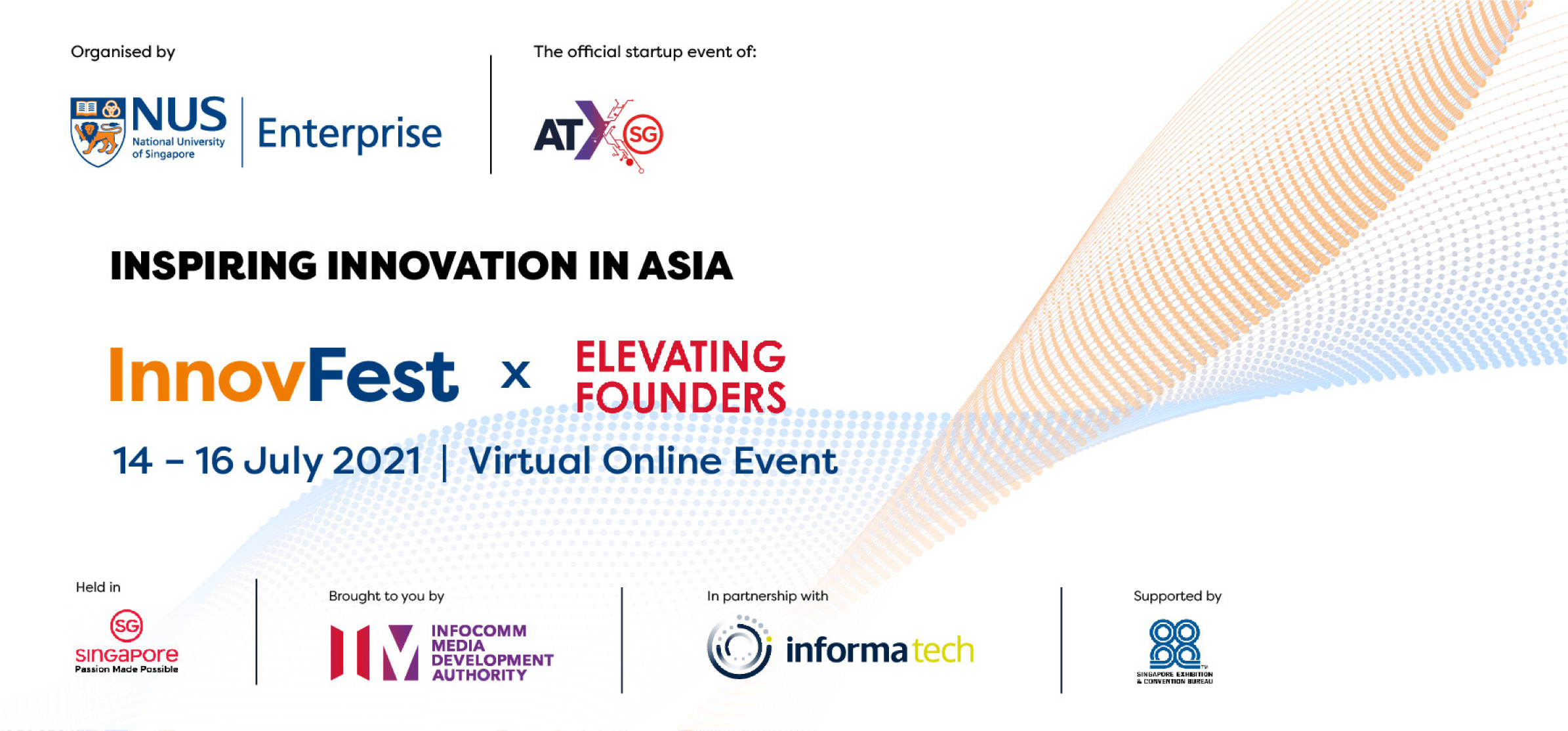 Start Date: 14 Jul 2021 | End Date: 16 Jul 2021

Time : 12:00 AM - 11:59 PM

Calling tech start-ups, tech leaders and all who are part of Asia's tech ecosystem!
InnovFest is back and you're invited! Connect with fellow innovators, collaborate on new opportunities and spark changes in the Asian Science, Technology and Innovation landscape. Get to meet imaginative thought leaders, industry experts and more and to explore novel technologies and innovation.
About Innovfest
InnovFest is the official start-up event of Asia Tech x Singapore (ATxSG). Organised by NUS Enterprise since 2006, the first virtual InnovFest is held in partnership with Elevating Founders, Informa Tech's dedicated programme for start-ups and scale-ups.
With the aim to nurture start-ups and promote entrepreneurship in the region, it brings together the start-up ecosystem from across Asia and the globe, as well as exciting new technologies and ideas. Seed and Series A tech start-ups can expect exclusive access to curated investors and the enterprise marketplace, and showcase ideas/technologies and create collaboration opportunities.
Join us from 14-16 July at InnovFest, Asia's leading innovation conference. Registration is free.
---
??Catch ICE71's Panel session at Innovfest 2021!
Cybersecurity in Jeopardy – Experts Weigh in on the Latest Cyber Attacks
Cyber attacks are appearing in the headlines more frequently than ever. We're seeing more hackers working together and greater sophistication in methods used. This panel convenes experts from INTERPOL, Microsoft, Marsh Asia and the Cyber Security Agency of Singapore to weigh in on how these attacks could have been prevented, what the ramifications are, and what opportunities they might present for innovation.
Date: 15 July 2021
Time: 12.15PM-1.15PM SGT
See more about the panel here
---
??Don't forget to check out participating start-ups at their virtual booths!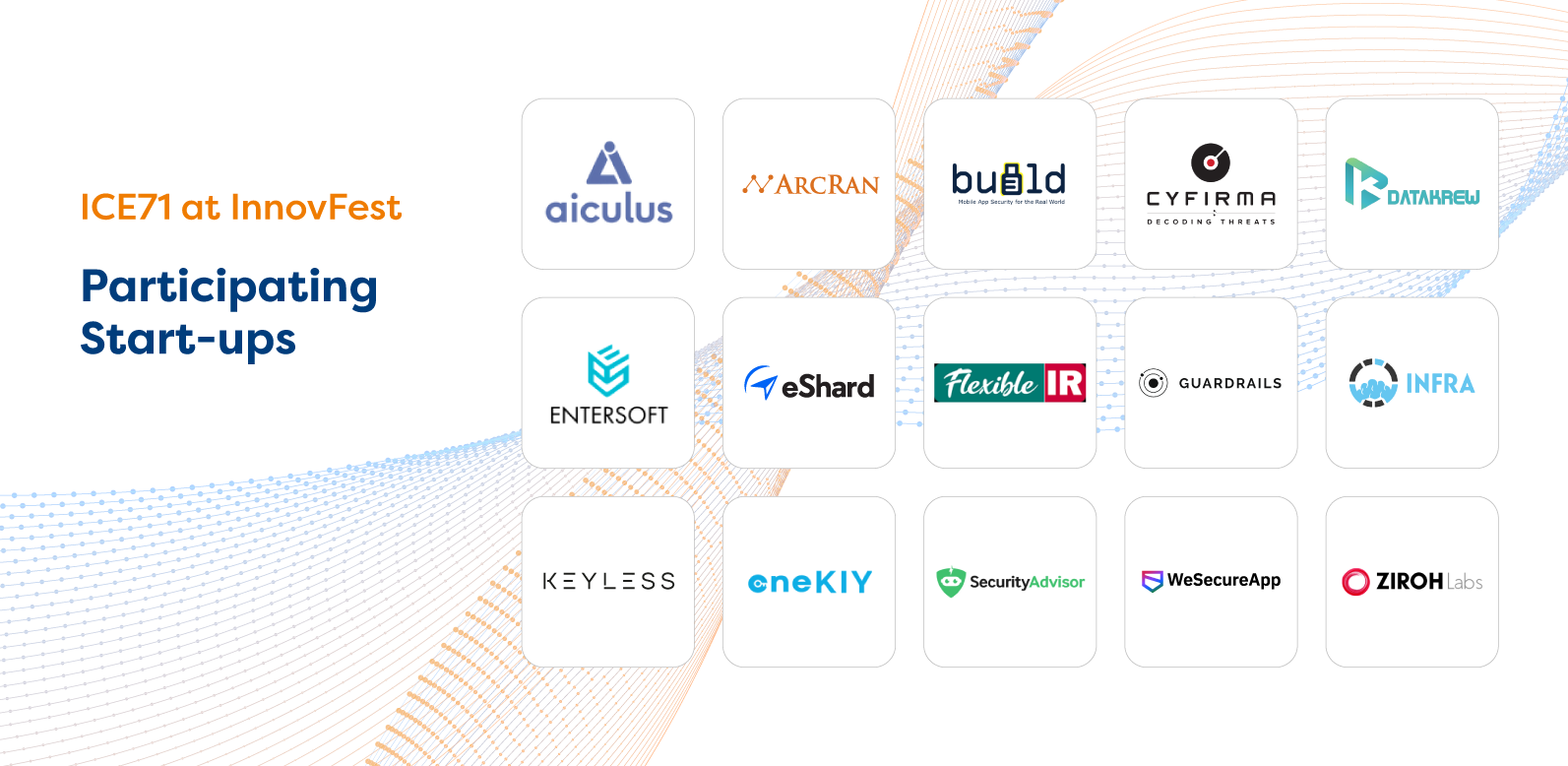 Aiculus
Aiculus specializes in securing APIs by applying for advances in Artificial Intelligence, helping companies do away with lengthy rules and setups, or the need to continuously update attack. signatures.
ArcRAN
ArcRan focuses on IoT, V2X, and 5G cybersecurity with core technologies in Wifi/Bluetooth/C-V2X signal and packet analysis.
Build38
Build38 is a global provider of mobile application protection solutions: in-app shielding, in-app monitoring and AI based in-app reaction.
CYFIRMA
CYFIRMA, offers market-leading predictive threat visibility and intelligence products and services, powered by AI and ML engines.
Datakrew
Datakrew is a spinoff deep-tech company from Nanyang Technological University, Singapore with strong roots in Internet-of-Thing (IoT), Artificial Intelligence (AI) and Data Security. The company enables large-scale secure IoT applications through data-driven Monitoring, Automation, Diagnostics and Security – MADS while ensuring military-grade data privacy and security.
Entersoft
Entersoft is an application security provider offering offensive assessment, proactive monitoring and pragmatic managed-security.
eShard
Eshard helps master the risk of mobile and connected devices. The company works mainly in the high-tech, semiconductors, finance, and defence sectors, the company offers risk management support, design software to understand the risk and make sure the right protection is implemented.
FlexibleIR
The Flexible IR is a web-based cyber Incident Response platform that allows first responders to coordinate unknown and large-scale breaches and incidents.
Guardrails
GuardRails is a platform that empowers developers to find, fix, and prevent security vulnerabilities in their web and mobile applications.
INFRA
INFRA is a developer of a vulnerability scanning platform intended for ethical hacking and intelligence.
Keyless
Keyless is a deeptech, cybersecurity company building the world's first privacy-preserving biometric authentication and personal identity management platform.
OneKIY
oneKIY is a security platform of applications built around the KIY patented security system.
SecurityAdvisor
SecurityAdvisor provides personalized, contextual, and real-time security awareness coaching to end-users by integrating with existing technologies customers have already invested in like endpoint, cloud, email or web security tools and extract context from these tools about the risks faced by these individual users.
WeSecureApp
We Secure App is a cybersecurity company that offers security consulting, auditing, and testing services.
Ziroh Labs
Ziroh Labs is a software-defined security stack with privacy-preserving, performant cryptographic algorithms.
Go Back