[Panel Session] Beyond the Hype – Securing the Metaverse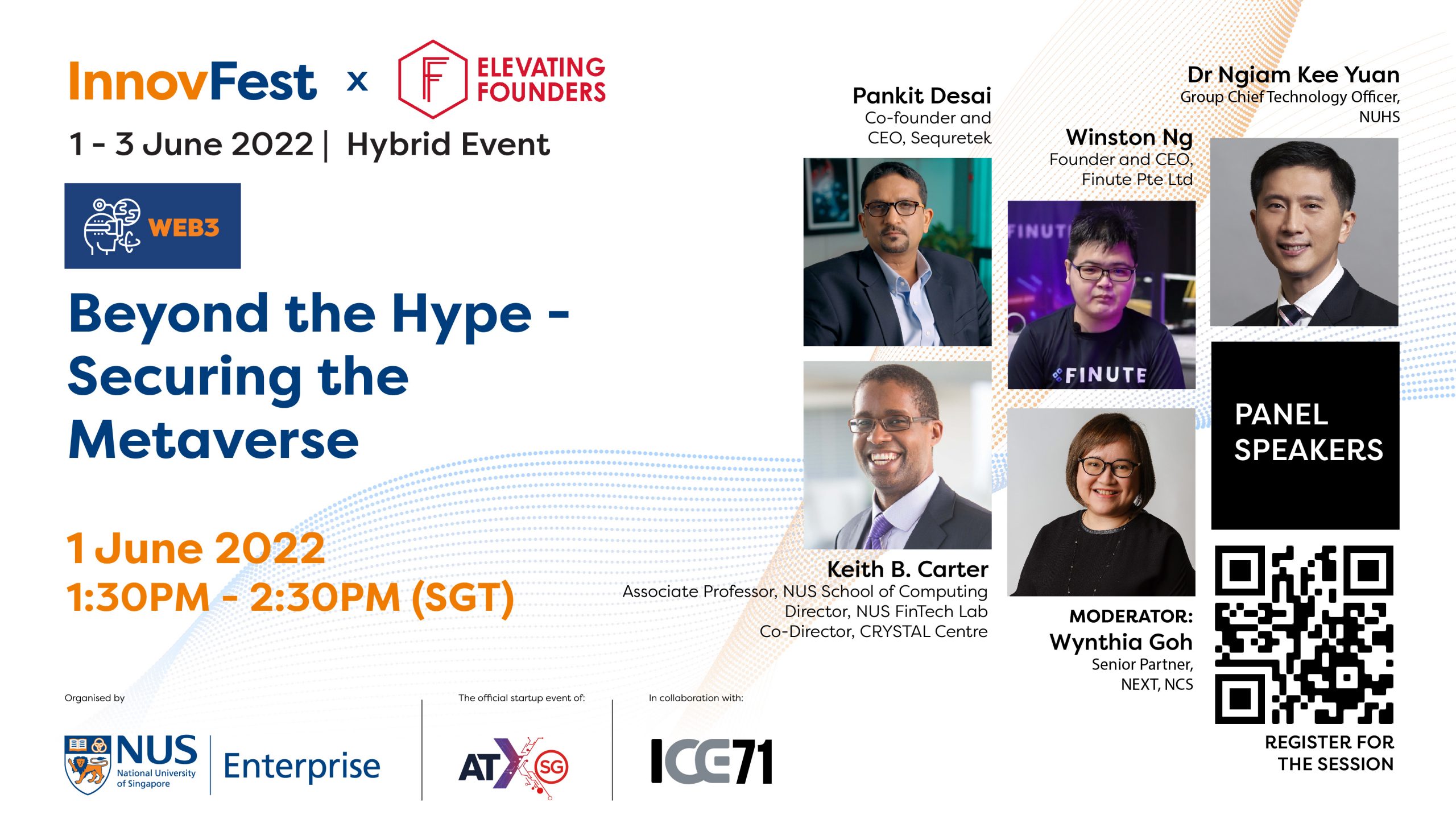 Start Date: 01 Jun 2022 | End Date: 01 Jun 2022

Time : 01:30 PM - 02:30 PM

Organizer : NUS Enterprise, Informa Tech
We're bringing together the brightest minds from different disciplines to look at what's next in the "metaverse"!
Hear from a Holomedicine trailblazer, Singapore's youngest VR innovator and CEO, FinTech Lab Director and 2x TEDx speaker, APAC digital transformation leader, and AI-powered cyber-intelligence start-up founder on the newest developments, emerging opportunities, and the potential cybersecurity challenges that come with it.
Panel details
Date: Wednesday, June 1, 2022
Time: 1:30 PM to 2:30 PM
Venue: Singapore Expo
Panellists
Learn more about the panellists here.
Register for a complimentary InnovFest conference pass below!
Check out last year's Jeopardy gameshow-inspired panel here!
Make the most out of your InnovFest experience. Meet these ICE71 companies at InnovFest!
Learn more here.
About InnovFest
InnovFest x Elevating Founders, Asia's leading innovation conference, is returning from 1 – 3 June 2022 as the official start-up event of Asia Tech x Singapore! Organised by NUS Enterprise, in partnership with Informa Tech, the hybrid event promises to be event more exciting this year, with an expected turnout of 12,000 physical delegates.
Network with key players from the innovation ecosystem, including start-ups, VCs, corporates, institutes of higher learning, government agencies and the media. Stay abreast of the latest trends with our conference agenda featuring topics such as Web3, Metaverse, Sustainability, Emerging Markets, and more. Our exhibition showcase of some 100 start-ups and tech is also not to be missed.
Go Back