GovWare-ICE71 Start-up Pitch Pit 2022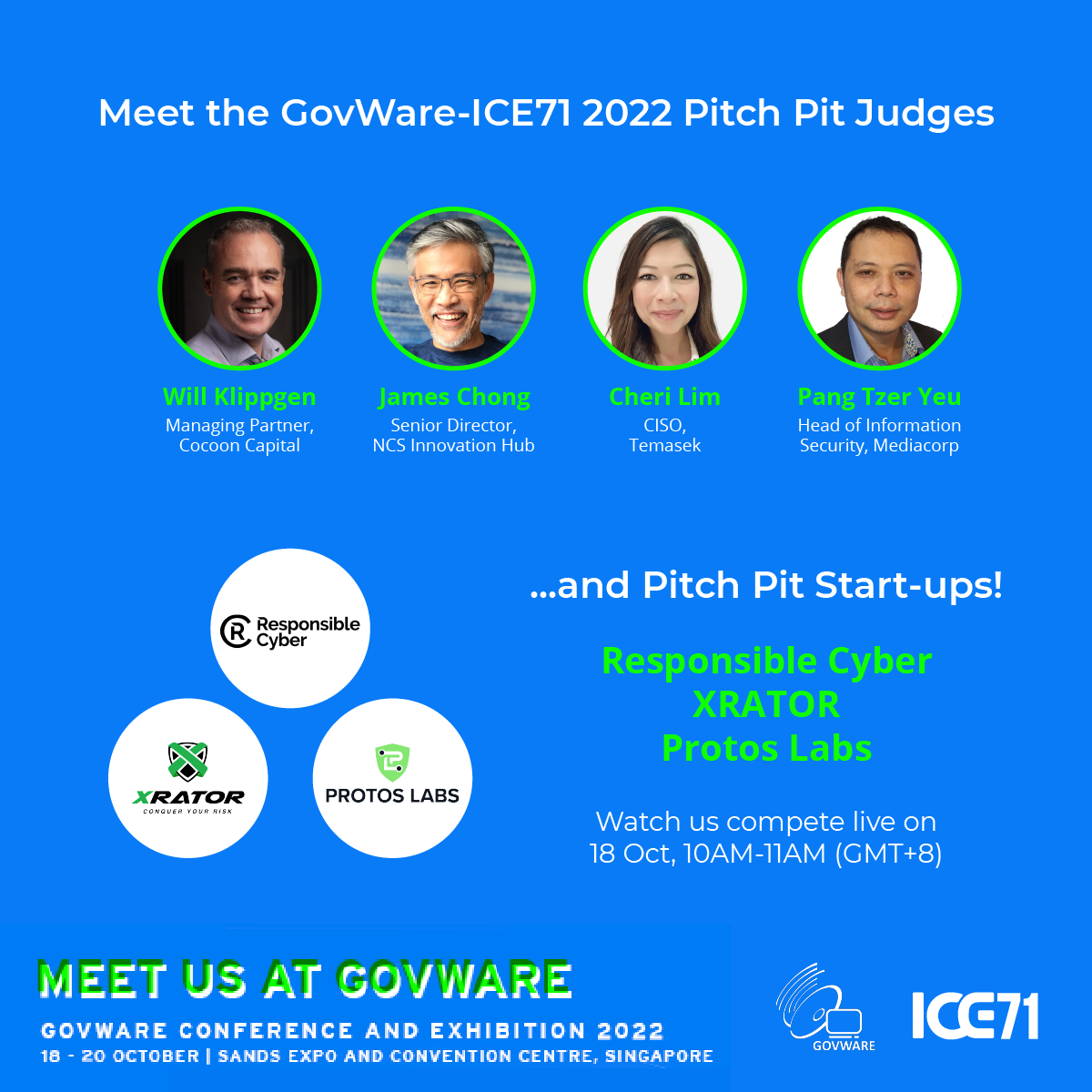 Start Date: 18 Oct 2022 | End Date: 18 Oct 2022

Time : 10:00 AM - 11:00 AM

Organizer : Image Engine, ICE71
The annual GovWare ICE71 Pitch Pit returns as IN-PERSON at GovWare Conference 2022!
Join the all-star judging panel – the CISO of Temasek, a former judge of reality TV series Angel's Gate and co-founder of Singapore-based VC firm Cocoon Capital, the head of innovation at Singtel's regional digital service's arm NCS Group, and the CISO of Singapore's national broadcaster Mediacorp – at this flagship start-up event of GovWare Conference 2022.
Title: The Devil Is in the Details – Cybersecurity Risk Assessment Start-ups Showdown
Synopsis: What is the key component of Cybersecurity Risk Assessment tool? In a showdown format, ICE71 gathers three aspiring start-ups to validate their Cybersecurity Risk Assessment models to a panel of cybersecurity veterans. How will they pitch their models to outplay the rest and turn out on top?
Date: 18 Oct 2022
Time: 10am-11am
Venue: Level 1 | Exhibition Hall, Sands Expo and Convention Centre
Pitching Companies: Responsible Cyber, XRATOR and Protos Labs.
See other start-ups exhibiting at GovWare Conference 2022 →
---
Learn more about the judges
Cheri Lim – CISO, Temasek
Cheri Lim is Chief Information Security Officer (CISO) of Temasek International Pte Ltd. She leads the cybersecurity function in Temasek and is responsible for enhancing cyber defence and strengthening cyber resilience within the firm.  She was previously the CISO of Civil Aviation Authority of Singapore (CAAS) and is an Executive Committee Member of the Operational Technology – Information Sharing and Analysis Center (OT-ISAC). As a cyber sector lead and regulator, Cheri had formulated cyber policy, strategy, and future defence for the aviation sector, and spearheaded the establishment of a cyber regulatory branch and sectoral Cyber SOC. Over the past years, she had represented Singapore at various ICAO forums, and held various leadership and operational roles in cybersecurity, aviation/public security, technology governance and risk management, emergency planning, and technology transformation.
Will Klippgen – Managing Partner, Cocoon Capital
Will is the Managing Partner and co-founder of venture capital firm Cocoon Capital. Set-up alongside Michael Blakey in 2016, Cocoon invests in enterprise and deep tech companies in the pre-seed and seed stages across Southeast Asia. Will was the co-founder of price comparison site Zoomit.com, which was later merged with Kelkoo.com and sold to Yahoo in 2004 in one of Europe's largest internet transactions. Since moving to Singapore and becoming an angel investor in 2004, Will has invested in more than 24 companies, including PropertyGuru, Tickled Media and ReferralCandy.
James Chong – Senior Director, NCS Innovation Hub
James Chong leads Innovation at NCS. He helps clients run their businesses better and look for new businesses using innovative technologies. At NCS, James and his team focus on 4 key areas shaping how we will work, live and play: Metaverse, Collective Intelligence, Internet of Senses and Industry 5.0. Prior to this role, James created and ran two innovation centres, focusing on helping clients navigate, explore and pilot the use of innovative technologies such as AI, advanced visualization, robotics and predictive data modelling in areas including workforce, operations, assets and safety. He holds 3 patents in areas of workplace safety and communications in remote areas.
Pang Tzer Yeu – Head of Information Security, Mediacorp
Pang Tzer Yeu is currently the Head of the Information Security Office of Mediacorp, Singapore's largest media and entertainment group. Mediacorp is also the national broadcaster and a Critical Information Infrastructure (CII).
Tzer Yeu retired from the Singapore Armed Forces after 25 years of service, with the last appointment as a Director in the Defence Cyber Organisation, where he played an active role in shaping cyber-related policies in MINDEF such as introducing the scheme for conscripts to volunteer to serve in cybersecurity. He coordinated defence requirements with wider national efforts such as for national cybersecurity research, CII protection and cybersecurity ecosystem development.
Tzer Yeu's prior appointments before venturing into the cyber community include serving in the US-led International Security Assistance Force as a StratComm Planner and as the Head of Operations in the Signal Formation.
Go Back