Cisco opens co-innovation centre in SG to drive data-driven marketing for brands

Date: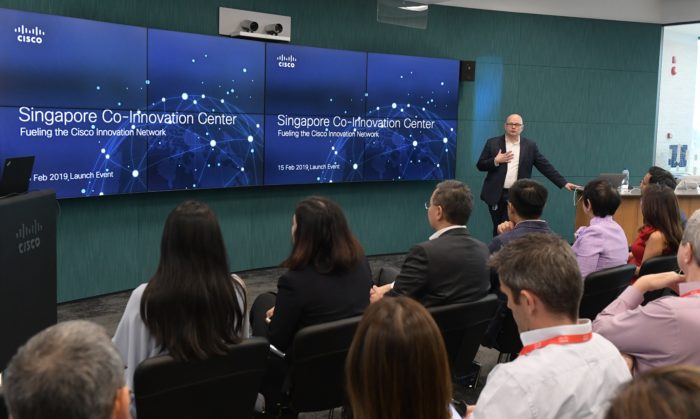 Technology leader Cisco has launched its "Co-Innovation Center" in Singapore, making it the first in Southeast Asia and 14th globally. The centre, with a focus in the Internet of Things (IoT) and cybersecurity space, will bring together industry players, accelerators, universities and start-ups to co-create and prototype new solutions to problems unique to the region. Physical and virtual laboratories will be available at the facility for proof of concept development, experimentation and testing.
In a statement to Marketing, a Cisco spokesperson said, "Data-driven marketing is becoming increasingly important for brands to reach their right audience. As one of the leading companies in networking, Cisco is reinventing the way data is collected, protected and analysed. There is no limitation on type of partners given the limitless number of challenges we could collaborate on and solve at the Co-Innovation Center."
The spokesperson added that the centre is focused on building solutions that are connected and secure. This means
"tremendous amount of anonymised data" can be driven from the success of these solutions which is absolutely relevant for marketers today. Types of data Cisco can currently generate include crowd analytics, traffic analytics, behavioural analytics, security analytics and queue analytics. They can also track cameras, WiFi, and videos.
Cisco will be investing around SG$25 million dollars in the Co-Innovation Center as well as the Cybersecurity Center of Excellence that the company has also launched to expand Cisco's threat intelligence research and security incident response capabilities in the Asia Pacific region. Cisco said the money will go to the real estate for the centres' laboratories, deploying the requisite technologies, and hiring people across a range of roles.
"The Co-Innovation Center will aim to provide local organisations access to a global network to scale ideas, share success stories, best practices, and market expertise," added Cisco's spokesperson.
Cisco's recent partnerships include a global alliance with INTERPOL and a Memorandum of Collaboration with the Cyber Security Agency of Singapore. It also plays an active role in ICE71 "Innovation Cybersecurity Ecosystem at Block71", the region's first Cybersecurity startup hub in partnership with Singtel Innov8 and NUS Enterprise.
According to a recent Cisco study titled "Ready, Steady, Unsure – Technology Perspective into Asia Pacific's Readiness for Digital Transformation", Cybersecurity and IoT are top of mind for business leaders. 65% of leaders in Asia Pacific consider cybersecurity paramount to succeed in digital transformation, particularly in financial services. 85% of companies regionally adopted cybersecurity technologies and 42% indicated that they had made security upgrades due to a breach. Among those surveyed, 33% of business leaders consider IoT a priority and almost all of those have adopted it.
Content retrieved from: https://www.marketing-interactive.com/cisco-opens-co-innovation-centre-in-sg-to-drive-data-driven-marketing-for-brands/.