TAIWAN CYBER STARTUP SHOWCASE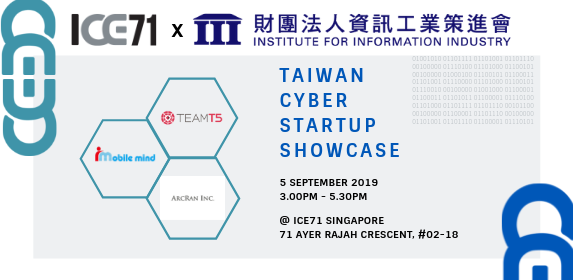 Start Date: 05 Sep 2019 | End Date: 05 Sep 2019

Time : 03:00 PM - 05:30 PM

Description
In collaboration with Taiwan's Institute for Information Industry, ICE71 is hosting 3 Taiwanese cybersecurity startups in the areas of the Internet of Things (IoT) Security, Application Security and Mobile Security. Come listen to their exciting pitches, learn about the latest cyber solutions coming from Taiwan and explore opportunities to collaborate!
Register for the event here
Event Schedule
3.00 PM Registration
3.25 PM Opening Speech by ICE71
3.30 PM Introduction on Taiwan Cybersecurity Landscape
3.40 PM Team T5's Pitch
3.50 PM iMobile Mind's Pitch
4.00 PM ARCRAN INC's Pitch
4.10 PM Networking Session
5.30 PM End of Event
About the Startups
Team T5 is a cyber security company dedicated to cyber threat research and solutions. They have successfully developed their business in many countries, including the US, Japan, Korea and Taiwan. In Japan, they have 2 distributors for different product lines. The team started with outstanding research and has been delivering their cyber threat intelligence (CTI) for more than 5 years. Team T5 offers an advanced threat-hunting technology – ThreatSonar. It has already scanned more than 500k endpoints to date.
iMobile Mind is an innovative and global technology firm, offering smart solutions for clients to manage operations and communications through Mobile Information Platform (MIP) and mobile security technology. Today's business and technology environment stresses the importance of convenience, efficiency and mobility. iMobile Mind's solution ISAI Platform is designed to bring these benefits to suit your firm's needs. Join them to embrace mobility as the primary IT platform.
ArcRan is a venture firm focusing on internet security and cybersecurity products. It concentrates on constructing comprehensive, next generation cybersecurity solutions based on unique machine learning algorithms to help governments and enterprises conduct quick response to a variety of advanced cybersecurity threats and attacks.
Its products and services include: a security threat detection platform for the IoT, security solutions for the Internet of Vehicles (IoV), cybersecurity assessment for IoT products, secure software development processes, and information security insurance services.
About ICE71
ICE71 'Innovation Cybersecurity Ecosystem at Block71' is the region's first cybersecurity entrepreneur hub. Founded by Singtel Innov8 and NUS Enterprise, we aim to strengthen Singapore's growing cybersecurity ecosystem by attracting and developing competencies and deep technologies to help mitigate the rapidly increasing cybersecurity risks in the region. Visit us at: ranosys.net/client/ice_71.
About Institute of Information Industry
III positions itself as the organisation for research and development of Digital Economy, Industrialisation and Talent Cultivation. It is seen as the Think Tank for Digital Country Development in Taiwan, with national level resources asscociated with Digital Innovation and Entrepreneurship. For more information, visit https://web.iii.org.tw/.
Go Back