Start-up Showcase: This Is NOT A Demo Day 2023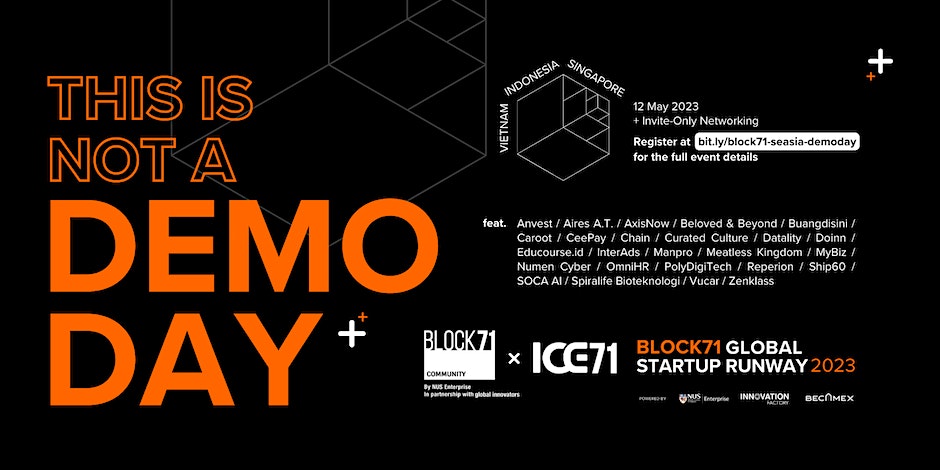 Start Date: 12 May 2023 | End Date: 12 May 2023

Time : 10:00 AM - 01:00 PM

Organizer : BLOCK71, ICE71, NUS Enterprise
Meet the founders of our latest ICE71 Accelerate cohort at this BLOCK71 start-up showcase!
This is not a Demo Day is a milestone event of the BLOCK71 Global Startup Runway accelerator programme, which is part 1 of our three-part ICE71 Accelerate programme*.
Get to know our founders and what they're doing at this Start-up Showcase!
Aires A.T. has developed and patented new algorithms for data encryption that is quantum resistant
AxisNow allows you to build a modern secure access network in minutes, enabling a better digital experience for end users and applications
Numen Cyber is developing an On-Chain security platform to help web3 applications to avoid cyber attacks.
PolyDigiTech provides Identity Access and Management (IAM) that makes digital transactions safer and smoother.
Reperion protects mobile operating assets across sea, land, and air from becoming targets or tools of cybersecurity attacks.
Find out more and register now.
---
* The ICE71 Accelerate programme has 3 parts:
Part 1 (8 weeks): a Global Startup Runway accelerator programme delivered with BLOCK71 in Singapore, Indonesia and Vietnam.
Part 2 (4 weeks): cybersecurity-specific stakeholder engagement activities designed by ICE71.
Part 3 (12 months): Continued access to talent, office space, tradeshows and go-to-market channels.
Go Back