SG Cyber Women X ICE71: Start-up Women in Cybersecurity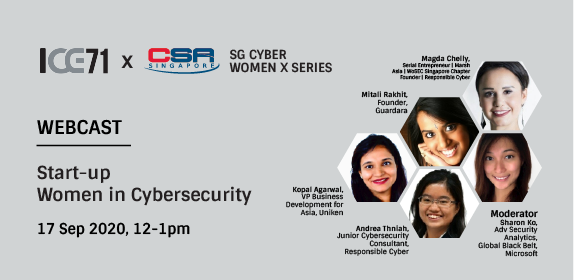 Start Date: 17 Sep 2020 | End Date: 17 Sep 2020

Time : 12:00 PM - 01:00 PM

ICE71 proudly partners with CSA in their SG Cyber Women Series, bringing you this panel of women in cyber – who will each share their insights on working and thriving in a demanding and fast-paced cybersecurity start-up world.
It will feature a unique mix of perspectives from younger minds to female founders and leaders who have taken the leap of faith into an entrepreneurial environment in the cybersecurity industry. Join us to learn about what it takes for women to be in a cybersecurity start-up, why start-ups are the place to be, and how you can take the first few steps to found, lead or be in a start-up – all the while having a great adventure!
Panellists:
Mitali Rakhit – Founder, Guardara
Kopal Agarwal – VP Business Development for Asia, Uniken
Magda Chelly – Serial Entrepreneur | Marsh Asia | WoSEC Singapore Chapter Founder | Responsible Cyber
Andrea Thniah – Junior Cybersecurity Consultant, Responsible Cyber
Moderator:
Sharon Ko – Adv Security Analytics, Global Black Belt at Microsoft
Join us for "Session 3: SG Cyber Women X ICE71: Start-up Women in Cybersecurity"!
Register here >> 
Mitali Rakhit, Kopal Agarwal, Magda Chelly, Andrea Thniah and Sharon Ko are valuable members of the ICE71 community.
Responsible Cyber and Uniken are ICE71 Scale start-ups while Guardara is an ICE71 Accelerate alum.
ICE71 is the region's first cybersecurity entrepreneur hub. Based in Singapore, ICE71 is a partnership between Singtel Innov8, the venture capital arm of the Singtel Group, and the National University of Singapore (NUS), through its entrepreneurial arm NUS Enterprise. ICE71 is strengthening the region's growing cybersecurity ecosystem by attracting and developing competencies and deep technologies to help mitigate the rapidly increasing cybersecurity risks in the region.
Cyber Security Agency of Singapore (CSA) is a supporting partner of ICE71 in building a vibrant cybersecurity ecosystem comprising skilled professionals, strong research and development expertise, and companies with deep cybersecurity capabilities to meet Singapore's security and economic needs.
Go Back