SCS Cybersecurity Chapter at ICE71 – Cybersecurity Career Mentoring: On-premises to Cloud Access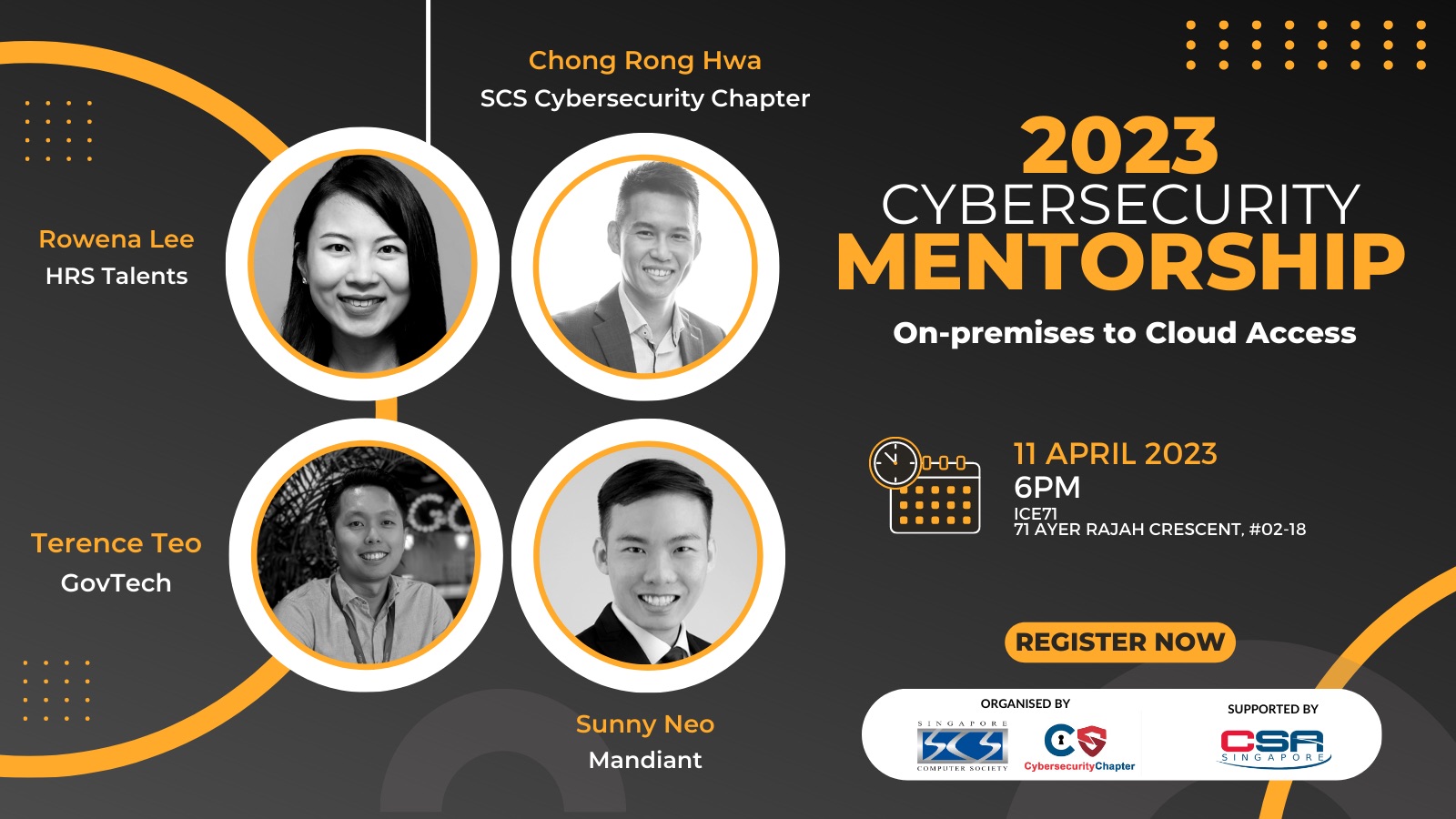 Start Date: 11 Apr 2023 | End Date: 11 Apr 2023

Time : 06:00 PM - 08:30 PM

Organizer : SCS Cybersecurity Chapter
ICE71 is proud to be a supporting venue partner for SCS's 2023 Cybersecurity Career Mentoring community event!
Organisations have adopted cloud-based identity access and management (IAM) solutions to support remote working and capitalise on Software as a Service (SaaS) applications. Considering the widespread implementation of solutions such as on-premises AD and Azure Active Directory (Azure AD), this talk aims to share known techniques that attackers use to gain persistent privileged access after compromising an organisation's on-premises AD environment. There will also be a panel discussion after the sharing.
Join our Cybersecurity Career Mentoring session to gain insights and connect with leading industry veterans and senior mentors. You will also be onboarded to our exclusive digital platform for continuous mentoring where you can discuss with our mentors as a community. This programme is specially designed for tertiary students, young aspiring professionals, and mid-career individuals who are keen to explore cybersecurity.
This event is organised by Singapore Computer Society (SCS) Cybersecurity Chapter and supported by the Cyber Security Agency of Singapore (CSA).
Read more details and register here.
---
Speakers
Sunny Neo – Senior Red Team Consultant, Mandiant
Sunny Neo is a Senior Red Team Consultant at Mandiant where he specialises in leading and delivering adversary simulation services to his clients. Previously, he worked at the Cyber Security Agency of Singapore (CSA) and Aon Cyber Solutions in similar roles.
Rowena Lee – Entrepreneur/Founder, HRS Talents
A tech recruiter by training, Rowena Lee's passion in the cyber field has propelled her to set up her own Cybersecurity-only recruitment and career consulting company. She has received a lot of guidance and knowledge from candidates and clients the past decade, and now she wishes to give back by helping more candidates in the space wherever she can.
Terence Teo – Deputy Director, Cyber Security Group, GovTech
Terence Teo is currently leading the security testing team at GovTech Cyber Security Group and has extensive experience in his field, having worked with multinational corporations both in Singapore and overseas prior to joining the public service sector. In addition to his role at GovTech, Terence is also an adjunct lecturer at Singapore Polytechnic, where he imparts his knowledge on cloud computing and embraces the opportunity to relearn in the process.
Moderator
Chong Rong Hwa – Honorary Treasurer, SCS Cybersecurity Chapter
Chong Rong Hwa is a cyber professional, experienced in leading cybersecurity strategies and policies, security testing, cyber product development, as well as malware and exploit detections.
Go Back