Live Webcast: What you didn't know about email spoofing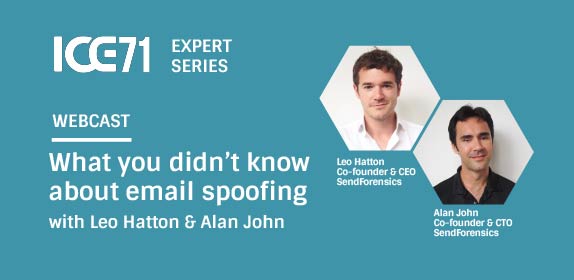 Start Date: 19 Mar 2020 | End Date: 19 Mar 2020

Time : 01:00 PM - 01:30 PM

Your business is in for a ride as cybercriminals become great 'brand pretenders' – sending out spoofed emails in your name that phish for sensitive info from your customers, partners, and suppliers. Besides potential losses due to data breaches whether in the form of huge regulatory fines, tarnished brand reputation, payment-hijacks or leak of trade secrets – there are other elements to consider when it comes to email spoofing – like the surprising relationship between your legitimate email sends and your ability to be spoofed.
Join us in the live webcast to:
Learn about things you probably never knew about email spoofing

Find out the real reason it's 

still

 so prevalent [hint: it's 

not

 recipient-error], and what you can do about it

Ask questions about email spoofing that you've always wanted to ask

Who should attend:
Anyone who uses email as part of their business communication
Movers and makers of a business' cybersecurity strategy including CISOs and IT decision makers
Cybersecurity enthusiasts who want to learn more about email spoofing

Register now to receive the exclusive webcast link!
About the speakers
Leo Hatton, CISSP, Co-founder & CEO, SendForensics
As CEO and Co-founder of SendForensics, Leo co-created the company's unique solutions in forensic fault-analysis for email security and deliverability applications. He overseas the overall research and development direction of the company, as well as strategic and commercial aspects. His passion lies in realising the true potential of the last truly open, instant, global communication system: Email.
Alan John, Co-founder & CTO, SendForensics
Drawing from his extensive industrial experience implementing a wide range of technologies across multiple sectors, from bleeding-edge mobile technologies to advanced machine learning systems, Alan now heads up SendForensics' Singapore-based development team. He is also the chief architect of the high-workload, high-availability infrastructure that supports the core forensic engines' heavy processing needs.
SendForensics is an ICE71 Scale startup. Learn more about ICE71 Scale at www.ranosys.net/client/ice_71/scale
Go Back