ICE71 Live Webcast: Resilience, Reinvention & Returns – Learnings as Cybersecurity Funding Hits Record High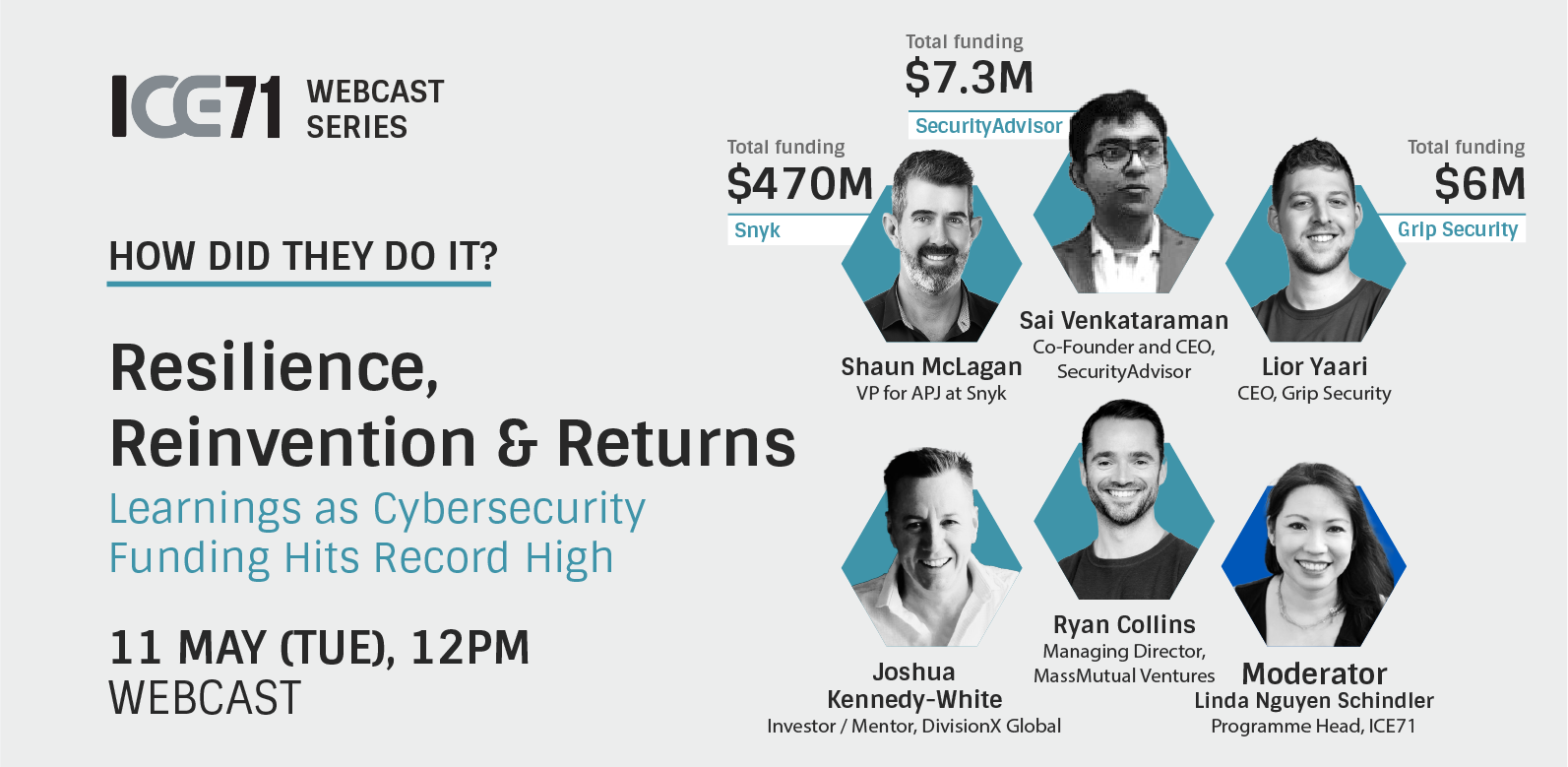 Start Date: 11 May 2021 | End Date: 11 May 2021

Time : 12:00 PM - 01:00 PM

According to Crunchbase, cybersecurity funding was at an all time record high in 2020, amid one of the world's worst economic downturns in history. A total of $7.8 billion venture funding was invested globally, along with 6 new unicorns produced.
With this in mind, we have invited a panel of investors and start-up leaders to share their experiences and what goes on behind the scenes. Be treated to insights from the leaders of cybersecurity unicorn Snyk, which recently closed a $300M Series E round, start-up Grip Security, which emerged from stealth with $6M in seed funding led by YL Ventures (with participation from CrowdStrike's George Kurtz and other notable leaders) and ICE71 start-up SecurityAdvisor, which closed a $7.3M Series A funding earlier this year. Attendees will also get to hear from the perspectives of two VCs who are familiar with the investment scene within and outside of Southeast Asia.
Join our live webcast on Tuesday, 11 May 2021, 12pm, as we dive into the minds of people super-charging the future of cybersecurity.
Panelists:
Shaun McLagan, VP for APJ at Snyk
As Vice President of APJ Sales, Shaun leads direct sales and channel business, and is in charge of building dedicated teams in Australia, India, Japan, Korea, New Zealand and Singapore. Prior to joining Snyk in February 2021, Shaun held leadership roles as Senior Vice President, APJ at Veeam Software and Vice President, APJ at Dell EMC. 
Sai Venkataraman, Co-founder and CEO of SecurityAdvisor
Before SecurityAdvisor, Sai was a VP at Fortscale, a pioneering UEBA firm acquired by RSA, as well as a director for product management at Intel Security/McAfee. Sai also spent several years at Bain and Company as a management consultant. Read more about Sai and what he does at SecurityAdvisor in this ICE71 interview.
Lior Yaari, Co-Founder and CEO of Grip Security
Lior is a multidisciplinary techie with an entrepreneurial background. After his army service as an officer at Unit 8200, he joined Cymotive where he did research and development for automotive security. Following that, Lior started his own consulting firm, providing cybersecurity training to clients around the world. Later, Lior joined YL Ventures as CTO, where he was responsible for assessing investment opportunities and providing value-add for YL's portfolio companies.
Joshua Kennedy-White, Director of DivisionX Global
Josh brings experience at every stage of the investment cycle, having led numerous mergers, acquisitions and investments. Josh holds Directorships in Australia, the UK, Ireland and Saudi Arabia, and advisory roles in Winton Ventures and Tokamak Energy, a private nuclear fusion energy company. He continues to play a hands-on role within the security ecosystem through DivisionX Global – a 'venture catalyst' firm that helps early-stage tech start-ups.
Ryan Collins, Managing Director at MassMutual Ventures
Before entering the venture capital industry, Ryan spent over ten years in public markets at Goldman Sachs and at a multi-strategy hedge fund. He then joined data analytics startup, Essentia Analytics, to lead expansion into Asia. After Essentia, Ryan managed regional operations at LOFT, an emerging technology incubator with a focus on artificial intelligence, IoT and blockchain applications. Ryan currently serves as a board director at Microsec, Qure.ai, Aspire, InDebted and Neat, and as a board observer at Biofourmis, Qoala, Lynk Global, Milieu Insight and See-Mode Technologies.
Moderator:
Linda Nguyen Schindler, ICE71 Programme Head
Go Back