Live Webcast: Hacking Sheep, Ships, Space Stations & Everything in Between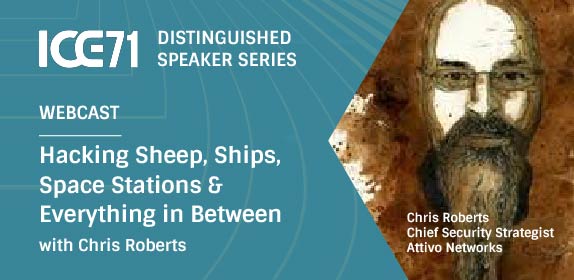 Start Date: 15 Apr 2020 | End Date: 15 Apr 2020

Time : 11:00 AM - 12:00 PM

Hear "Scottish Security Warlock" Chris Roberts (Sidragon) discuss stories, bumps and bruises from being in the Information Security industry for more years than he cares to admit to. From planes, to ships, submarines, to space stations and Mars rovers, come join us to hang out, talk, ask questions and share a morning with him.
And did we tell you Sidragon has also fought battles alongside Fortune 500 kingdoms?
Join us in this live webcast on Wednesday, 15 April, 11am-12pm to:
Listen first-hand to Chris' journey in our industry
Find out how to hit, not tip, that intricate balance between cybersecurity risk and your enterprise's business needs
Ask questions, bring the fun ones, the awkward ones, and the ones you've always wanted to ask
Who should attend:
CISOs and board-level decision makers who drive enterprise cybersecurity strategy
Cybersecurity enthusiasts – anyone from new folks to our industry comrades to nerds
Register now to get the exclusive webcast link!
About the speaker
Chris Roberts is Chief Security Strategist at Attivo Networks Inc.
Roberts worked with customers globally to develop and implement risk reduction strategies across new and legacy technologies. He managed an advanced consulting services program which provided compliance/assurance reviews to assess whether cybersecurity policies and standards were being met and to provide cybersecurity strategy and operations guidance for C-level executives. He was a driver of strategy and vision around the Attivo Networks deception portfolio in areas where he has deep expertise including adversary and vulnerability research and market education.
Chris Roberts is a valuable member of the ICE71 community.
Attivo Networks is an ICE71 Scale startup. Learn more about ICE71 Scale at www.ranosys.net/client/ice_71/scale
Go Back