ICE71 X SGTech | Live Webcast | Doing business during COVID-19: Winning behind the screens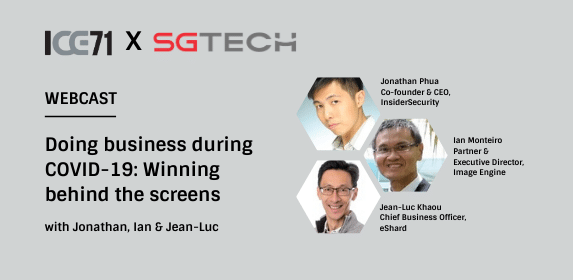 Start Date: 06 May 2020 | End Date: 06 May 2020

Time : 04:00 PM - 05:00 PM

Lack of face-to-face meetings. Event cancellations. Cybersecurity businesses might be feeling that COVID-19 is causing "lost opportunities" to build customer relationships and trust where it matters.
With long and complex sales cycles that require "high touch", in-person communication, previously a face-to-face meeting could make or break a sale involving a major decision. So how can your cybersecurity business continue to grow amid the lack of face-to-face meetings at this time?
Join us in this insightful live webcast in collaboration with SGTech to ask questions and hear from our expert panelists –
• Jonathan Phua, Co-founder and CEO of InsiderSecurity, a successful and homegrown cybersecurity startup;
• Ian Monteiro, Partner and Executive Director of Image Engine, Organiser of GovWare, the base event of Singapore International Cyber Week (SICW); and
• Jean-Luc Khaou, Chief Business Officer of eShard, a leading specialist in embedded security technology.
Each will share their unique perspectives navigating unchartered waters of business during COVID-19.
Register now to get the exclusive webcast link!
More about the speakers
Jonathan Phua
Jonathan is CEO and co-founder of InsiderSecurity (insidersecurity.co). He has more than 10 years of deep expertise in cyber security.
InsiderSecurity builds award-winning deep tech that discovers the cyber breach very early, so as to minimise the data loss or prevent the data loss altogether. Their algorithms analyse billions of events a month for our users. InsiderSecurity has been featured in Channel NewsAsia and TODAY news.
Ian Monteiro
Ian has straddled the technology and events / marketing spheres with over 25 years in the tech industry as a programmer and subsequently in tech events. With graduate qualifications in the Arts and Systems Analysis, he has helped craft development and positioning platforms for tech companies and in tech oriented events in Asia and the USA.
He then set up Image Engine Pte Ltd and remains a partner and executive director presently. Image Engine is the event partner that helps deliver the annual Singapore International Cyber Week (SICW) in partnership with the Cyber Security Agency of Singapore, acknowledged as the regional leader for all things cyber related. He is married with three children, all of whom collectively are a testimony to his ability to stay sane in stressful situations.
Jean-Luc Khaou
Jean-Luc Khaou is Chief Business Officer at eshard and Managing Director of eshard's Singapore office. He began his career in product development and marketing, culminating to a global business management role. Leveraging on 20 years of experience in the security, payment and mobile industry, he has contributed to the success of many key players in the payment and security ecosystem.
As Regional Director for his previous company, Jean-Luc has raised the company brand recognition within the security domain. He also played an integral role in cultivating the company values and strategizing for accelerated growth. Jean-Luc and his team delivered trusted advisory services for major EMV, contactless and mobile payments projects across key countries in Asia Pacific and Europe. Their knowledge and expertise have been credited in the set-up of several compliance and security laboratories.
Jonathan Phua, Ian Monteiro, and Jean-Luc Khaou are valuable members of the ICE71 community.
eshard is an ICE71 Scale startup. Learn more about ICE71 Scale at www.ranosys.net/client/ice_71/scale
About ICE71
Innovation Cybersecurity Ecosystem at Block71 (ICE71) is the region's first cybersecurity entrepreneur hub. Based in Singapore, ICE71 is a partnership between Singtel Innov8, the venture capital arm of the Singtel Group, and the National University of Singapore (NUS), through its entrepreneurial arm NUS Enterprise. ICE71 is strengthening the region's growing cybersecurity ecosystem by attracting and developing competencies and deep technologies to help mitigate the rapidly increasing cybersecurity risks in the region.
Supported by the Cyber Security Agency of Singapore (CSA) and Info-Communications Media Development Authority (IMDA), ICE71 provides a range of programmes designed to support cybersecurity individuals and start-ups from idea development to the creation, acceleration and scaling of cybersecurity start-ups.
About SGTech
SGTech is a premier trade association for the tech industry in Singapore. Within a rapidly evolving technology landscape, SGTech strives to create an ecosystem that anticipates trends and develops sustainable initiatives to strengthen the community and help the industry grow.
SGTech's over 900 members range from innovative start-ups, vibrant small and medium-sized enterprises to top multinational corporations that leverage technology as a core driver of their business.
Go Back