ICE71 x SFA Event: Rethinking Blockchain's $100B Problem Through Cybersecurity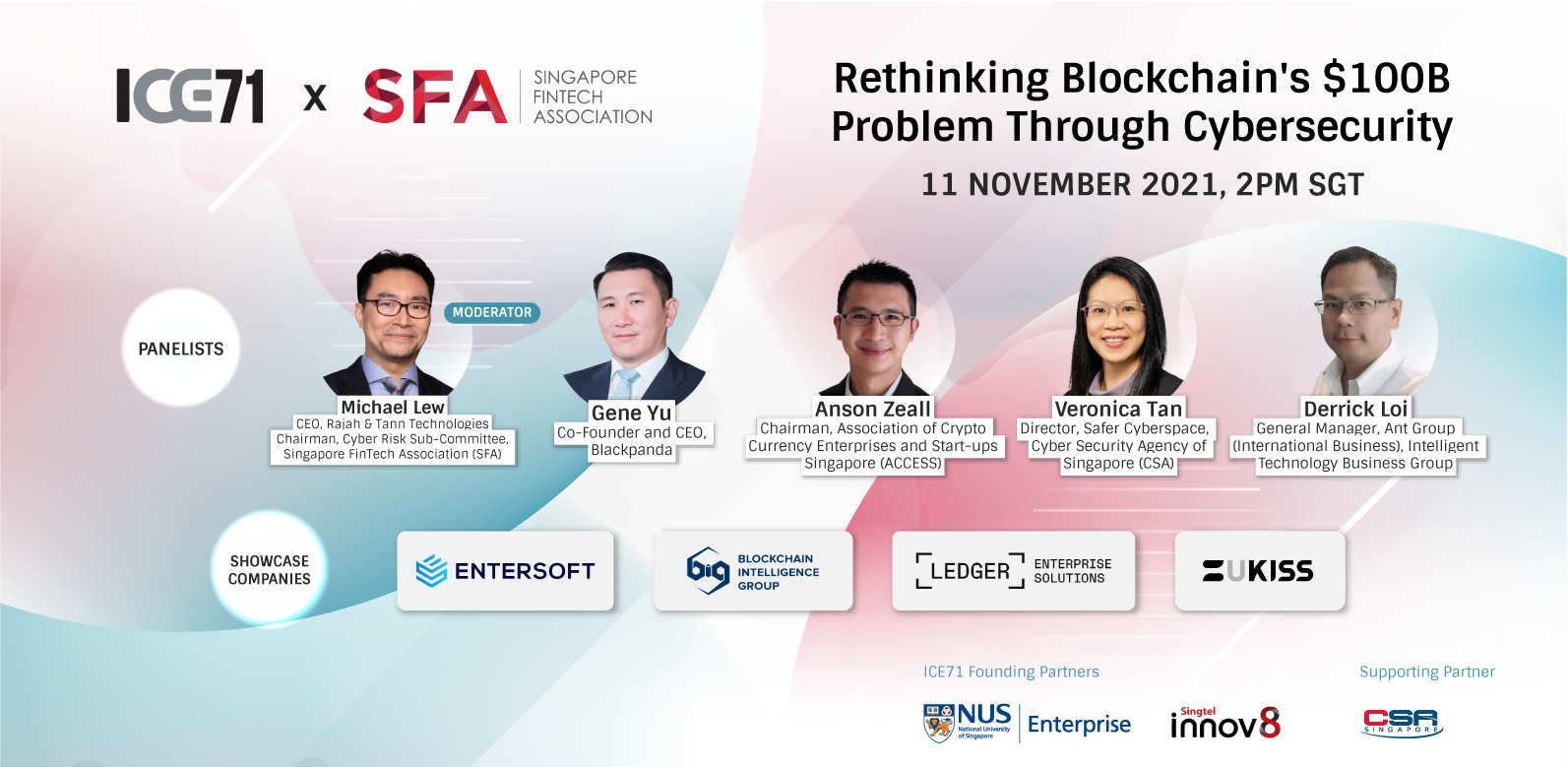 Start Date: 11 Nov 2021 | End Date: 11 Nov 2021

Time : 02:00 PM - 03:30 PM

Organizer : ICE71 X SFA
Blockchain's big bang in Web 3.0 has generated a lot of excitement for the Crypto and De-Fi industry, but looming cybersecurity issues are converging with the global blockchain boom. With the world tuning in to watch the newest developments unfold at Singapore Fintech Festival (SFF) 2021, it's an excellent time to take a pulse check on the industry's cybersecurity status.
Join experts in this critical discussion on Blockchain's biggest cyber threats and keep up-to-date with innovative tech offerings at the 'On-Chain Security Showcase'. Plus, don't miss the chance to chat, listen and learn from presenters and peers in the virtual social lounge!
Rethinking Blockchain's $100B Problem Through Cybersecurity
Date: Thursday, 11 November 2021
Time: 2-3.30PM
Format: Virtual Tech Showcase, Panel Discussion and Networking
Michael Lew – CEO, Rajah & Tann Technologies [Moderator]
Michael is CEO of Rajah & Tann Technologies and Head of Cyber Forensics at Rajah & Tann Cybersecurity, founded end 2020. Previously, he was the founder of LegalComet, a LegalTech company which was acquired by Rajah & Tann in 2018. Michael is currently also Chairman of the Cyber Risk Sub-Committee within the Singapore FinTech Association (SFA).
Gene Yu – Co-Founder and CEO, Blackpanda
Gene Yu is Co-Founder and CEO of Blackpanda, Asia's premier digital forensics and cyber security incident response firm. He is a computer science honor graduate from West Point, a graduate of Johns Hopkins University SAIS, and Stanford University GSB, previously served in the U.S. Army Special Forces, and is the author of three books. Gene has served across Asia in both the military and private sectors as an equity swaps trader with Credit Suisse in Hong Kong and with Palantir Technologies' Asia business development team in Singapore. Gene is currently best-known for leading one of the fastest recorded recoveries of a family friend, kidnapped in eastern Malaysia by Filipino Abu Sayyaf terrorists in late 2013.
Anson Zeall – Chairman, Association of Crypto Currency Enterprises and Start-ups Singapore (ACCESS)
Anson is the Chairman of ACCESS and Executive Director of IDAXA, the global voice for the world's virtual asset associations and service providers. In 2020, Anson was appointed to the OECD's Blockchain Expert Policy Advisory Board (BEPAB). He is also an entrepreneur in the blockchain space (Zeall and Company, TZA, Merkle Trees, CoinPip). Anson is an alumnus of the University of New South Wales and Columbia Business School.
Veronica Tan – Director, Safer Cyberspace, Cyber Security Agency of Singapore (CSA)
Veronica is driving the Safer Cyberspace initiative with the Cyber Security Agency (CSA) of Singapore. Prior to her role in CSA, she was driving emerging technology strategies and programmes such as blockchain and human-machine collaboration in IMDA. Before joining public sector, Veronica was in a network engineering role in a leading ISP. She managed carrier-grade switches/routers, caches, DPI/traffic management equipment and network services such as DNS and RADIUS. She was also responsible for managing the ISP's domain name registration service.
Derrick Loi, General Manager, Ant Group (International Business), Intelligent Technology Business Group
Derrick is responsible for charting the end to end solution development, localization, growth, and adoption of a suite of industry-specific, secure, intelligent, connected digital transformation solutions and services geared for various industries based on an underlying portfolio of trusted, proven solutions such as enterprise blockchain, eKYC, AML, confidential compute, copyright protection, data security, and IoT capabilities and innovation. He leads a team of BD, solution architects, service delivery, professional services, and developers to deliver maximum return on value for enterprise customers that adopt this exciting portfolio, which is also powering the various Alipay and Alibaba cloud services today.
---
Showcasing Companies:
Entersoft Security – Entersoft is a global award winning application security provider with a focus on helping businesses across Fintech, Blockchain, Crypto and Financial Services. With a team of elite Offensive Security Certified Professionals, Entersoft provides highly cost effective services and products to the most pressing problems in Application Security. Entersoft is also an ICE71 Scale company.
Ledger Enterprise Solutions – Founded in 2021, Ledger Enterprise Solutions is a division of Ledger, the global leader in security and infrastructure solutions for safeguarding critical digital assets. The mission of Ledger Enterprise Solutions is to enable the digital assets industry to become a multi-trillion dollar industry globally. Ledger Enterprise Solutions provides enterprise-grade security technology solutions and services for custodians, exchanges, banks, and traditional financial institutions.
OneKIY/UKISS – OneKIY provides a de-centralised security system KIY, Keep It Yourself. KIY helps Blockchain-based application users to control their security and safeguard the data themselves without any administrator. They can reset forgotten passwords and recover lost crypto keys themselves. One of the applications of KIY is for the crypto wallet, UKISS. UKISS's patented technology, UKISS Hugware, is a revolutionary crypto hardware wallet that eliminates the presence of complicated recovery system. OneKIY is an ICE71 Scale company.
Blockchain Intelligence Group – Blockchain Intelligence Group builds technology to power compliance and intelligence for the blockchain-centric future. The company provides risk monitoring and investigation for cryptocurrency to banks, crypto companies, law enforcement, fintechs, regtechs and governments.
Go Back