ICE71 X Right Hand Cybersecurity Event – The Front Lines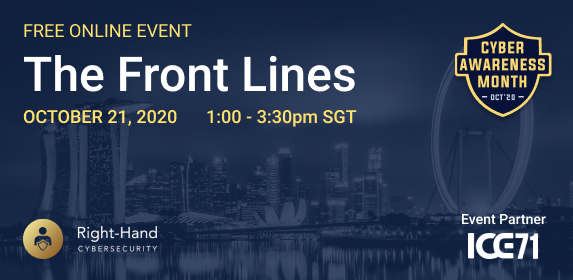 Start Date: 21 Oct 2020 | End Date: 21 Oct 2020

Time : 01:00 PM - 03:30 PM

ICE71 is proud to be a partner for the "The Front Lines", an event organised by Right Hand Cybersecurity in celebration of Cybersecurity Awareness Month on 21 October, 1pm – 3.30pm. The 2.5 hour event will bring together cybersecurity experts, vendors and CISOs across the APAC region to share their insights through two panel discussions and a fireside chat. Attendees can expect to hear about industry challenges as well as best practices and insights pertaining to the Human Element of Cybersecurity and the Singapore start-up ecosystem.
Our very own ICE71 Programme Head, Linda Nguyen Schindler, will be part of the panel "Founding a Cyber Start-up in Singapore". Join Linda and her fellow panellists as they share about the trends, challenges, opportunities for cybersecurity start-ups in Singapore.
Founding a Cyber Start-up in Singapore
Panel Session 3, 2.30pm – 3.30pm
Home to leading cybersecurity conferences and first in cyber-preparedness within APAC, Singapore is a growing favourite among cybersecurity start-ups to scale their business within Asia. Nevertheless, the entrepreneurial journey towards innovation is never easy. Join the panellists as they share about the challenges and opportunities of building a cybersecurity start-up in Singapore.
Panellists:
Linda Nguyen Schindler – Programme Head, Innovation Cybersecurity Ecosystem at BLOCK 71 (ICE71)
Joseph Gan – Co-Founder & CEO, V-Key
Paul Hadjy – Co-Founder & CEO, Horangi

Moderator:
Leesa Soulodre – General Partner, R3iVentures
Go Back