ICE71 X PRIVACON 2020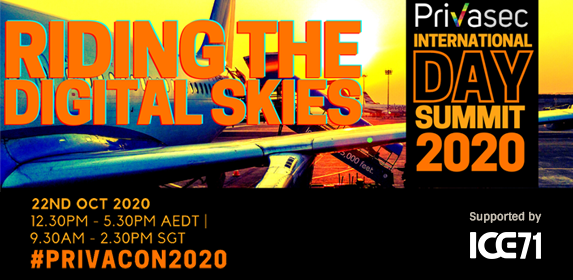 Start Date: 22 Oct 2020 | End Date: 22 Oct 2020

Time : 09:30 AM - 02:30 PM

Privasec's first international summit, PRIVACON 2020: Riding the Digital Skies is set to take flight on 22 October 2020, 9.30am SGT!
Participants can expect to be engaged in a wide variety of topics related managing cyber risks – biometric identification, threat intelligence, cryptocurrency risk mitigation, emerging risks in the health sector, and more. The programme will be curated in 20 minute sessions throughout and led by 20 international speakers, including many industry leaders from Singapore.
Click here to see the detailed line-up and register.
ICE71 is proud to be a supporting partner for PRIVACON 2020.
Privasec is an ICE71 Scale company. Learn more about ICE71 Scale at www.ranosys.net/client/ice_71/scale
About Privasec
Privasec is an independent security, governance, risk, and compliance consulting firm. Privasec is driven by business outcomes bridging the gap between the technical and business worlds to create meaningful business cases and enhance decision making. Over the last decade, it has delivered a broad range of engagements across various industry sectors within Australia, particularly Government, Financial Services, Retail, IT, Health, Entertainment and Not-For Profit. Privasec consultants have worked with leading consultancies in senior roles. They apply industry knowledge and relationships to help their clients navigate the governance, security and compliance landscape and achieve the required outcome.
Go Back