ICE71 x FEW Panel Webcast: Women Powering the Growth of Cybersecurity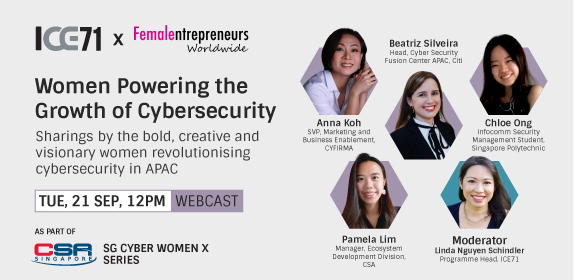 Start Date: 21 Sep 2021 | End Date: 21 Sep 2021

Time : 12:00 PM - 01:00 PM

Organizer : ICE71 X FEW
ICE71 is proud to collaborate with Female Entrepreneurs Worldwide (FEW) to bring our upcoming virtual event for International Women in Cybersecurity Month, "Women Powering the Growth of Cybersecurity"! This event is a part of the SG Cyber Women X Series 2021 initiative led by the Cyber Security Agency of Singapore (CSA).
In this session, we speak with four bold, creative, and visionary ladies from different parts of the cybersecurity ecosystem who are helping to revolutionise cybersecurity in APAC. Hear about their triumphs and challenges, the principles that have shaped their work and what it means for them to be a part of this rapidly-evolving space.
Join us on Tuesday, 21 September 2021, 12-1PM for this live webcast!
The event had ended. Check out the highlights in this article on NUS Enterprise Medium.
Panelists:
Chloe Ong – Year 3 Student, Infocomm Security Management, Singapore Polytechnic
In her third year at Singapore Polytechnic studying Infocomm Security Management, Chloe is also a recipient of the Singapore Digital Scholarship and is currently interning at GovTech. As an individual who is passionate about learning, she constantly empowers herself with new knowledge and skills in both tech and non-tech areas. She aims to become a cybersecurity professional in the future and hopes to inspire more to join her in protecting digital systems with cybersecurity.
Anna Koh – SVP, Marketing and Business Enablement, CYFIRMA (an ICE71 start-up)
Anna has 2+ decades of sales, marketing and branding experience in the IT industry across APAC. With expertise across start-ups and multi-national corporations, she has been instrumental in helping companies define their brand, build strategic partnerships and secure new growth. She is a strong advocate for diversity and inclusion in the cybersecurity industry and believe that is absolutely essential to unleash innovation.
Pamela Lim – Manager, Ecosystem Development Division, Cybersecurity Agency of Singapore
Pamela has over 6 years of experience in cybersecurity, working with organisations across various sectors, including Financial, Energy and Healthcare. In her current role, she works closely with the industry to understand the demand and supply, in order to bolster growth for the local cybersecurity ecosystem.
Beatriz Silveira – Head, Cyber Security Fusion Center APAC, Citi
Beatriz is the Head of Cyber Security Fusion Center APAC, and acting Cyber Intelligence Center APAC Lead at Citi. She is a security professional with 17+ years of experience in intelligence and successful investigations related to cyberthreats, cybercrime, complex frauds, financial and organized crime. She worked as a Police Commander in Brazil and had also been Cybercrime Intelligence Officer at INTERPOL's Global Complex for Innovation in Singapore. She is CISSP, C-CISO, Cryptocurrency Investigator, MITRE Cyber Threat Intelligence, and MITRE SOC Assessment certified. Beatriz holds a Master's Degree in Social Defense and Conflict Mediation (Cybercrime) and a Master Executive in Digital Transformation. Beatriz has co-authored "Cyber Investigations" handbook, published in Brazil, and "Using the Internet and Social Media for Counter-Terrorism Investigations", published by United Nations/INTERPOL. She has been featured in the book "Twenty Years Twenty Stories: Women, Peace, and Security in the Western Hemisphere" for Hemispheric Defense Studies and US Southern Command.
Moderator:
Linda Nguyen Schindler – Programme Head, ICE71
The event had ended. Check out the highlights in this article on NUS Enterprise Medium.
About Female Entrepreneurs Worldwide (FEW)
Female Entrepreneurs Worldwide (FEW) is the largest business platform for female founders and business executives in Asia. FEW's mission is to empower women with essential skills and networks to help their business growth and personal development.
Tech Platform | Members can search business and lifestyle programs and book direct consultations with industry experts who can offer timely advice and expertise to help their business.
FEW Incubator | Each year FEW Incubator offers cash grants to selected female founders of high-growth technology companies and helps them build a sustainable, scalable and profitable business.
ESG | FEW also works closely with multinational companies and government bodies to build ESG programs and market their initiatives to a female demographic.
Go Back