ICE71 x F5 | Live Webcast | Getting a Grip on Security Beyond the Perimeter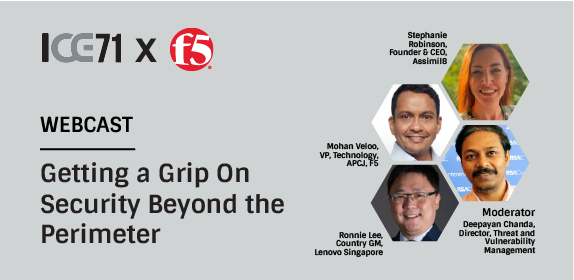 Start Date: 28 Aug 2020 | End Date: 28 Aug 2020

Time : 12:00 PM - 01:00 PM

You can't protect what you don't know. As the world's notion of a workplace shifts from being "somewhere" to "anywhere" during the age of COVID-19, businesses are taking digital transformation to the next level to enable continuous productivity. But as the surge in cyber attacks in the first half of 2020 shows, companies are still playing catch-up to secure unfamiliar working environments beyond the perimeter.
With so many unknowns that employers may not have control over, from unsecured public WiFi to prevalent use of employees' own devices, how can businesses maintain cyber resilience and visibility across multiple devices and environments amid this "new norm"?
Join us in this live webcast on Friday, 28 August 2020, 12PM, as our expert panellists discuss insights on remote working security, its common pitfalls, and security strategies companies could adopt.
Panellists:
Mohan Veloo, VP, Technology, APCJ, F5
Ronnie Lee, Country General Manager, Lenovo Singapore
Stephanie Robinson, Founder, CEO of Assimil8
Moderator:
Deepayan Chanda, Director, Threat and Vulnerability Management (Financial Sector)
Mohan Veloo, Ronnie Lee, Stephanie Robinson and Deepayan Chanda are valuable members of the ICE71 community.
Assimil8 is an ICE71 Accelerate start-up.
ICE71 is the region's first cybersecurity entrepreneur hub. Based in Singapore, ICE71 is a partnership between Singtel Innov8, the venture capital arm of the Singtel Group, and the National University of Singapore (NUS), through its entrepreneurial arm NUS Enterprise. ICE71 is strengthening the region's growing cybersecurity ecosystem by attracting and developing competencies and deep technologies to help mitigate the rapidly increasing cybersecurity risks in the region.
F5 is a leader in multi-cloud application services. They have worked with the world's largest businesses, service providers, governments, and consumer brands to embrace their application infrastructure and manage Internet Protocol traffic. With their headquarters located in Seattle, Washington, F5 operates in 85 locations across 43 countries and was selected as one of Fortune magazine's World's Most Admired Companies in the networking and other communications equipment category for 2018 and 2019.
F5 has acquired Shape Security, an ICE71 Scale alum.
Go Back