ICE71 at SINCON Reloaded Conference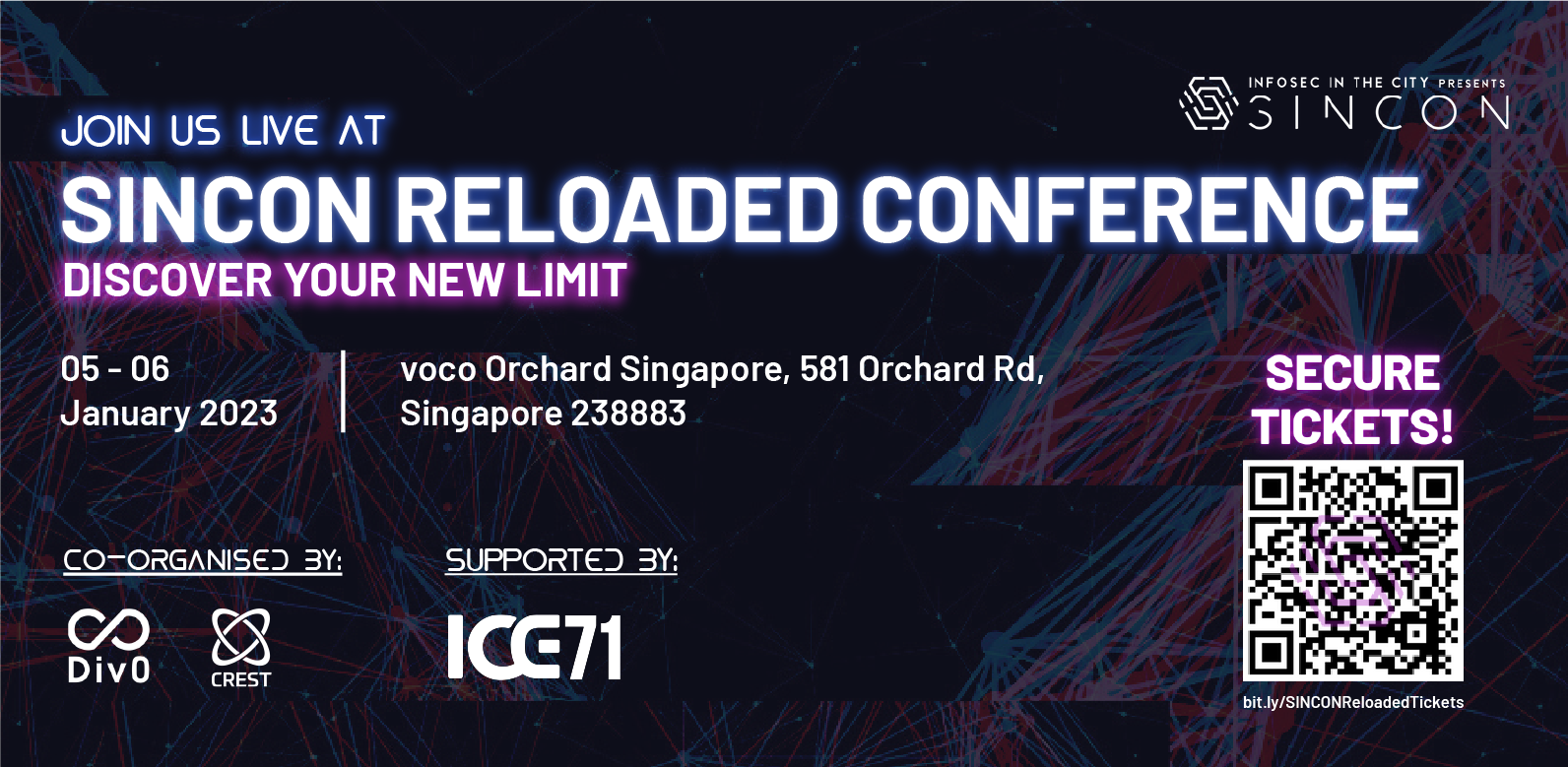 Start Date: 05 Jan 2023 | End Date: 06 Jan 2023

Time : 12:00 AM - 11:59 PM

Organizer : Infosec In the City, SINCON
ICE71 is proud to be a Sponsor of SINCON Reloaded Conference, an annual premier techno-centric cybersecurity conference based in Singapore. With the theme being "Discover Your New Limit", attendees can look forward to an exciting line-up of panels, technical talks and workshops conducted by experienced cybersecurity industry leaders across the globe. In addition, attendees can witness first-hand the release of the new Kali Linux, exclusively and only at SINCON Reloaded!
SINCON Reloaded Conference
📅 Date: 05 – 06 January 2023
📍 Venue: voco Orchard Singapore, 581 Orchard Road, Singapore 238883
🌐 Find out more here: https://www.infosec-city.com/sinrlcon
---
Join ICE71 at these exciting sessions!
ICE71 presents – Turning </br>through Ideas Into <br>out Companies
📅 Date: 06 January 2023, 3:00 pm – 3:45 pm
🎤Loh Kar Wei – Co-Founder, AgentHex and Simeon Tan – Co-Founder, Protos Labs
Look out for this special sharing under BizComm (Business & Community) track! Have you ever had exciting idea for a promising product, but were unsure of where to begin? In this fireside chat, we invite two founders at different stages of their cybersecurity entrepreneurship journey to let us in on their how they get from idea to reality!
ICE71 at SINCON Reloaded CXO Seminar – The Importance of Cybersecurity Innovation Ecosystem and Corporate Involvement
📅 Date: 05 January 2023, 1.10pm—1.15pm
🎤 Brian Koh – Director, NUS Enterprise
A thriving cybersecurity innovation ecosystem consists of entrepreneurs, investors, incubators, government agencies, institutions of higher education, and corporate organizations. Innovation and growth within communities are bolstered by corporate involvement, which brings advanced technologies and expertise. Find out how corporations can be more involved in sustaining cybersecurity innovation ecosystems in this sharing session.
🌐 Register your interest for the CXO Seminar here.
In building an open and inclusive cybersecurity ecosystem in Singapore, SINCON Reloaded warmly invites passionate professionals in our network to experience the latest developments in the field. ICE71 will be co-hosting the SINCON Reloaded CXO Seminar that aims to strengthen the knowledge of C-suite and senior officers, from both the public and private sectors, so they can effectively lead the cybersecurity function in their organisation. Join specially curated leaders and experts in an insightful session, over an exquisite lunch, and learn how to manage next-generation risks, threats, and vulnerabilities.
See you there!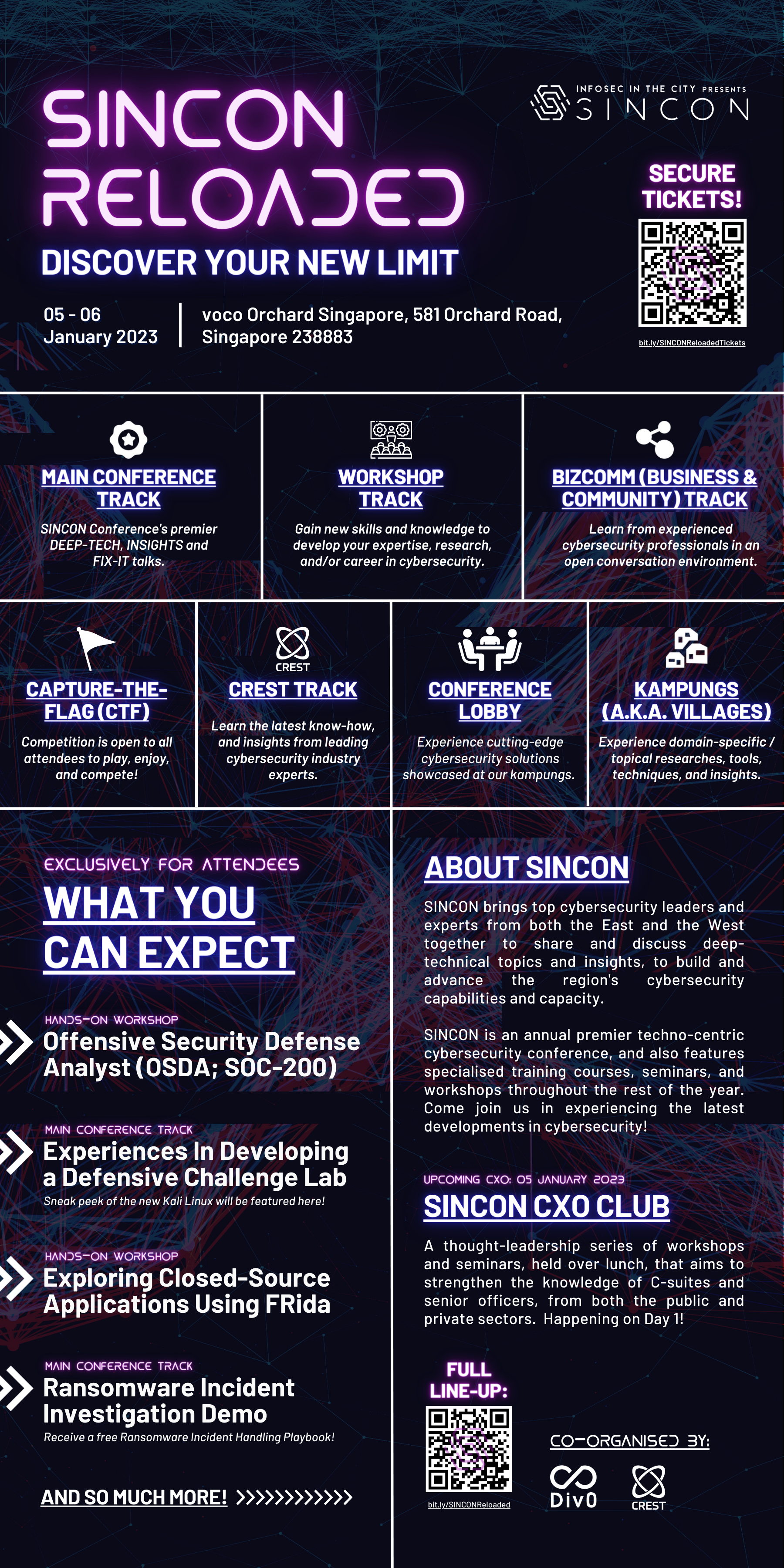 Go Back