ICE71 at SFF x SWITCH 2020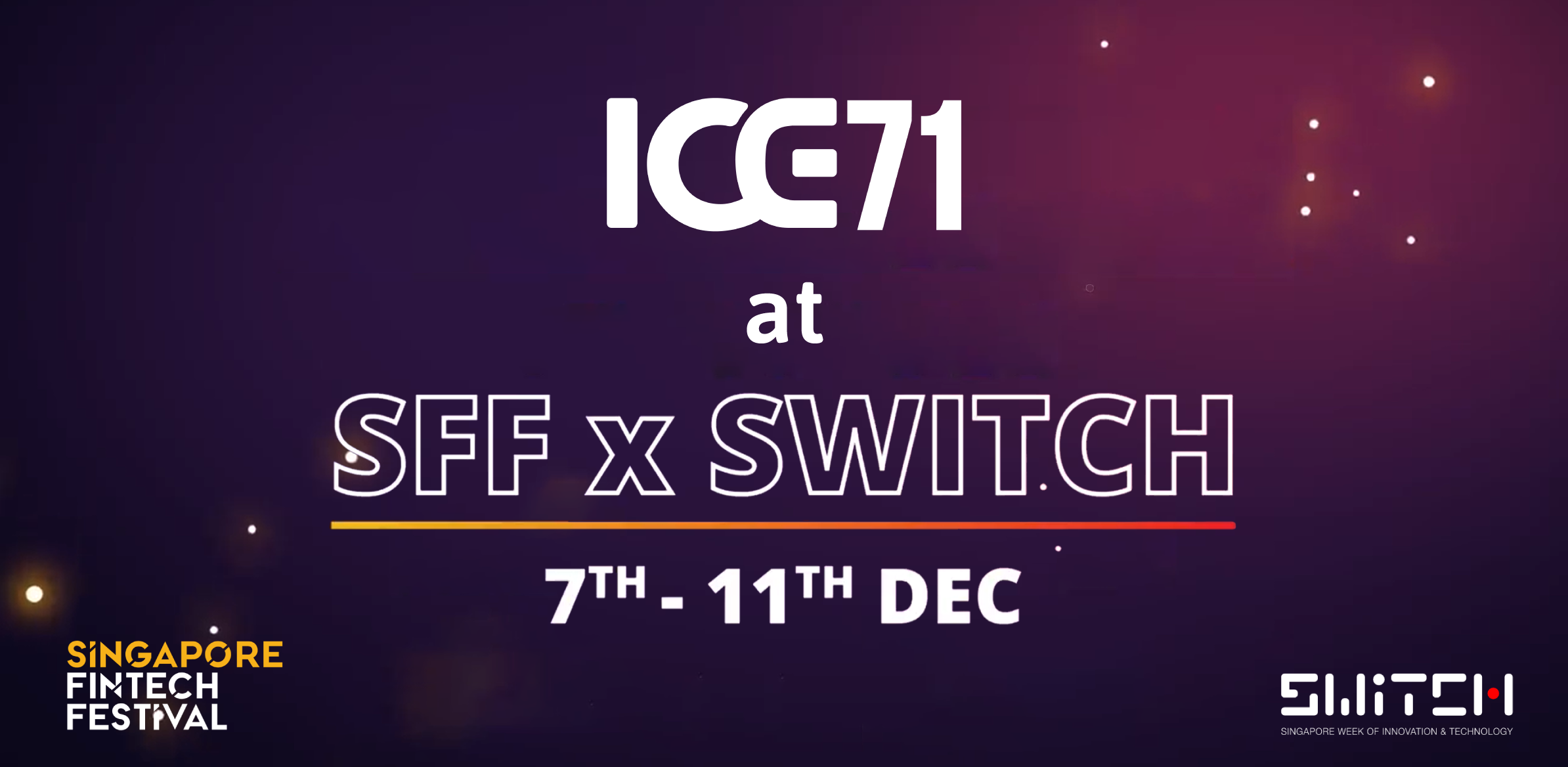 Start Date: 07 Dec 2020 | End Date: 11 Dec 2020

Time : 12:00 AM - 11:59 PM

ICE71 is excited to participate in SFF x SWITCH 2020, the world's first week-long round-the-clock, hybrid digital and physical event on 7-11 December 2020. Since its inception, Singapore FinTech Festival (SFF) has been championing challenging topics that the financial services industry faces, from financial inclusion to sustainability, while the Singapore Week of Innovation and TeCHnology (SWITCH) has been bringing together conversations on innovation and its impact on society. 
Set against a backdrop of global challenges arising from the COVID-19 pandemic, this special SFF x SWITCH edition will celebrate the defiant people who are creating new opportunities to stand together and advance our society. The event will showcase the role models of today who continue to show resilience during challenging times, as well as the rising stars and pioneers that will transform global industries in the future. Together, SFF x SWITCH will celebrate this year's theme: People and Talent.
Virtual Booths at NUS Digital Village
Meet and chat with the ICE71 team as well as our participating start-ups (Wedge Networks, ArcRan, Sequretek and CYFIRMA) at our virtual booths as part of the SWITCH digital village.
We are co-located at NUS Village > NUS Enterprise > Exhibitors.
Founder's Lounge at SFF Talent Pavilion
Hear first-hand from three ICE71 start-up founders as they share their cybersecurity entrepreneurial journey in this casual sharing session on Wednesday, 9 December 2020.
10:30am – 12:00pm | 11:30am – 12:00pm – Dr Sumanta Bose (Founder & CEO of DataKrew)
11:00am – 11:30am – Dr Omaru Maruatona (Founder of Aiculus)
1:30pm – 2:00pm – Avi Bartov (CEO & Co-founder of GamaSec)
To access the event, you will need to register for a Digital Learning Pass (S$75) or Digital Premium Pass ($150).
For more information, click here to access the SFF x SWITCH 2020 website or download the 2020 Info Pack.
Go Back