ICE71 at Scantist & OpenSFF Panel Discussion – "There is No TGIF for Open-source Security"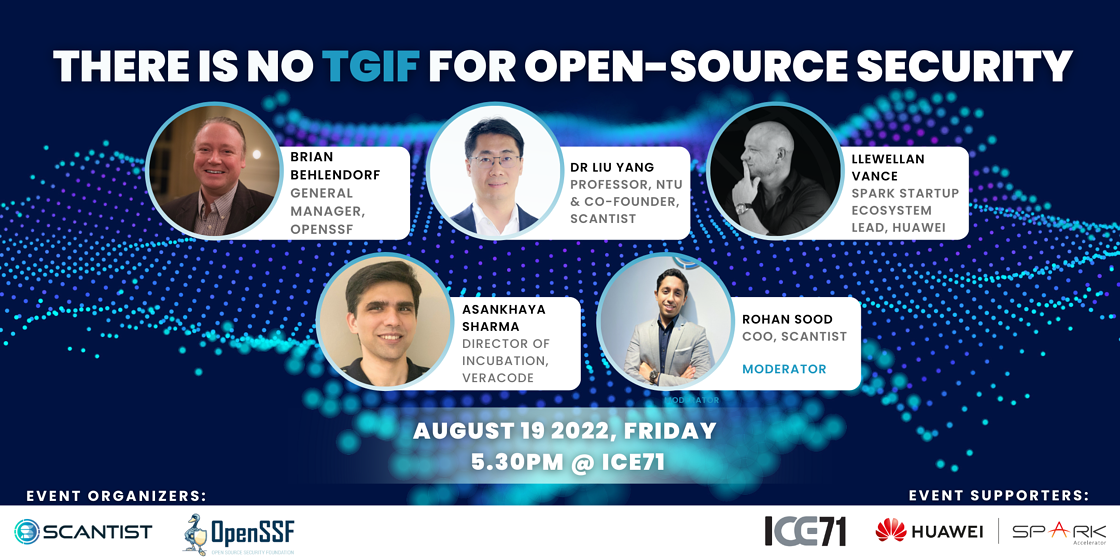 Start Date: 19 Aug 2022 | End Date: 19 Aug 2022

Time : 05:30 PM - 07:00 PM

Organizer : Scantist, OpenSSF
ICE71 is proud to host this event by ICE71 start-up and CyberCall 2020 Winner Scantist and co-organiser OpenSSF.
"There is No TGIF for Open-source Security" – a discussion on open-source security awareness, risks, and challenges.
Start-ups today are able to build extremely complex and innovative technology solutions by relying on open-source to turbo-charge their development and reduce time to market. Great platforms like OpenAI's GPT 3, TensorFlow, and React.js are just some of the many popular open-source frameworks used.
However, securing open-source is an increasingly difficult challenge given the shared responsibility between maintainers and users of open-source – as exemplified by the latest Log4j vulnerability.
OpenSSF is working with its fast-growing list of member companies like AWS, Google, Microsoft, and Redhat and leading government agencies on a community-led effort to address this issue, and Scantist is proud to be the first Singaporean company to join them.
Join our panel discussion to hear more on open-source security awareness, risks and challenges in start-ups, and the best ways to address them at an organizational as well as community level.
Panelists:
Brian Behlendorf, founder of Apache, and the General Manager of OpenSSF
Dr. Liu Yang, Professor at NTU, and Co-founder of Scantist
Llewellan Vance, Spark Startup Ecosystem Lead of Huawei
Asankhaya Sharma, Director of Incubation, Veracode
---
About Scantist
Founded in late 2016 as an NTU spin-off, Scantist builds upon deep scientific expertise and extensive research base to create vulnerability management solutions that help organisations better navigate the ever-changing cyber-security landscape.
Scantist is an ICE71 Accelerate alum and Winner of the 2020 Cybersecurity Industry Call for Innovation by the Cyber Security Agency of Singapore (CSA). Learn more about the CyberCall here.
About OpenSSF
The OpenSSF is a cross-industry collaboration that brings together leaders to improve the security of open source software (OSS) by building a broader community, targeted initiatives, and best practices. The OpenSSF brings together open source security initiatives under one foundation.
Go Back