ICE71 at CISO 360 Software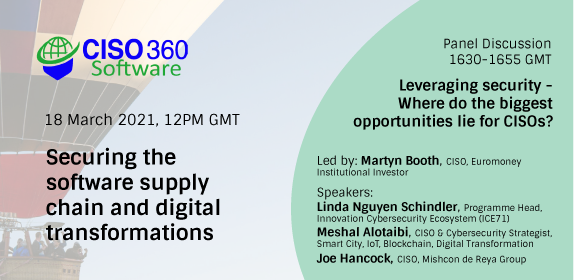 Start Date: 18 Mar 2021 | End Date: 18 Mar 2021

Time : 12:00 AM - 11:59 PM

Calling all CISOs and cybersecurity luminaries! Join us at CISO 360 Software, a half day conference that is part of the wider CISO 360 series by Pulse Conferences, on 18 March 2021, 4PM GMT. The theme for this conference is: The Agile CISO: De-risking architectures and artefacts in transformation and the software supply chain.
Learn how CISOs can best measure the inherent risk in architectures and artefacts and reduce this risk against the backdrop of accelerated digital transformation, a plethora of core technologies and extended supply chains. Join other CISO, architects, cybersecurity practitioners and risk and technology luminaries at CISO 360 Software for a candid discussion on qualifying technologies and processes to avoid costly mistakes.
Catch ICE71 Programme Head, Linda Schindler, in a panel discussion at PREDICTIONS, GAME-CHANGERS AND FUTURE JOURNEY, 1630-1655 GMT:
Title: Leveraging security. How to make it work better with the business, rather than getting in the way of it. Where do the biggest opportunities lie for CISOs?
Topics covered:
How can we drive change, awareness and culture to embrace advanced technologies and truly leverage cybersecurity?
– Blockchain, AI, IoT and DevSecOps as competitive differentiators.
– Blockchain: Is this the future of Storage? What are there barriers and risks to adoption? IoT security: Blockchain risks and opportunities Safer DNS? It is centralised, decentralise Leveraging
AI? When will AI based security controls be mainstream? What are the most valuable uses so far? What aren't we using properly at present? Will AI attacks overwhelm existing controls?
– DevSecOps. Moving security to the left should make it quicker and remove the 'gateways' that are prior to deployment (slowing things down) – how do we deal with penetration testing?
Panellists:
Led by: Martyn Booth, CISO, Euromoney Institutional Investor
With:
– Meshal Alotaibi, CISO & Cybersecurity Strategist, Smart City, IoT, Blockchain, Digital Transformation
– Joe Hancock, CISO, Mishcon de Reya Group
– Linda Nguyen Schindler, Programme Head, Innovation Cybersecurity Ecosystem (ICE71), Singtel Innov8 and NUS Enterprise Singapore
Register at www.ciso360software.com
Go Back