HackSmith Seminar + Workshop — Behind the Hack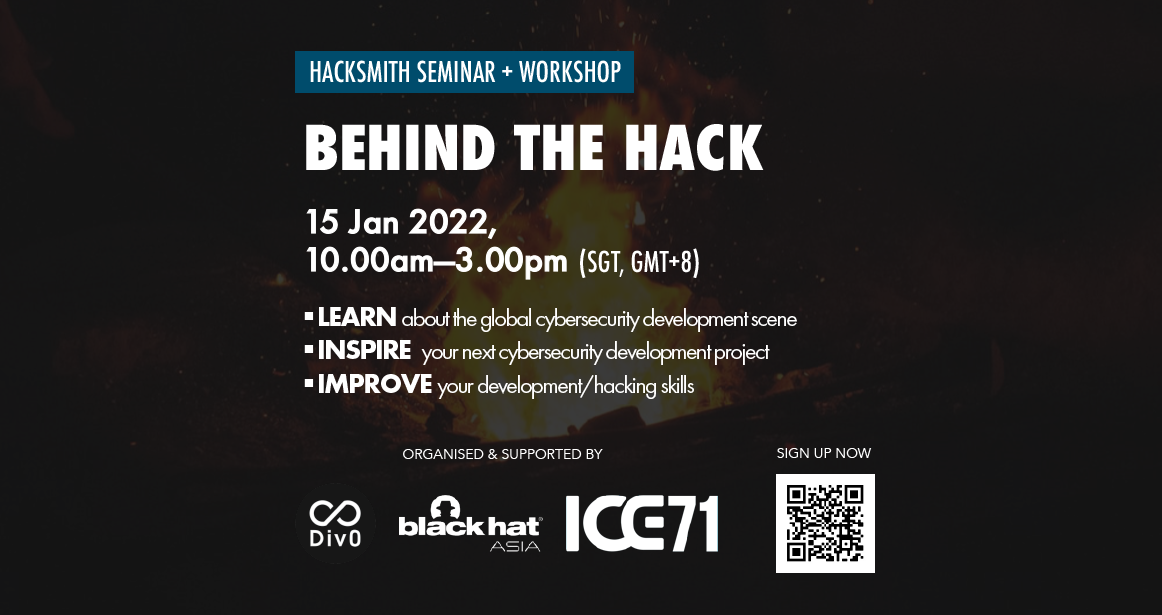 Start Date: 15 Jan 2022 | End Date: 15 Jan 2022

Time : 10:00 AM - 03:00 PM

Organizer : Div0, ICE71
ICE71 is excited to partner and support Div0 for 'Behind the Hack', a specially curated seminar and workshop which preludes Div0's 2022 annual HackSmith hackathon.
To promote Singapore and the region's cybersecurity tools and development culture, Division Zero (Div0) launched its flagship hackathon — HackSmith — in 2017. Since then, the region has seen more and more outstanding tools — developed at HackSmith — showcased at international stages e.g. Black Hat Arsenal.
In preparation for the launch of the 5th edition of HackSmith (to be held in 2022), join us at Behind the Hack — a HackSmith seminar + workshop.
LEARN about the global cybersecurity development scene
INSPIRE your next cybersecurity development project
IMPROVE your development/hacking skills
Agenda
10.00am: "Opening & Introduction to HackSmith" by the HackSmith team
10.10am: "Cybersecurity Development Roadmaps" by the HackSmith team
10.30am: "Tools Trends and Insights" by ToolsWatch
11.00am: "Introduction to Design Thinking" by NUS
11.30am: Roundtable discussion with featured past HackSmith winners
12:00pm: End of Seminar
12.00pm: 1.00pm: Lunch Break
1.00pm-3.00pm: Design Thinking Workshop by NUS
About the Design Thinking experts

Go Back