GovWare x ICE71 Startup Pitch Pit 2021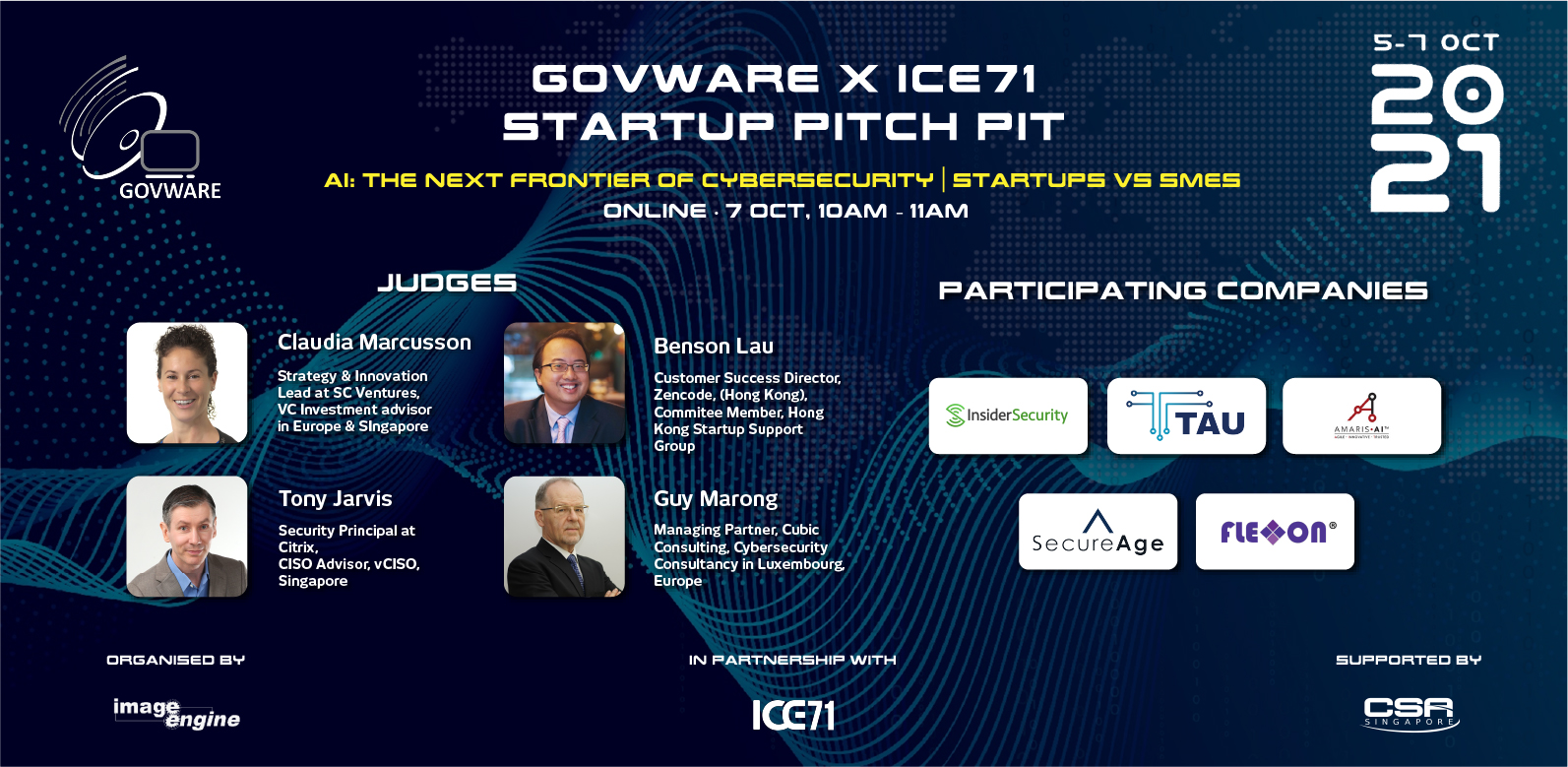 Start Date: 07 Oct 2021 | End Date: 07 Nov 2021

Time : 10:00 AM - 11:00 AM

Organizer : Image Engine
In its third run, the GovWare x ICE71 Startup Pitch Pit features exciting companies from the ICE71 Community as they pitch their solutions to a panel of infosecurity industry veterans. In a special twist this year, the competing cybersecurity startups will be pit against SMEs, showcasing how AI is the next frontier of cybersecurity.
The goal of the Pitch Pit is for companies to get real-world feedback and gauge potential interest in their cybersecurity solutions. This session is not to be missed if you are:
an organisation or investor looking for innovative cybersecurity solutions; or
an aspiring cybersecurity startup searching for insights on how your product will fit the market; or
a cyber enthusiast interested in how AI is changing cybersecurity
Details
Topic: AI: The Next Frontier of Cybersecurity
Title: GovWare x ICE71 Startup Pitch Pit – Startups vs SMEs
Date: 7 October, 10am – 11am
Format: Virtual pitch competition
Register for a Complimentary Pass here.
Judges
Benson Lau – Customer Success Director, Zencode (Hong Kong), Commitee Member, Hong Kong Startup Support Group
Claudia Marcusson – Strategy & Innovation Lead at SC Ventures, VC Investment advisor in Europe & SIngapore
Tony Jarvis – Security Principal at Citrix, CISO Advisor, vCISO
Guy Marong – Managing Partner, Cubic Consulting, Cybersecurity Consultancy in Luxembourg, Europe
Participating companies
TAU Express – Incorporated in 2018, TAU Express started as a spin-off from the SPIRIT Smart Nation Research Centre at Nanyang Technological University (NTU). TAU Express helps organisations unlock value and insights from massive amounts of documents using advanced AI techniques. Its document analytics platform is capable of parsing, extracting and categorizing unstructured documents to enable intelligent search and analytics, resolving complex productivity issues and help companies achieve digital transformation.
SecureAge Technology – Headquartered in Singapore, SecureAge Technology's AIpowered Asset-based Cyber Defence (ABCD) serves as a Endpoint Protection Platform (EPP) solution, bringing together application control, cloud malware scans, vulnerability assessment, and seamless encryption of all files in one enterprise solution.
Flexxon – Founded in 2007, Flexxon Pte Ltd is a leading industrial NAND flash storage solutions provider that delivers a range of versatile advanced memory storage solutions, most notably its X-PHY AI embedded Cyber Secure SSD which leverages on its patented firmware to analyze the data access patterns to detect any anomalous attempts through AI and machine learning. With a key focus to serve Cybersecurity, Industrial, Medical, and Automation (CIMA) applications, Flexxon is dedicated to delivering robust data security solutions.
InsiderSecurity – Established in 2015, InsiderSecurity is an award winning, cybersecurity deeptech company based in Singapore. It develops specialized cybersecurity products that discover the internal cyber threat early, before there is any serious data loss. InsiderSecurity's technology is especially useful to detect sophisticated threats such as SolarWinds.
Amaris.AI – Amaris.AI strives to advance humanity with trustworthy cutting edge Artificial Intelligence (AI) and Cybersecurity products, which determines AI model robustness against adversarial attacks and explain predictions. Amaris.AI offers a range of intelligent automation, AI cybersecurity and embedded AI hardware products for its clients.
Register for a Complimentary Pass here.
Go Back