GovWare x ICE71 Innovation Hour 2023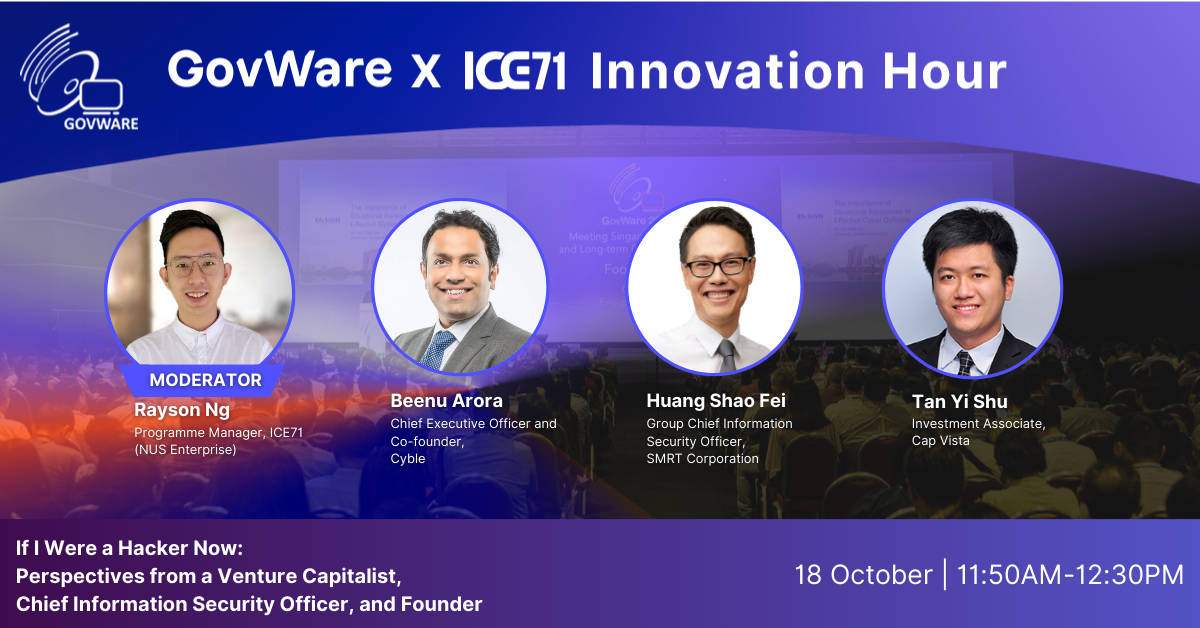 Start Date: 18 Oct 2023 | End Date: 18 Oct 2023

Time : 12:00 PM - 01:00 PM

Organizer : Image Engine, ICE71
ICE71 is proud to present GovWare x ICE71 Innovation Hour, where future-thinkers of cybersecurity convene!
This session is part of the Tech Talk stage programme and free for all complimentary pass holders.
Title: If I Were a Hacker Now: Perspectives from a VC, CISO, and Founder
Synopsis: Dive into the hacker's mindset with a VC, CISO, and Founder. Uncover evolving threats, investor strategies, innovative defenses, and the future of cybersecurity in this insightful discussion.
In cybersecurity, it's important to remember the adage to keep friends close but enemies closer. In fact, it actually creates more risk when the good guys only see cybercriminals as some abstract notion. However, if you can understand a hacker's perspective and motivation, you have a better chance of winning the cyber war. In this panel discussion, we seek the panelists to wear the thinking hat of a hacker, not to condone or endorse illicit activities, but rather to shed light on the intricate strategies and methodologies employed by cybercriminals.
This discussion serves as a valuable source of insights into the opinions of demand drivers regarding potential future exploits. It not only provides inspiration but also acts as a catalyst for cybersecurity providers to embark on innovative endeavors and drive breakthroughs in the field.
Date: 18 October 2023
Time:
Keynote – 11.30am – 11.50am
Panel Session – 11.50am – 12.30pm
Venue: Tech Talk Stage, Level 1, Exhibition Hall, Sands Expo and Convention Centre
Panelists:
Rayson Ng – Programme Manager, ICE71 (Moderator)
Tan Yi Shu – Investment Associate, Cap Vista
Yi Shu oversees the Cybersecurity portfolio in Cap Vista, and holds a concurrent appointment as a Senior Cybersecurity Engineer in DSTA.
Prior to his stint in the defence sector, Yi Shu started a start-up that developed hardware for road user. He went on to negotiate a multi-million dollar contract with ComfortDelgro Driving Centre to smartify and improve their training processes.
Yi Shu is a recipient of SUTD's MEng (Research) Fellowship, and holds a B.Eng (Engineering Product Development, Electrical and Electronics) Hons and M.Eng (Research, Artificial Intelligence) from the Singapore University of Technology and Design.
Huang Shao Fei – Group Chief Information Security Officer, SMRT Corporation
Shao Fei is the Group Chief Information Security Officer and he is responsible for developing and driving the cybersecurity strategy across SMRT Group.
Shao Fei is a seasoned Digital and Cybersecurity professional, having more than 24 years of experience in the industry. Prior to joining SMRT, as the Principal Security Architect in Amazon Web Services (AWS), he was responsible in helping customers in the ASEAN region innovate securely in the cloud. Before joining AWS, Shao Fei spent almost 12 years in Singapore's Land Transport Authority (LTA) in various digital innovation, data management as well as cybersecurity leadership roles across information and operational technology domains. In his last appointed role as Deputy Group Director and Chief Information Security Officer for LTA, he led the Cybersecurity, Data Strategy, Data Science and Data Management teams from 2015 to 2021.
Shao Fei holds a Master of Business Administration in Information Technology Management from the University of Leicester, and a Bachelor of Engineering (Mechanical) from the University of Tokyo. Shao Fei is a Fellow of Singapore Computer Society (FSCS) which comprises individuals who hold senior technology positions and has an established reputation of eminence or authority in the field of technology. He is also a member of the International Association of Public Transport (UITP) Cybersecurity Committee, and a member of the Institution of Engineers, Singapore.
Beenu Arora – CEO and Co-founder, Cyble
Beenu is the CEO and Co-founder at Cyble (ICE71 Accelerate alum and YC W21), a prominent global threat intelligence SaaS provider. Armed with an MBA from the prestigious London Business School and Columbia Business School, Beenu boasts a wealth of knowledge and expertise as a Senior Technology Strategist and Cybersecurity expert. With a career spanning over 15+ years, he has garnered extensive international and cross-functional experiences and has worked across diverse industries such as Finance, Utilities, Energy, and Mining. His invaluable insights have been sought by numerous Fortune 500 companies, where he has provided strategic guidance and operational support for various security programs. In recognition of his exceptional contributions to the technology industry, Beenu Arora has earned a place among the distinguished members of the Forbes Technology Council. As the CEO of Cyble, he continues to drive innovation and excellence, making a profound impact in the world of cybersecurity.
Go Back