Div0 Meetup at ICE71: It's Raining Creds: Crawling DockerHub for Leaked Secrets at Scale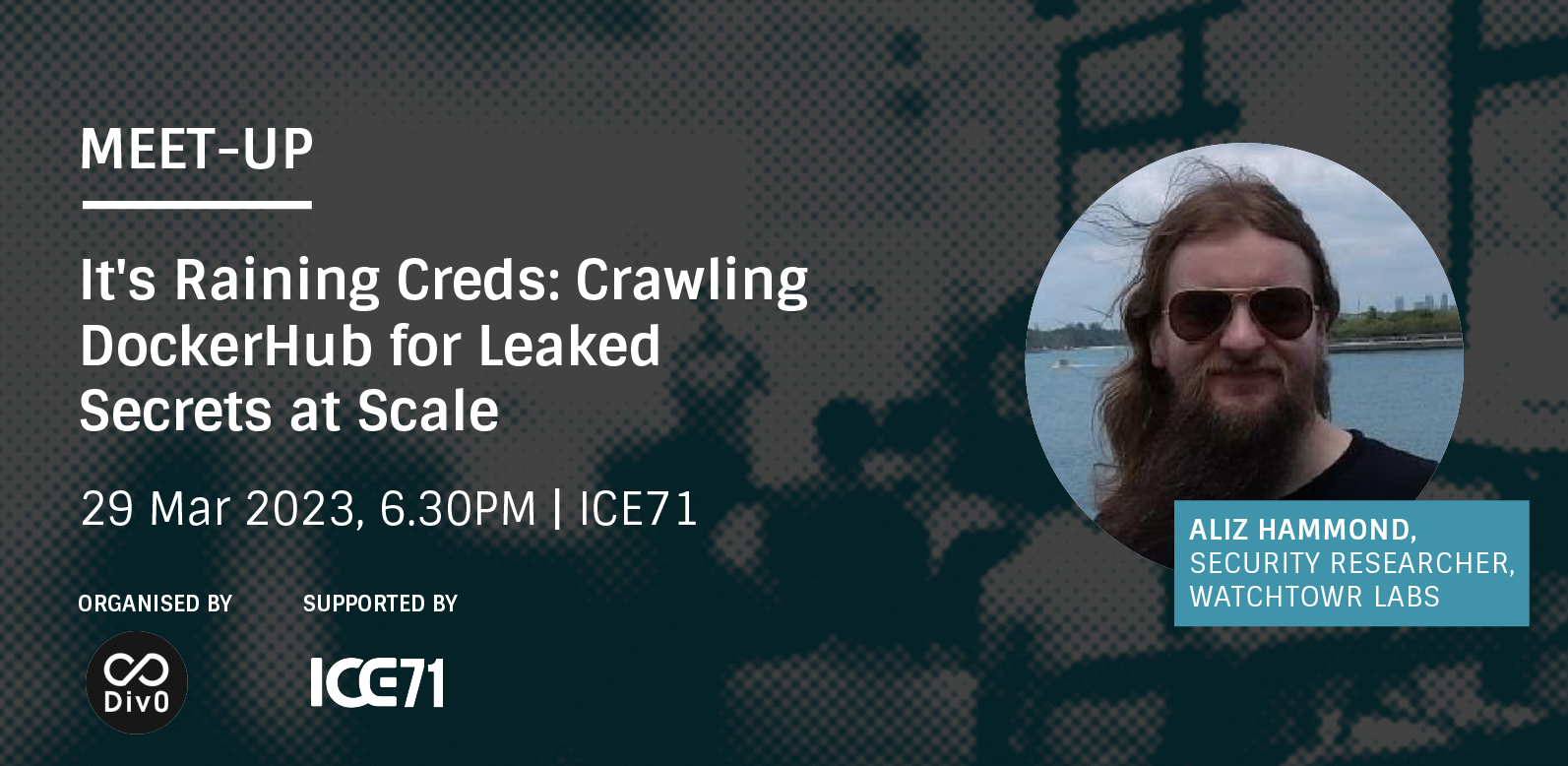 Start Date: 29 Mar 2023 | End Date: 29 Mar 2023

Time : 06:30 PM - 08:30 PM

Organizer : Div0
Meet Aliz Hammond, Security Researcher at watchTowr labs, at this Div0 meet-up on 29 March, 6.30PM. Div0 warmly welcomes the ICE71 Community to network at this Div0 meetup!
We are proud to be a supporting venue partner for this meetup by Div0!
Agenda
6.30pm: Registration & Networking (30mins)
7.00pm: Introduction & Announcement (15mins)
7.15pm: "It's Raining Creds: Crawling DockerHub for Leaked Secrets at Scale" by Aliz Hammond
Till Late: Networking, and Searching through Aliz Hammond's Creds Treasure Trove
Register
See the latest updates and register here.
---
Speaker
Aliz Hammond, (they/them) is a security researcher at watchTowr labs, where they spend most of their time finding juicy 0-day bugs in various applications and blogging about the gory details. A firm believer in the power of knowledge-sharing and community, Aliz has spoken at various conferences both local and international, usually sharing highly technical and detailed content ranging from low-level Windows kernel internals to high-level system design. Aliz has a long background in infosec, mostly with binary-level fuzzing and exploitation, with their first published CVE back in 2014.
Organiser
Div0 is an open, inclusive, and completely volunteer-driven cybersecurity community.
Div0 provides a platform where cybersecurity professionals, practitioners, and enthusiasts can meet like-minded people, explore and learn with peers, and contribute to the community. Div0 does so by organising events, driving programmes and initiatives, encouraging collaborations and contributions, and reaching out to the public.
Div0 is a community partner of ICE71.
Go Back