Div0 Meetup at ICE71: AMA with Dan Woods, F5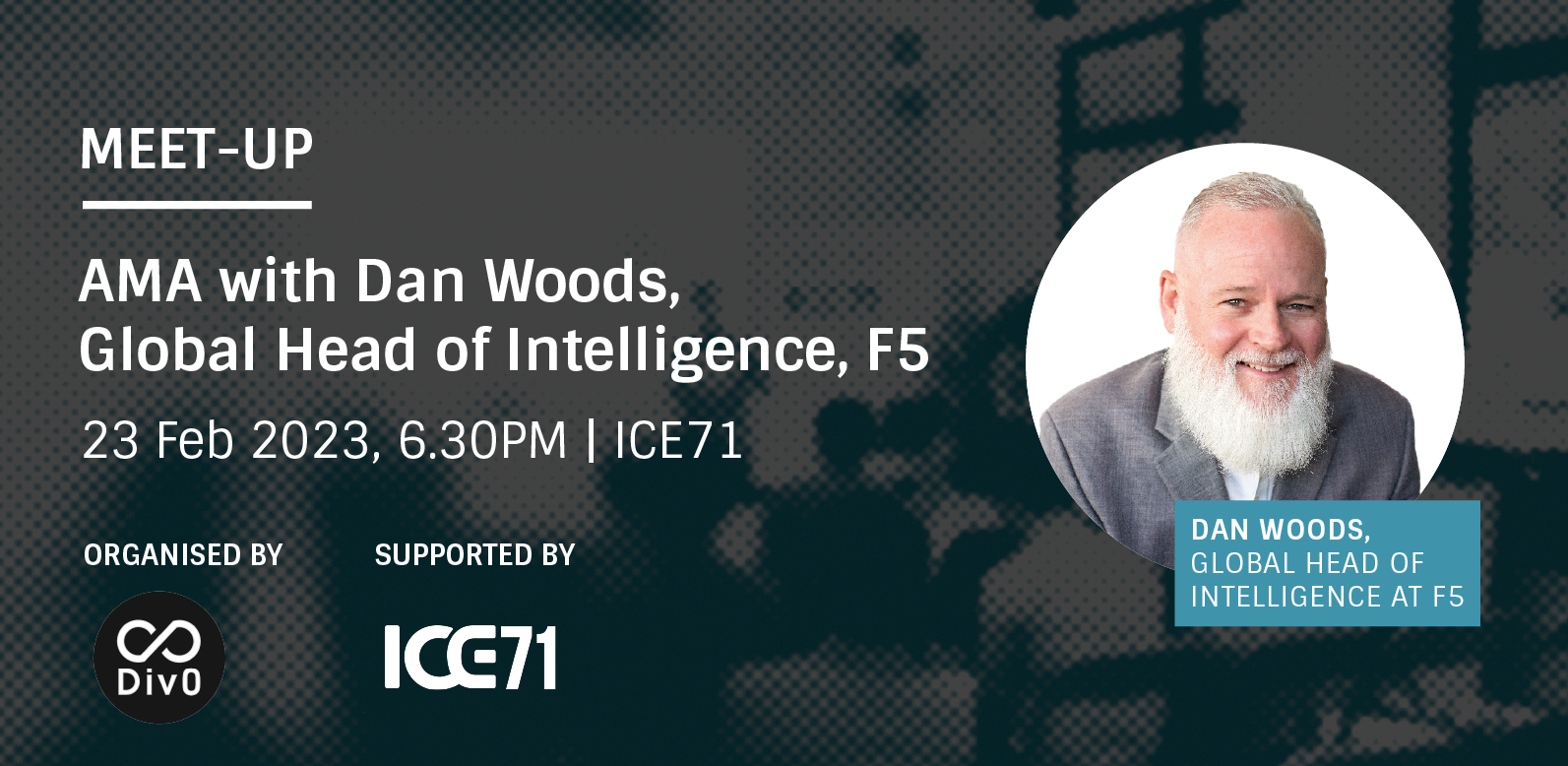 Start Date: 23 Feb 2023 | End Date: 23 Feb 2023

Time : 06:30 PM - 08:00 PM

Organizer : Div0
Meet Dan Woods, Global Head of Intelligence at F5, at this Div0 meet-up on 23 Feb, 6.30PM. Div0 warmly welcomes the ICE71 Community to network at this Div0 meetup!
We are proud to be a supporting venue partner for this meetup by Div0!
Agenda
6.30pm: Registration & Networking (30mins)
7.00pm: Introduction & Announcement (15mins)
7.15pm: Talk by Dan Woods
8.00pm: AMA with Dan Woods
Till Late: Networking with F&B
Register
See the latest updates and register here.
---
Speaker
Dan Woods, Global Head of Intelligence at F5, spent more than 20 years with local, state, and federal law enforcement and intelligence organisations, including the FBI as a special agent, where he investigated cyberterrorism; and the CIA as a technical operations officer where he specialised in cyber operations.
F5 is a multi-cloud application services and security company. In 2020, F5 acquired Shape Security, an ICE71 Scale alum. F5's Shape Security won 2020 Fortress Cyber Security Award.
Organiser
Div0 is an open, inclusive, and completely volunteer-driven cybersecurity community.
Div0 provides a platform where cybersecurity professionals, practitioners, and enthusiasts can meet like-minded people, explore and learn with peers, and contribute to the community. Div0 does so by organising events, driving programmes and initiatives, encouraging collaborations and contributions, and reaching out to the public.
Div0 is a community partner of ICE71.
Go Back