Data Privacy in ASEAN and Europe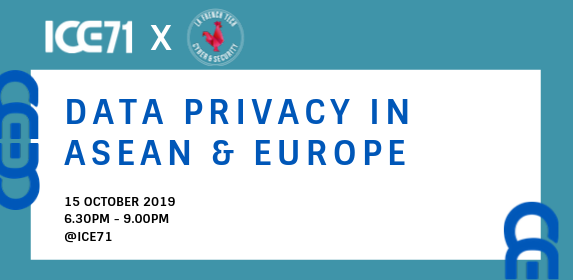 Start Date: 15 Oct 2019 | End Date: 15 Oct 2019

Time : 06:30 PM - 09:00 PM

ICE71 is proud to partner with French Tech Cyber & Security community to bring you a vibrant panel discussion on data privacy in this region and Europe.
Join us for an insightful evening where you can:
learn about issues and challenges with data privacy in this region
be in the know about steps towards implementing data privacy in this region
connect with like-minded data privacy enthusiasts in our cyber communities

Event Schedule
6.30pm Registration
7:00pm Introduction to ICE71
7:05pm Introduction to French Tech Cyber
7:10pm Panel discussion
7:30pm Q&A
7:40pm Networking
9:00pm Event ends

Panel Speakers
Clarisse Girot, Data Privacy Project Lead – Asian Business Law Institute (ABLI), Singapore
Wendy Lim, Director, Cybersecurity Consulting, KPMG
About ICE71
ICE71 'Innovation Cybersecurity Ecosystem at Block71' is the region's first cybersecurity entrepreneur hub. Founded by Singtel Innov8 and NUS Enterprise, we aim to strengthen Singapore's growing cybersecurity ecosystem by attracting and developing competencies and deep technologies to help mitigate the rapidly increasing cybersecurity risks in the region. Visit us at: ranosys.net/client/ice_71.
About French Tech Singapore
A global movement celebrating French innovation, entrepreneurship & startups. A growing community made of a new generation of entrepreneurs, investors, engineers and innovators gathered under the same banner. A movement inspired by a startup nation. Singapore is home to a vibrant French Tech hub built on a foundation of world class talent and imbued with a strong entrepreneurial spirit. An ecosystem that sets entrepreneurs up for success. Visit us at: frenchtech.sg

Go Back