Cyber Threats: The Dangers of Social Media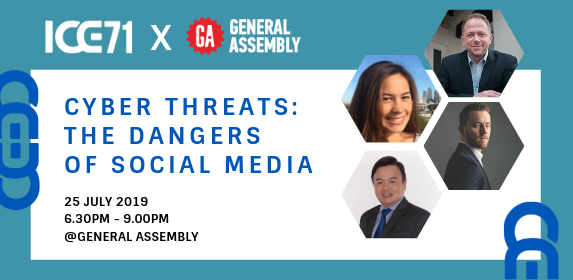 Start Date: 25 Jul 2019 | End Date: 25 Jul 2019

Time : 06:30 PM - 09:00 PM

About This Event
Cybersecurity has become one of the prevailing issues of our time – with so much of our personal data now being transmitted online, the risk of major loss is significant, and very real, which is why we all need to take precautions. Initially, you may not think of social media hacks as that big of a deal as far as a cyber hack goes. However, there is very important information you can lose that may end up proving just as damaging. That is why you need to fully understand cyber security for social media and what information is at stake.
Are you curious to learn more about cyber security? Join us for this panel discussion with experts!
Joining us on the panel:
Linda Nguyen Schindler, Programme Head,ICE71 (moderator)
Emilie Wolff, Head of Infosec, PwC
Paul Hadjy, Co Founder of Horangi
Lawrence Low, Regional Sales Director APAC, Digital Shadows
Lars Voedisch, Managing Director, PRecious Communications
Agenda:
Check-in & Networking 6:30 – 7:00 pm
Panel 7:00 – 7:45 pm
Q&A 7:45 – 8:15 pm
Networking 8:15 – 9:00 pm
Stick around for drinks and networking afterwards, the drinks are on us!
Click here to register
Go Back