ICE71 X Black Hat Asia 2020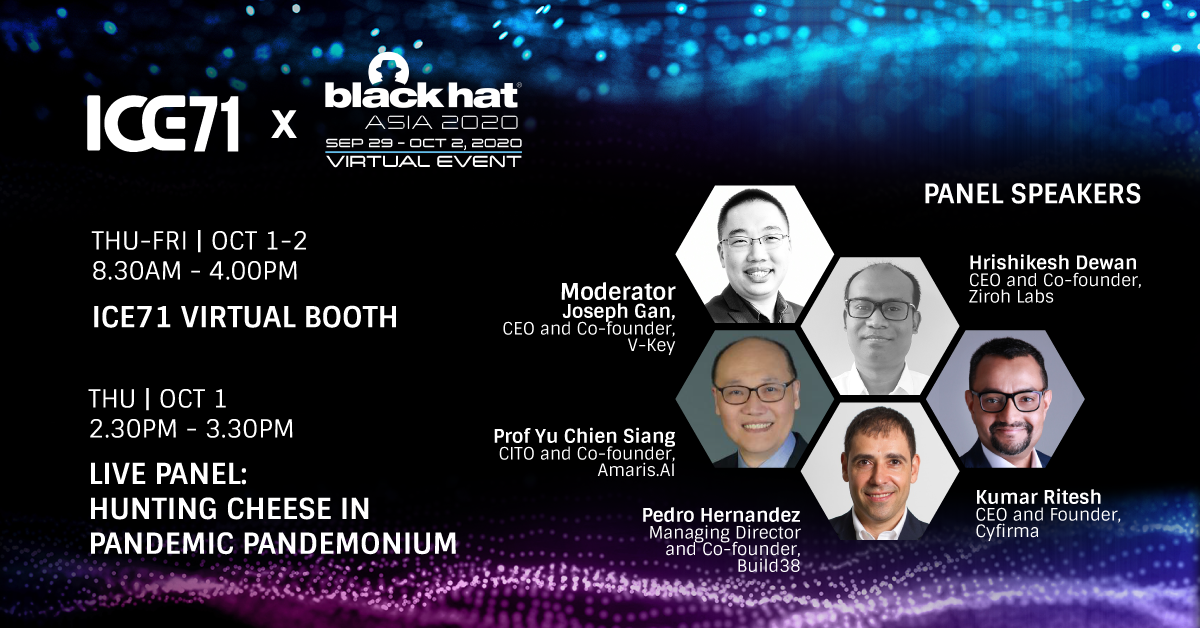 Start Date: 29 Sep 2020 | End Date: 02 Oct 2020

Time : 12:00 AM - 11:59 PM

Register for a free Business Pass>>
Register for a Briefing Pass>> with 15% discount code "1ICE7120A" 
ICE71 is proud to be supporting Black Hat Asia 2020 as an Association Partner. This year's Black Hat Asia (BHA2020) will be held virtually in SGT 29th September – 2nd October! Come meet us at our ICE71 virtual booth in the Business Hall to know more about the region's first entrepreneur hub, and don't miss this exclusive ICE71 x BHA2020 live virtual panel on BHA2020:
ICE71 x BHA2020 Panel Webcast: Hunting Cheese in Pandemic Pandemonium
1st Oct, 2.30pm SGT

Inspired by the 90s' business classic "Who Moved My Cheese?", ICE71 proudly partners with Black Hat Asia to bring you this live panel – where cybersecurity start-up leaders will come together to discuss how agile start-ups can strengthen or reposition themselves to add value during these times of change.
Panelists:
Hrishikesh Dewan – CEO and Co-founder of Ziroh Labs
Pedro Hernandez – Managing Director and Co-founder of Build38
Kumar Ritesh – CEO and Founder of Cyfirma
Prof Yu Chien Siang – CITO and Co-founder of Amaris.AI
Panel Moderator:
Joseph Gan – CEO and Co-founder of V-Key
Hrishikesh Dewan, Pedro Hernandez, Kumar Ritesh, Prof Yu, and Joseph Gan are valuable members of the ICE71 Community. Ziroh Labs, Build 38, Cyfirma and Amaris.AI are ICE71 Scale start-ups.
—
ICE71 Half-Day Digital Conference: Cybersecurity in the Light of COVID-19: Now & Next
(Available under Community Programs)
This three-part panel will explore security topics around the need for internet security and speed, the human element and the increased usage of smart devices – and delve into the cybersecurity challenges we expect post COVID-19.
Panel webcast 1 | Remote working: Need for speed and security
People are now working remotely due to COVID-19 health measures, and companies are facing emerging and new security challenges as employees rely on their own WiFi networks and infrastructure.
Come listen and interact with our expert panelists as they discuss challenges with the rise of the remote worker. They will discuss about how IT teams can support this inevitable shift into a different way of working – including appropriate security measures, how to manage remote access controls, the imminent 5G future which poses more attack vectors, and more.
Panelists:
Allan Watanabe, Managing Director at Pipeline Security
Magda Chelly, Managing Director at Responsible Cyber
Quan Heng Lim, Country Manager, Southeast Asia at Privasec
Moderator:
Shamane Tan, Founder of Cyber Risk Meetup and APAC Executive Advisor at Privasec

---
Panel webcast 2 | The human element of cybersecurity
In this live webcast, we will discuss about the human element of cybersecurity that is relevant during this trying time. We will touch on topics on data privacy and security challenges that arise from increased usage of COVID-19 related apps and related consumer apps, as well as the prevalence of phishing scams around this pandemic.
Join our expert panelists to learn more about how you can protect your data and have enough cybersecurity awareness amid COVID-19 and beyond.
Panelists:
Mohd Noordin, CISO at Circles.Life
Kopal Agarwal, VP of Business Development at Uniken
Jean-Luc Khaou, Chief Business Officer at eShard
Shaily Shah, Founder & CEO at Blue Phish
Moderator:
Sharon Ko, Global Black Belt specialist, Advanced Security Analytics at Microsoft
---
Panel webcast 3 | IoT security: Are we ready?
In this live webcast, we will discuss about IoT security needs and challenges arising from the dramatic usage increase of digital and remote technologies amid COVID-19. We will touch on what happens if these remote technologies are being tampered with, what can be done to mitigate cybersecurity threats in areas such as APIs, and more.
Join our expert panelists to learn more and ask questions around this insightful topic.
Panelists:
Solo Kombani, COO at Aiculus
Sumanta Bose, Founder & CEO at Datakrew
Kunal Sehgal, Cyber Evangelist & Director at a Global Bank
Moderator:
Albert Kuo, President at Asia Pacific Business Consulting
—
Access the event for free with a Business Pass!
What is a Business Pass? A Business Pass grants you access to the Business Hall and additional Features, including Arsenal, Sponsored Sessions, and Sponsored Workshops.

Register for a free Business Pass >>
Or, you can enjoy 15% off a Briefing Pass by using this special discount code: 1ICE7120A
What is a Briefing Pass? More than 40 highly-curated, vendor-neutral Briefings will be presented by world-renowned researchers over the course of two-days. A Briefing Pass includes access to view all Briefings, plus access to the Business Hall, Arsenal open-source tool demos and additional Features. Briefing Dates: Thursday, 1st Oct and Friday, 2nd Oct

Register for a Briefing Pass>> with 15% discount code "1ICE7120A"
—
About ICE71
Innovation Cybersecurity Ecosystem at Block71 (ICE71) is the region's first cybersecurity entrepreneur hub. Based in Singapore, ICE71 is a partnership between Singtel Innov8, the venture capital arm of the Singtel Group, and the National University of Singapore (NUS), through its entrepreneurial arm NUS Enterprise. ICE71 is strengthening the region's growing cybersecurity ecosystem by attracting and developing competencies and deep technologies to help mitigate the rapidly increasing cybersecurity risks in the region.
Supported by the Cyber Security Agency of Singapore (CSA) and Info-Communications Media Development Authority (IMDA), ICE71 runs a range of programmes designed to support cybersecurity individuals and start-ups from idea development to the creation, acceleration and scaling of cybersecurity start-ups.
About Black Hat
Black Hat is the most technical and relevant information security event series in the world. For more than 20 years, Black Hat Briefings have provided attendees with the very latest in information security research, development, and trends in a strictly vendor-neutral environment. These high-profile global events and Trainings are driven by the needs of the security community, striving to bring together the best minds in the industry. Black Hat inspires professionals at all career levels, encouraging growth and collaboration among academia, world-class researchers, and leaders in the public and private sectors.
From its inception in 1997, Black Hat has grown from a single annual conference in Las Vegas to the most respected information security event series internationally. Today, Black Hat Briefings and Trainings are held annually in the United States, Europe and Asia, providing a premier venue for elite security researchers and trainers to find their audience.
Go Back